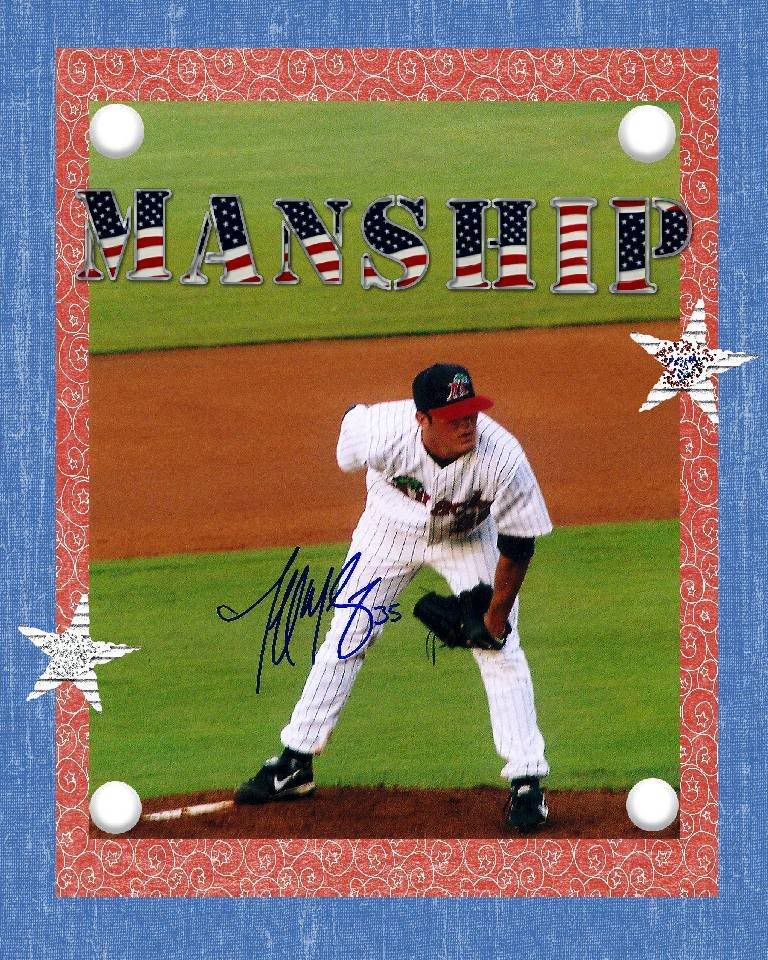 Click on image to enlarge
Fort Myers 9 at Clearwater 3
Miracle firstbaseman
Johnny Woodard
went 3-for-6 Wednesday night, leading the Miracle attack as they pounded out 13 hits in route to a 9-3 win over the Theshers at Bright House Field.
Whit Robbins
opened the scoring when he drew a walk in the 3rd, moved into scoring position on a
Danny Santiesteban
double, then came home on a sac-fly off the bat of
Allan de San Miguel
to put the Miracle on the board in the top of the 2nd.
Brian Dinkleman
singled to start the 3rd and
Danny Valencia
took a walk, but with 2 outs,
Juan Portes
singled in Dinkleman. Robbins followed that with a walk, while Santiesteban singled to drive in Valencia. A walk to de San Miguel prompted the Threshers to bring
Nathan Johnson
up to the mound.
Yancarlos Ortiz
would reach on a fielding error that also allowed Robbins and Santiesteban to score. Dinkleman would fly out though to end the inning with score 6-0 Miracle.
Welinson Baes
tripled off Miracle starter
Jeff Manship
to lead off the bottom of the 3rd. He would score on a
Quintin Berry
ground out, putting the Threshers on the board.
Canadian
Rene Tosoni
trippled to lead off the 4th, and came home on a Woodard single after Valencia groundout. Portes and Robbins would both single, but back-to-back strike outs to Santiesteban and de San Miguel left the bags loaded to end the inning.
Clearwater's
Matthew Spencer
doubled to start out the bottom of the stanza, and was followed up by a
Jake Blalock
single to drive him in. After
John Urick
ground out and Baez struck out,
Fidel Hernandez
reached on a throwing error by Ortiz, that allowed Blalock to come home.
The game quieted down hitting wise after that, although the Miracle added a pair in the top of the 9th with Tosoni and Valencia leading off with walks. Woodard's single brought in Tosoni, while Valencia scored of a Portes ground ball to right.
Woodard, Portes and Santiesteban each accounted for 2 runs for the Miracle. Manship worked five innings, allowing 3 runs (2 earned) on 7 hits and 1 walk while striking out 4.
Jose Lugo
,
Aaron Craig
and
Anthony Slama
finished up on the mound for the Fort Myers squad.
The Miracle look to sweep their first series of the season tonight as they rematch the Threshers for a 7:05 start. Right hander
Deolis Guerra
is expected to start for Fort Myers.
The team returns home to Hammond Stadium on Friday for a special 6:05 start time. The game will be followed by a concert from Appetite for Destruction, a Guns 'N' Roses tribute band. Tickets are $12 for the game and the concert.
Box
Log
Miraclebaseball
Threshers
News Press
Cape Coral Breeze
Jeff Crupper.com