Did I see, or do I have any good pictures of,
Carlos Gomez
? I'm sure I saw him. I was watching outfielding drills. However, they were WAY out there in the outfield and I was up at the top of section 115 hoping for a bullpen session.
So unless he's the guy in the red sleeves - and there was a good deal of speculation on that point - I don't know. Put a warm up jacket on and you might as well be wearing mask as no one can see the numbers on your jersey and therefore, tell who you are.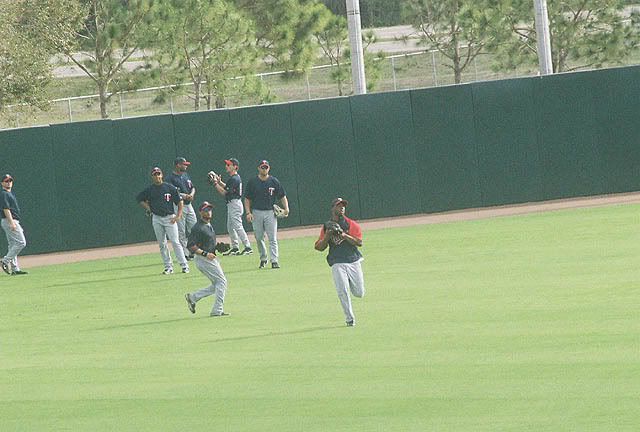 Interestingly enough, there wasn't as much speculation on
Kevin Mulvey
,
Deolis Guerra
or
Philips Humber
, the other three players that came over in the
Johan Santana
trade. Nor did I, to the best of my knowledge, see any of them - at least at spring training.
I did see the other two candidates for the position...
Jason Pridie
, whose picture I posted yesterday, and
Denard Span
...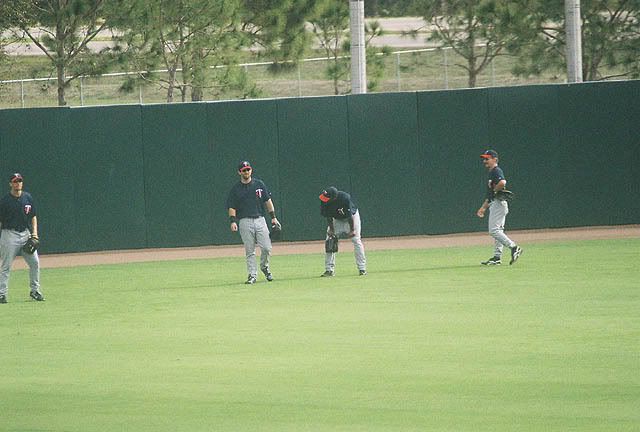 Span is the guy in the middle with his hands on his knees. I was keeping an eye on Span for several reasons, not the least of which was that he does have fans hoping he'll land the job this year.
Someone - maybe Gomez, maybe Span, maybe someone else - was making some nice saves during outfield drills. The problem with outfield drills being that their held in the outfield and unless you can catch the jersey numbers, it's too far away to figure out who is who.
And batting practice is, to my mind, pointless in trying to rate a hitter. He's facing a coach throwing balls that a batter is
supposed
to hit. I'd be more concerned about a guy that wasn't hitting during batting practice.
That means I likely won't have a good report on him until the Blue Jays game when I - hopefully - can see him in a game situation.
While I won't discount the battle for center, I'd say given his reputation, it will be Gomez's to lose.
The other two outfielding pics I have are Cuddy and Kubel mulling around in the "garden"...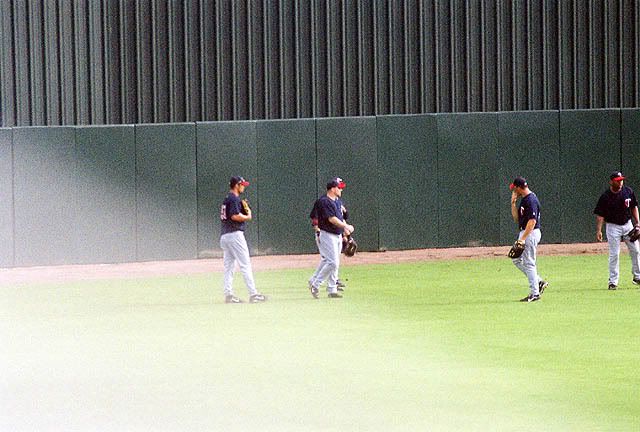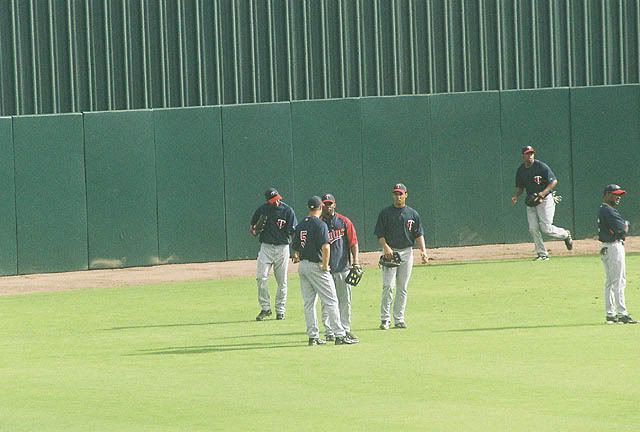 The rest of the shots are on
Photobucket
or will be once I've finished editing them.