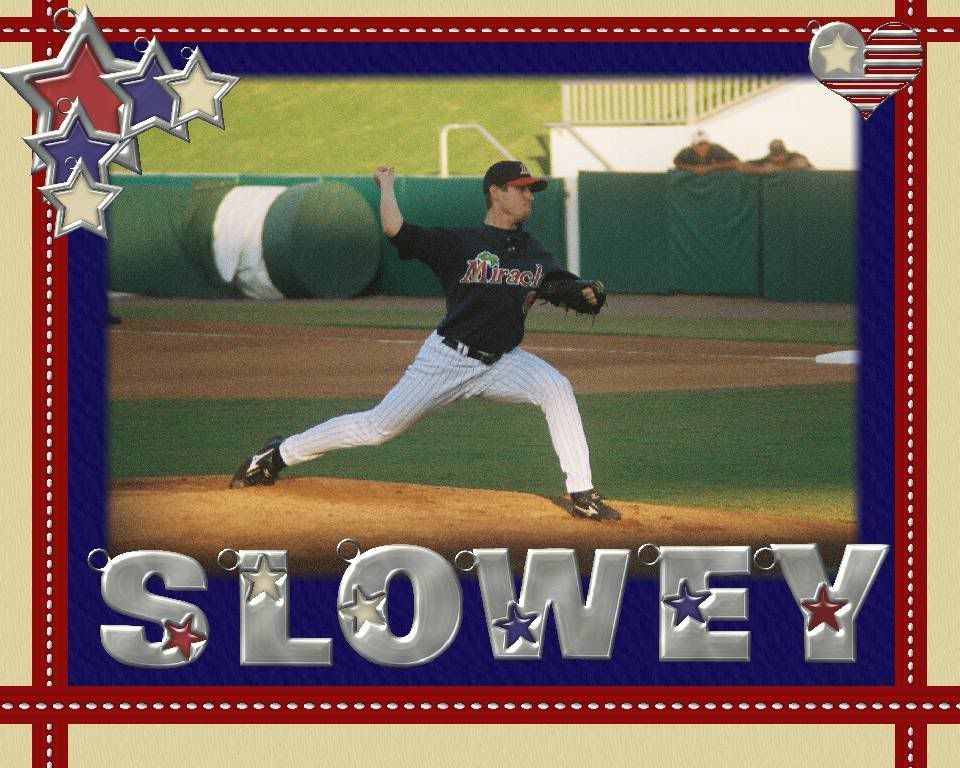 Fort Myers 2 at Lakeland 3
Record 13 - 10
W: J. Nickerson (2-2, 6.12); L: M. Fox (1-1, 4.05); SV: E. Clelland (2)
HR: None.
The Miracle lost their third straight game, scoring late and failing to catch up with the Lakeland Flying Tigers at Joker Marchant Stadium.
Kevin Slowey
worked 5 hitless innings of ball, allowing only 1 walk while striking out 5 and appeared about ready to head up to the Twins.
Matt Fox
would come on in relief, and the Tigers hounded him for three runs on three hits and 1 walk. He struck out 2 in 2 innings worth of work.
A fielding error by
Danny Valencia
allowed
Brandon Timm
to reach in the bottom of the 3rd. A sac bunt by
Jeff Kunkel
would move Timm to second. A second fielding error by Valencia put
Cale Iorg
on base.
Justin Justice
then doubled the pair in.
Scott Sizemore
would strike out swinging and Justice would be caught stealing 3rd to end the inning.
Brennan Boesch
singled out to left, and then moved to 2nd on a passed ball by Miracle catcher
Wilson Ramos
. A
Jeramy Laster
single allowed Boesch to score what would prove to be the game winning run.
Jonah Nickerson
would work 7.1 innings for the Tigers and he looked like a totally different pitcher than the one the Miracle faced last Monday. Nickerson kept the Miracle off the board through 7 innings and held them to only 2 hits while striking out 4.
Johnny Woodard
and Ramos would both single off him in the top of the 8th, before he hit his pitch count and was replaced by
Angel Castro
.
Whit Robbins
then tripled in the pair, but that was all the Miracle would see off the Tigers' pitching staff.
For the Miracle, it was a game with more strike outs then hits, with Woodard getting 2 K's and Valencia, Ramos,
Danny Santiesteban
and
Eddie Ovalle
picking up one each.
The two teams rematch tomorrow for a 1:00 PM start, with Fort Myers'
Deolis Guerra
(2-0, 1.42) opposing Lakeland's
Matt O'Brien
(1-0, 4.32) on the mound.
Boxscore
Log
Miracle
MiLB
Ledger
News Press
NDN
Over in Appleton, Wisconsin, the Beloit Snappers and Wisconsin Timber Rattlers split a double header.
David Bromberg
picked up the win in game one as the Snappers came out on top, 6-5. Bromberg would allow 5 runs, all earned, on 9 hits and 2 walks while striking out 5 through 5 innings worth of work. All five runs came in the first two innings. The Snappers bats were up the task though, with
Steve Singleton
going 3-for-4 at the plate with a run and 2 RBIs, catcher
Jair Fernandez
going 3-for-3 with 2 runs and 1 RBI and designated hitter
Ben Petsch
going 2-for-2 with 1 run and 2 RBIs. (
Boxscore
)
The Snappers bats were silent in game two however, with
Donald Hume
limiting Beloit to 3 hits through 4 innings and
Phillippe Aumont
giving up only 1 hit through 3. Both struck out 2 and walked 1.
Joe Benson
was 2-f0r3 at the plate.
Mike Tarsi
lost his 5th game of the season, allowing 3 runs (2 earned) on 5 hits and 2 walks while striking out 3. (
Boxscore
)
Steve Tolleson
hit his 2nd home run of the season as the New Britain Rock Cats downed the Trenton Thunder 7-4 in a 12 inning contest. Tolleson was 3-for-6 at the plate with two runs and 3 RBIs.
Brock Peterson
and
Matt Moses
were also 3-for-6 in the contest, both with one run and Peterson with 1 RBI as well.
Trevor Plouffe
was 2-for-6 with a run and
David Winfree
was 2-for-7 with 1 RBI.
Danny Graves
picked up the win, working 1.1 innings worth of relief. (
Boxscore
)
In Triple A action, Rochester blanked the Lehigh Valley Iron Pigs 10-0.
Glen Perkins
picked up the win while former Miracle
J.D. Durbin
suffered his 5th loss of the season and saw his ERA raise to 9.51.
Randy Ruiz
,
Chris Basak
and
Jose Morales
were all 3-for-5 at the plate, Ruiz with 2 runs, and Basak with 1, while Morales and Ruiz had 1 RBI each.
Jason Pridie
was 3-for-6 with 1 run and 1 RBI, extending his hitting streak while
Howie Clark
was 2-for-5 with 1 run and 4 RBIs. (
Boxscore
)
Former Miracle
Errol Simonitsch
took a rehab stint with the GCL Twins in extended spring training. The Twins slaughtered the GCL Pirates 10-2. Simo allowed a triple and walk but struck out 2 over 2 innings, facing only 9 batters. First baseman
Jon Waltenbury
was 3-for-3 at the plate with 2 runs, including a triple in the sixth inning. Catcher
Danny Rohlfing
was 2-for-2 with a pair of doubles, 1 run and 1 RBI. The game also included rehab appearances by pitcher
Mike Allen
and former Miracle
Jose Leger
.