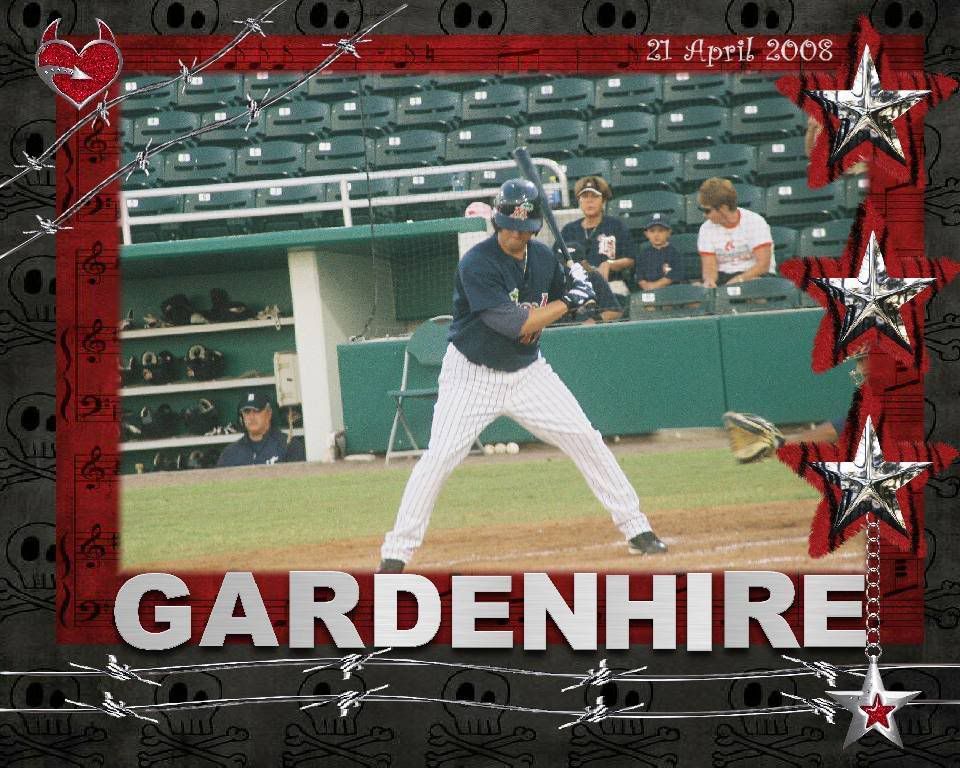 Binghamton 1 at New Britain 3
W: K. Aselton (8-6, 4.24); L: M. Antonini (1-3, 3.74); SV: R. Delaney (5)
HR: None.
The New Britain Rock Cats finished up their 2008 regular season with a win over the Binghamtom Mets, 3-1 at New Britain Stadium. Former Miracle
Kyle Aselton
picked up is eighth AA win while
Rob Delaney
recorded his 5th AA save.
Aselton and Binghamton's
Michael Antonini
worked four scoreless innings, engaging in a pitchers duel for the earlier part of the game.
Toby Gardenhire
would end that when he singled on a ground ball to first, then moved to 3rd, one out later, on
Rocky Palacios
' line drive to right.
Brandon Roberts
would ground into a force out that nabbed Palacios at 2nd, but Gardenhire crossed the plate for the first Rock Cats run.
Jose Mijares
would take over in the sixth for Aselton, who left the game having given up only 3 hits and a walk while striking out 9. MiJares would allow a double to
Fernando Martinez
in to sixth, but struck out
Shawn Bowman
and
Mike Carp
to keep the B-Mets off the board.
Dustin Martin
knocked a line drive to left with 2 outs on the board in the bottom of the sixth. A wild pitch by Antonini moved him to second.
Danny Berg
's line drive to center sent the former Mets' prospect home to give the Rock Cats two.
Jonathan Malo
would single off Mija in the top of the 7th with one out on the board. Mijares then walked
Salomaon Manriquez
. After a fly out to
Peeter Ramos
,
Emmanuel Garcia
singled a ground ball out to right that deflected off Gardenhire at first, scoring Malo for the lone B-Mets tally.
Armando Gabino
would replace Mijares at that point, getting
Jose Coronado
to fly out to retire the side.
Casey Hoorelbeke
replaced Antonini for the bottom of the 7th, allowing a single to
Felix Molina
and a walk to Palacios. Roberts' bunt singled advanced the pair.
Brian Dinkelman
ground into a force out which took Molina out at home, but
Matt Tolbert
followed that up with a line drive that brought in Palacios, making the score 3-1 New Britain.
Delaney would walk two and allow a single in the top of the 9th, but got Martinez to fly out with the bases loaded to end the contest.
Molina finished up the game 2-for-3 with a walk, while Gardenhire was 2-for-4 with a run. Roberts ended the game 1-for-3 at the plate with a RBI, while Palacios, who was also 1-for-3, added a walk and a run.
Tolbert, Martin and Berg were all 1-for-4 in the contest, Tolbert and Berg with a RBI each, and Martin with a run.
New Britain finished their season with a 64-77 record, fifth in the six team North Division, having won their last 3 and 7 of their last 10.
Box
Log
Rock Cats/OSC
---
Rochester 9 at Buffalo 6
W: D. Graves (4-6, 6.30); L: B. Slocum (3-7, 4.85)
HR: BUF: T. Crowe (5), C. Gimenez (3). ROC: G. Jones (23), J. Pridie (13), M. Macri (11).
Danny Graves
picked up his fourth AAA win of the season for the Rochester Red Wings who downed the Buffalo Bisons, 9-6 at Frontier Field to end their 2008 season on a winning note.
Former Miracle
Garrett Jones
hit a 3 run home-run in the ninth inning, his 23rd of the year, to propel the Wings to victory over the Cleveland farm team.
Jason Pridie
and
Matt Macri
hit solo shot home runs; Pridie's 13 of the year came in the 2nd inning while Macri's 11th yard ball came in the 8th inning.
Howie Clark
was 3-for-4 at the plate, as was Jones, Clark with a pair of runs, and Jones with one run and 5 RBIs.
The win gives the Wings a 74-70 Record for the season, 3rd place in the North Division, 14 games behind the wildcard Pawtucket Red Sox.
Box
Log
RD&C
---
Burlington 7 at Beloit 3
W: J. Augustine (4-2, 3.77); L: S. Hunt (1-4, 5.46)
HR: BUR: C. Robinson (17), K. Martin (9).
Shooter Hunt
gave up 4 runs, all earned, on 4 hits and 4 walks, striking out only one to suffer his fourth loss at the Low A level. The highly touted prospect lasted only 2 innings before giving way to
Henry Reyes
.
The playoff bound Burlington Bees topped Beloit 7-3, taking 3 more runs Reyes on 5 hits and a walk over the next five innings. Reyes would strike five during his time on the mound.
Chris Cates
was 2-for-4 at the plate but did not factor into the scoring.
Juan Richardson
and
Allan de San Miguel
were 1-for-3 each at the plate, Richardson with a run and a run scored, and Dirty with a pair of RBIs.
Greg Yersich
, playing at 1st, was 1-for-4 in the contest with a run, while
Ramon Santana
was 0-for-4 at the plate, but picked up a run after he reached on a fielding error.
The Snappers end their season with a 71-67 overall record, and were five games behind Cedar Rapids for the league's wild card spot.
A number of players from the Snappers will be attending Fall Instructional League as they look to make he jump for Low to High A in 2009 including Reyes, Hunt and Richardson, plus Midwest league MVP
Ben Revere
. Snapper's field manager (and former Miracle catcher)
Nelson Prada
, who guided the Snappers to a .500 second half, will manage the four week fall league at the Lee County Sportscomplex.
Box
Log
Beloit
---
Outfielder
Dustin Martin
and infielders
Danny Valencia
and
Steve Tolleson
will join pitchers
Jeff Manship
,
Rob Delaney
,
Tim Lahey
and
Anthony Slama
on the
Phoenix Desert Dogs
of the Arizona Fall League. Rochester Red Wings field manager
Stan Cliburn
will manage the Twins affiliated Desert Dogs who open their season Tuesday, October 7th, against the Mesa Solar Sox.