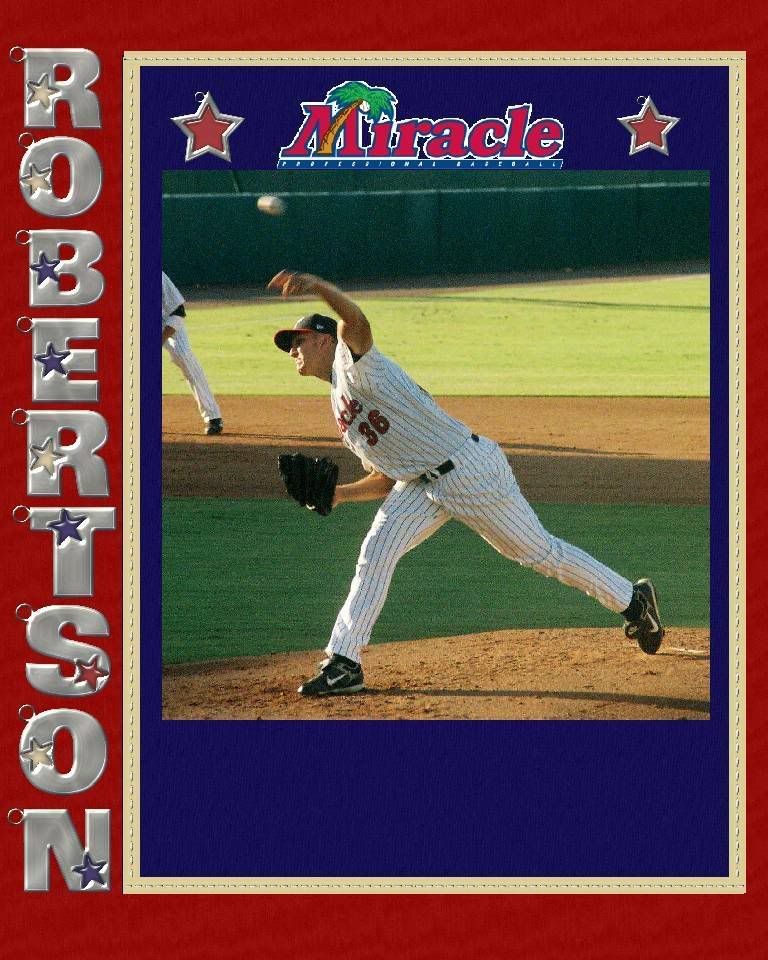 Dunedin 2 at Fort Myers 3
Record 5 - 4
The Miracle opened their 3 game home series
against
the Dunedin Blue Jays strong, watching both
Brian
Dinkelman
and
Johnny Woodard
take advantage of strong winds to put balls over the right field fence.
Tyler Robertson
's first appearance against the home town crowd seemed to start out strong as well, as he struck out
Chris Emanuele
to start out, then retiring Sean
Shoffit
on a fly out and 2006 1st rounder
Travis Snider
on a ground out.
But Robertson started to struggle in the 2
nd
.
Brian
Dopirak
opened with a double out to left. After two consecutive strike outs,
Bradley
Emaus
took a walk.
Jesus Gonzalez singled
to load the bases and a
Jonathan
Diaz
single saw
Dopirak
across the plate for the first Dunedin run. With the bases still loaded, Robertson was able to entice Emanuele to his second strike out of the game.
Kenny Rodriguez
took the start for the Jays and worked six innings, keeping the Miracle to only 3 hits during that time, two of which were the first inning home runs. He issued only one walk and struck out 5.
After a 3-up, 3-down bottom of the second for the Miracle,
Shoffit
walked to start out the top of the 3rd. While Snider struck out swinging,
Shoffit
would steal second on catcher
Wilson Ramos
. A line drive by
Dopirak
saw
Shoffit
across the plate as the Jays tied the game.
While Robertson's seven strike outs were impressive, the six hits and 2 walks marred the performance. He also threw a lot of pitches, giving way after the 4
th
inning to
Danny
Vias
, who would hold the Jays to only one hit, while striking out 3 over the next four.
Edward
Ovalle
came into the game in the 7
th
to pinch hit for
Whit Robbins
, drawing a walk to get on base with one out. A wild pitch by reliever
B.J. Ryan
saw
Ovalle
to 2
nd
and a balk by Ryan got him to 3rd. After
Juan
Portes
struck out swinging,
Danny
Santiesteban
took the first pitch he faced deep for a double bringing in
Ovalle
for the game winner.
With
Dinkleman
on 3rd base in the top of the 9
th
, both
Danny Valencia
and
Johnny Woodard
had a chance to add an insurance marker, but both struck out, ending the winning.
Emaus
singled out to right in the 9
th
and stole 2
nd
, but three strike outs by
Anthony
Slama
shut the door on a Jays rally, letting the Miracle take game one of the series.
Box
Log
MiracleBaseball

.com
News Press
Breeze