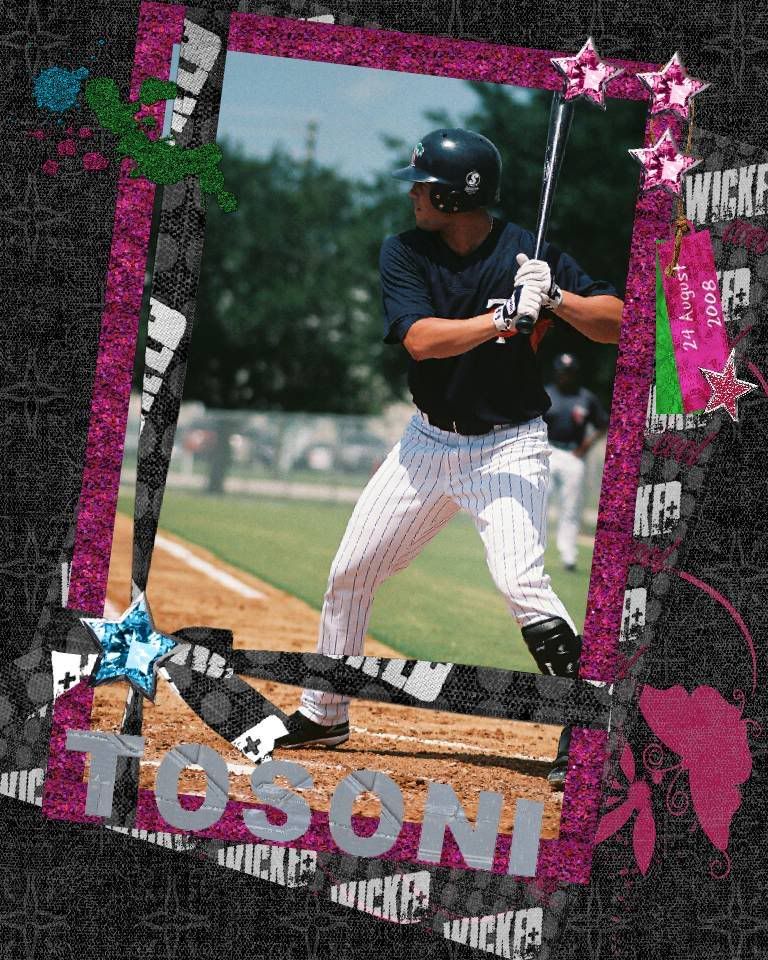 Fort Myers 5 at Daytona 3
W: C. Gutierrez (1-1, 9.00); L: J. Russell (0-1, 6.75); SV: A. Slama (3)
HR: FTM: E. Ovalle (1), W. Robbins (1). DAY: T. Thomas (1).
It seems the Miracle weren't quite as done in as
some bloggers
seemed to think. Indeed, the Fort Myers Miracle will live to see game four of the best of five series against Daytona, batting their way past the Cubs at Jackie Robinson Stadium Monday night.
Juan Portes
would lead off with a double in the top of the 1st and
Edward Ovalle
smacked a home run over the left field fence, giving the Miracle a 2-0 lead.
Rene Tosoni
would follow it up with a single, but
Wilson Ramos
hit into a double play and
Whit Robbins
ground out to send the Cubs up to bat.
The Miracle would give the ball to
Deolis Guerra
, who would in turn keep the Cubs off the board until the bottom of the third, when
Tony Thomas
singled and stole 2nd. He'd be given 3rd when Guerra unleashed a wild pitch, and
James Adduci
doubled him in, cutting the score in half. Guerra would walk
Ty Wright
before getting
Blake Lalli
and
Russ Canzier
out on fly balls, leaving two men stranded.
Tosoni lead off the top of the fourth with a singled and Ramos doubled him in. Robbins then rocked one out of the park for two more runs, giving the Miracle a 5-1 lead.
It would stay that way until the bottom of the fifth when
Darwin Barney
singled and Thomas put one out of the park for the Cubs, making it 5-3. Adduci would go down on strikes and Wright would walk before
Jose Lugo
was brought in to replace Guerra. Lugo would take pinch hitter
Marquez Smith
out on strikes and induce Canzier to ground into a force out to end the inning.
Carlos Gutierrez
replaced Lugo in the bottom of the the sixth and worked one inning, walking one and striking out one before giving way to
Blair Erickson
. Erickson allowed 2 hits and a walk over the next 1.2 innings while fanning three but keeping the Cubs off the board.
Anthony Slama
would strike out four, allowing a hit and a pair of walks in 1.1 innings to finish off the contest for the Miracle.
Daytona's
James Russell
gave up all five runs for the Cubs on 8 hits while striking out 3 over 5.2 innings. Guerra would also give up 8 hits, plus a walk, while fanning 3, but his would come over 4.1 innings and he'd allow only three runs.
Tosoni was 2-for-3 with a run and a walk, while Ovalle and Ramos were both 2-for-4 with a run each, Ovalle with 2 RBIs and Ramos with a double and 2 RBIs. Robbins finished up 1-for-4 with the home run and a pair of RBIs. Portes was also 1-for-4 with a run, but added a double instead of a yarder.
So the Miracle push it to game four Tuesday night at 7:05 PM.
Alex Burnett
(1-0, 0.00) will go up against the Cubs
Marcos Mateo
(0-1, 2.45) on the mound. The Miracle faithful can listen in to the play-by-play action with the Voice of the Miracle,
Sean Fox
, on WMYR AM-1410 and WCNZ AM-1660 starting a 6:50 PM.
Box
Log
Miracle
Cubs
MiLB.com
Breeze
NDN
News-Press
Yankees, Yankees everywhere:
The Scranton/WB Yankees will take on the the Devil Rays affiliated Durham Bulls for the International League's Governor's Cup. In the Eastern League, the Yankee affiliated Trenton Thunder will seek a championship against the Cleveland affiliated Akron Aeros.
LEN3
lists
Wilson Ramos
as his top prospect pick for the Twins this year. Ramos would, in my honest opinion, benefit from a bit of plate discipline. As Alex put it "He hits into a shit load of double plays." In part, I think you have to look at which prospects are in a position to help the Twins the soonest, so I'd have to go with either
Anthony Swarzak
or
Luke Hughes
as the top prospect overall. But then, we all have our own agendas in filling out lists, don't we?