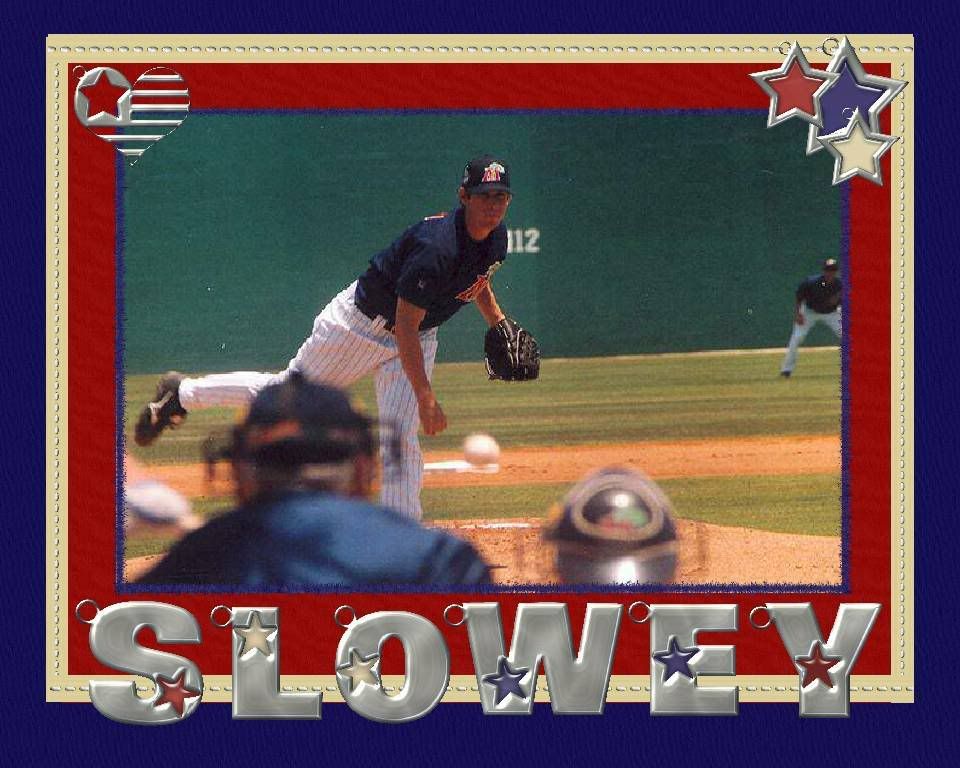 Lakeland 4 at Fort Myers 10
Record 11 - 7
W: D. Guerra (2-0, 1.42); L: J. Nickerson (1-2, 7.64)
HR: LAK: J. Laster (3), J. Justice (2). FTM: J. Woodard (4).
A grand slam home run by
Johnny Woodard
in the 3rd inning started out a night that ended up in 15 hits and 10 runs for the Fort Myers Miracle.
Minnesota Twins righty
Kevin Slowey
took the start for the Miracle, allowing 1 run on 1 hit when
Jeremy Laster
went yard in the second inning on him. He would strike out 5 otherwise over 3 innings worth of work before giving way to
Deolis Guerra
who would be credited with the win.
Fort Myers took an early lead in the 1st when
Rene Tosoni
,
Danny Valencia
and Woodard all recorded singles, which brought Tosoni in for the first run. After the Tigers tied it up in the 2nd,
Whit Robbins
drew a walk in the bottom of the inning. A
Danny Santiesteban
single would bring Robbins in, in part due to a throwing error by Lakeland firstbaseman
Pedro Cotto
. Tiger's third baseman
Michael Bertram
was run over by Robbins during the play, but was able to continue the game after a brief delay.
Brian Dinkelman
and Tosoni had both recorded singles in the 3rd and Valencia drew a walk, loading the bases for Woodard's mamoth hit, that jumped the right field fence to make it 6-1 Miracle.
Lakeland took one run back in the top of the 4th when
Michael Bertram
doubled and
Jeramy Laster
singled.
Pedro Cotto
would reach on what was called a fielder's choice after Woodard dropped the ball, twice, at first base allowing Bertram to score.
The game would settle down until the top of the 7th, when
Luis Ott
would draw a walk off Guerra.
Justin Justice
then went deep over the right field fence to score 2.
The Miracle were undaunted however, as Dinkelman drew a walk in the bottom of the 7th, then stole 2nd base.
Rene Tosoni
would bring him in on a ground ball to center.
With
Nicholas Martin
on the mound for the bottom of the 8th and 2 outs,
Toby Gardenhire
would single. Dinkleman and Tosoni followed suite to bring in Gardenhire. Valencia then brought in Dinkelman with a line drive to center. After Woodard was hit by a pitch, Martin would be done, with
Brendan Wise
coming in from the Lakeland bullpen to finish up.
Edward Ovalle
singled off of him to drive in Tosoni before
Wilson Ramos
ground into a force out to end the Miracle offense.
Tim Lahey
, who is getting a look at some live hitters before being reassigned to Rochester, finished off the game, setting three Lakeland batters down in order.
Tosoni was 4-for-5 in game with 3 runs and 2 RBIs. Valencia was 3-for-4 with a run and 1 RBI while Dinkleman, Woodard and Ovalle were all 2-for-4. Woodard's grand slam gave him 5 RBIs in the game, Dinkleman had 3 runs and walk and Ovalle had a walk and 1 RBI. Ramos, who went 0-for-5, saw his batting average drop to .189.
The Miracle look for a sweep tonight, sending lefty
Tyler Robertson
(0-1, 2.57) to the hill against right-hander
Matt O'Brien
(1-0, 3.86).
Boxscore
Log
Miracle
News Press
NDN
Breeze
Ledger
Take I-75 North
The Snappers fell to the West Michigan Whitecaps 2-1 Monday night (
Boxscore
).
Deibinson Romero
had a single shot home run in the 5th inning for the Twins Low A farm team. Shortstop
Chris Cates
was 2-for-3 in the game, but the Tampa, Florida, native did not figure into the scoring.
Reading fell to the New Britain Rock Cats, 5-2. Former Miracle 1st baseman
Brock Peterson
was 2-for-3 with a walk, a pair of doubles and a run for the Cats while
Luke Hughes
and
Trevor Plouffe
were both 2-for-4, Hughes with 1 run and 1 RBI on a single shot home run. Former Miracle
Erik Lis
also went yard, bringing in 2 RBIs (
Boxscore
).
Armando Gabino
picked up the win in relief of starter
Anthony Swarzak
, who gave up 2 runs on 7 hits and 3 walks while striking out 6 over only 4 innings.
Scranton/Wilkes-Barre shut out the Rochester Red Wings for the second straight game.
Jason Pridie
and
Jose Morales
had the only hits for the Wings who cold against Yankees starter
Darrell Rasner
(
Boxscore
).
Glen Perkins
suffered the loss, the former Miracle gave up 1 run on six hits and 2 walks while striking out 2 over 5 innings worth of play.