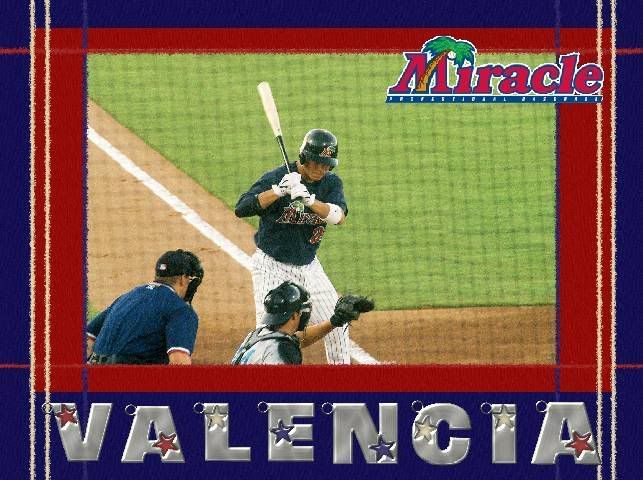 Lakeland 2 at Fort Myers 6
Record 10 - 7
W: J. Manship (3-0, 4.12); L: D. Below (1-2, 5.21); SV: A. Slama (3)
HR: FTM: D. Valencia (3).
It was the bottom of the fifth, and I was just telling Tyler we needed to get some offense going.
"We had 10 hits yesterday," he says. "It was all just one at a time."
"I meant today." We only had 3 hits on the board at the time, and Lakeland had a 2 run lead.
Ryan Strieby
had taken a walk in the top of the 3rd, and
Jeffrey Kunkel
doubled a line drive out to right. A fielding error by
Edward Ovalle
allowed Strieby to score. Kunkel would go for a triple, and was taken out at 3rd.
Cale Iong
then tripled off Miracle starter
Jeff Manship
, out to right.
Louis Ott
ground out, but Iong came home on the play.
Scott Sizemore
would single out to left before
Brennan Boesch
would strike out to retire the side.
Danny Santieseban
walked to start out the bottom of the fifth, and
Yancarlos Ortiz
flew out to right, which led up to the above conversation, with just three Miracle hits on the board.
Brian Dinkelman
and
Juan Portes
both drew walks, when the Tigers decided to pull starter
Duane Below
and go with reliever
Ed Clelland
. That gave me a chance to thank Tyler for the autograph and get back to my seat.
Just in time.
Danny Valencia
got the fourth Miracle hit, singling out to left to bring in Santiesteban.
Wilson Ramos
kept it going with a life drive out to
Jeremy Laster
in center field that brought in Dink and Portes.
Edward Ovalle
would ground into a force out and
Rocky Palacios
would ground out as well, but the Miracle were on the board and had the lead.
With two outs in the 6th,
Brandon Timm
would single, but field manager
Jeff Smith
was taking no chances, turning to reliever
Jose Lugo
. The outgoing Manship would have given up 2 runs, both earned, on 6 hits and 2 walks while striking out 4 in 5.2 innings worth of work.
Lugo would get the final out in the sixth and hold the Tigers hitless in the seventh.
Gabriel Benitez
would take over the mound from Clelland in the 7th, when Dinkelman walked. Portes flew out, and with Valencia at the plate, Dinkelman would steal 2nd. That's when Valencia connected to take Benitez deep, bringing in two. I'd later hear
Sean Fox
saying on the Miracle broadcast that is was the longest home run he'd seen out of the Miracle. There was no tape, but that ball went a ways, that is for certain. Ramos almost made the fence as well, flying out on the warning track to
Brennan Boesch
. That gave the Miracle a nice little cushion to their lead.
Anthony Slama
would be called in to "Slama the door" on Lakeland, which he did well in the 8th, allowing only walk to Sizemore.
The Flying Tigers turned to pitcher
Brendan Wise
in the bottom of the 8th. Following a
Whit Robbins
fly out, Santiesteban and
Yancarlos Ortiz
would hit back to back doubles to give the Miracle their sixth run of the night. Wise would intentionally walk Dinkelman to get at Portes, who hit a single to left. Valencia would be called out on strikes, a very controversial call by the umpire, especially as Valencia felt he'd earned a walk. Ramon ground into a force out to end the inning.
Slama would make things a bit interesting in the ninth however, allowing a single to
Pedro Cotto
, and then throwing the ball past 2nd base on a force attempt that allowed Laster to get on the bag. With one out on the board though, held get Strieby to ground into a double play to end the contest.
Valencia would go 2-for-3 on th night with 1 run and 3 RBIs. Dinkelman would go 2-for-2 with 3 walks and 2 runs. Santiesteban was 1-for-2 with a walk, but also had 2 runs to his credit.
The two teams rematch tomorrow for a 7:05 PM start. The Miracle will have Twins' pitcher
Kevin Slowey
on the mound on a rehab start. Lakeland will send
Johan Nickerson
(1-1, 7.30) out to the hill in retaliation.
Boxscore
Log
Miracle
News Press
NDN
Breeze
Despite home runs by
Ozzie Lews
and
Ramon Santana
in Beloit, the Wisconsin Timber Rattlers still took a win, 4-3 from the Snappers.
Blair Erickson
and
Charles Nolte
would combine to surrender 3 runs in the 6th inning, on 2 hits and 3 walks while striking out 2. Erickson would be charged with the loss. Santana would go 2-for-3 with 1 run and 1 RBI at the plate, while right fielder
Mark Dolenc
was 2-for-5. (
Boxscore
)
The New Britain Rock Cats downed the Trenton Thunder 5-4 in Eastern League play (
Boxscore
). Former Miracle lefty
Kyle Aselton
picked up the win in the 12th inning, the second straight time these two teams have played extra innings.
Trevor Plouffe
,
Matt Moses
and
Erik Lis
were each 2-for-5 in the game, Plouffe and Lis with a run each and Moses and Lis with an RBI each.
Dustin Martin
was 2-for-6 with 1 run and 1 RBI.
Ryan Mullins
worked six innings on the mound, allowing 3 runs, 1 earned on 8 hits and 3 walks while striking out 2.
Triple AAA Rochester would take a big 7-4 win from the Scranton/WB Yankees on Sunday.
Darren McDonald
would go 3-for-3 at the plate with 3 walks and 1 RBI.
Chris Basak
was 2-for-4 with 2 runs. Former Miracle catcher
Jose Morales
picked up 2 RBIs in the contest while
Jason Pridie
accounted for 2 runs and 3 RBIs on a hit and a walk, going yard in the ninth to give the Red Wings the win (
Boxscore
). Naples resident
Carmen Cali
recorded his second win of the season for the Twins farm team, while
Bobby Korecky
recorded his 4th save of the season.