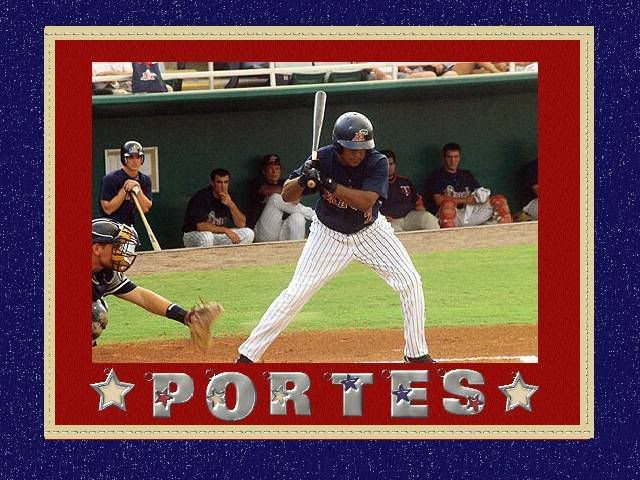 Lakeland 9 at Fort Myers 10
Record 12 - 7
W: D. Vais (4-0, 0.69); L: F. Dolsi (0-1, 7.11)
HR: LAK: J. Justice (3). FTM: D. Santiesteban (2), J. Portes (1).
The Lakeland Flying Tigers bullpen suffered a power outage on Earth Day, allowing the Miracle bats to rally back to a 10-9 win Tuesday. It was the second straight home series sweep for the Fort Myers squad, who also took the series from Clearwater.
Shawn Roof
, the son of former Rochester field manager
Phil Roof
, doubled in
Ryan Stieby
in the top of the 2nd inning to give the Tigers first blood. Roof would try to stretch to the play for a triple, and was taken out at 3rd.
In the bottom of the inning,
Johnny Woodard
would open with a double and
Whit Robbins
would follow one out later with a single.
Danny Santieseban
then launched one over the left field fence to give the Miracle a 3-1 lead.
Lakeland would answer back in the top of the 3rd with
Justin Justice
singling out to right, and
Cale Iorg
out to left. A fielding error by
Juan Portes
got Justice to 3d, and a
Scott Sizemore
sac fly brought him home. A wild pitch by southpaw
Tyler Robertson
then allowed Iorg to score, tying up the game.
The top of the six would prove profitable for the Tigers, when a pair of errors by Robbins, playing at 3rd allowed
Brandon Timm
and
Jeramy Laster
to both reach base.
James Skelton
then drew a walk off Robertson. This time the big lefty could not find the strikes, and allowed a single to Strieby to drive in two.
Brennan Boesch
would then ground into a force out before field manager
Jeff Smith
came in to take the laboring Robertson out of the game.
He'd be replaced by
Matt Fox
. The former first round pick allowed a single to Roof that brought in Skelton.
Justin Jones
then went yard over the right field wall to bring in 3 more, making it 9-3 Lakeland.
Tiger's starter
Matt O'Brien
had pitched a good game until then, allowing 3 runs on 4 hits and 1 walk while striking out 1. But
Jordan Tata
's appearance on the roster, and the mound, did not sit well with Lakeland, as Tata, who has been battling injuries, had trouble finding the strike zone. He'd issue a walk to
Rene Tosoni
, and would get
Danny Valencia
to pop out before giving free passes to Woodard and Portes. A sac-fly by Robbins to center field allowed Tosoni to score, while a double by Santiesteban brought in Woodard.
Allan de San Miguel
would draw a walk before Lakeland field manager
Andy Barkett
finally pulled the plug on Tata.
Ed Clelland
would come in and promptly allowed
Wilson Ramos
to walk which brought in Portes and kept the bases loaded. Clelland then unleashed a wild pitch, which brought in Santiesteban and just like that, the Miracle were back in the game.
The home team would get within one in the bottom of the 7th, when Valencia doubled then scored on a Portes grounder to center. They threatened in the bottom of the 8th, with the speedy Santiesteban getting as far as 3rd, but Tosoni would strike out to end the inning, with a huge group groan from the 2-for-Tuesday crowd.
Woodard would single in the bottom of the 9th, and Portes would put one over the left field wall to give the Miracle 2, and the win.
Woodard and Santieseban were both 3-for-4 with a pair of runs each, Santiesteban with 4 RBIs. Portes was 2-for-4 with a walk, a pair of runs and 3 RBIs for the home town team.
Robertson would allow 7 runs on six hits and 3 walks while striking out only 3.
Rob Delany
and
Danny Vais
finished off the game.
With the win, the Miracle take sole possession of first place, after Dunedin lost their last two to the Sara-Reds. The Miracle now head out on the road for three in Tampa and three in Lakeland before returning home against Clearwater on Wednesday April 30th.
Boxscore
Log
Miracle
News Press
NDN
Ledger
Take I-75 North
Missy, the Miracle mascot, recieved a makeover, going from furry to plush and getting a new white pinstriped uniform. I can't say the change is for the better, but your children may have a different opinion.
Manny accosted me for missing a couple of games last week while I was down win a sinus infection. Then the rookies found me and got on my case for not going out to see them play. It's nice to know I'm missed when I'm not around. (Your milage may vary.)
Danny Berlind
suffered the loss as the Beloit Snappers fell to the West Michigan Whitecaps 5-3.
Mark Dolenc
and
Chris Cates
were both 3-for-3 for the Snappers, Dolenc with 1 run and 1 RBI and Cates with 1 RBI.
In New Britain, Reading posted an 11 - 9 win as
Jay Rainville
suffered his 2nd loss of the season, allowing 10 runs on 13 hits while striking out 1 over 3.2 innings.
Dustin Martin
was 2-for-3 with a run for the Rock Cats;
Steve Tolleson
was 2-for-4 with a walk, a run, and a RBI, and
Luke Hughes
,
Brock Peterson
and
EriK Lis
were all 2-for-5. Hughes smashed his fourth home run of the season, a solo shot in the 3rd inning off
Fabio Castro
.
The Red Wings had the night off.
Tim Lahey
joined the club after pitching for the Miracle Monday night. Righty
Zach Day
was activated from the DL and assigned to the Miracle to take his place.
Danny Graves
was promoted to Double A New Britain as well.