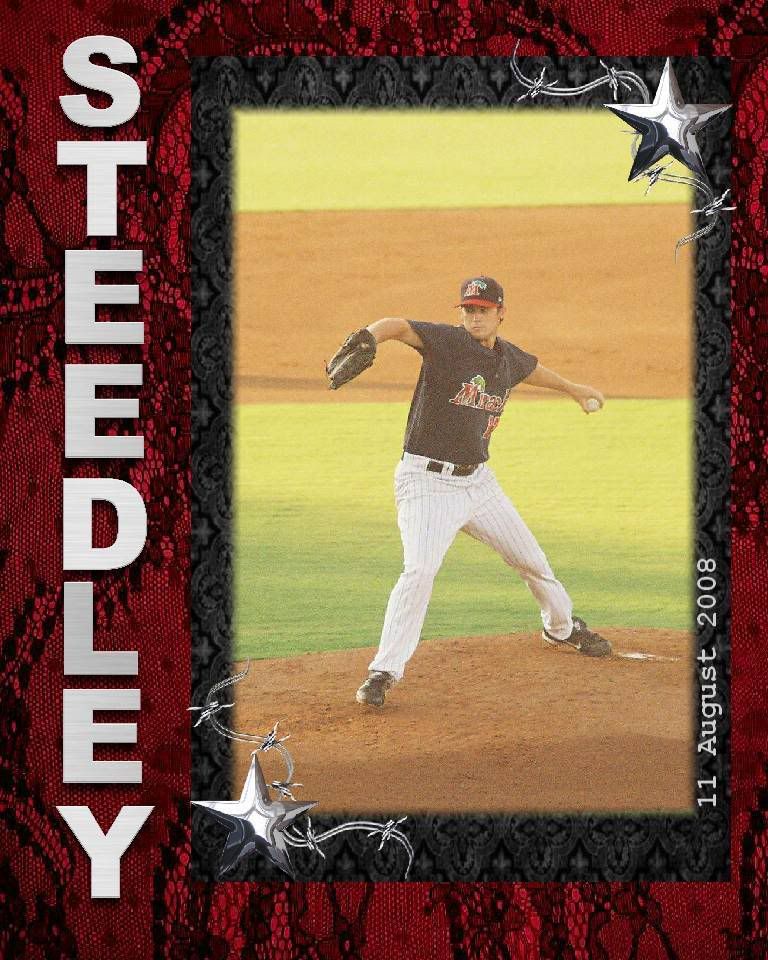 Lakeland 1 at Fort Myers 5
W: S. Steedley (1-3, 7.83); L: A. Figaro (0-3, 4.64)
HR: FTM: W. Robbins (6).
Some of the Miracle faithful had questioned the wisdom of moving
Spencer Steedley
into the rotation. Steedley proved that's where he belongs Saturday night, as he limited the Lakeland Flying Tigers to only a pair of hits and 4 walks while fanning six over six innings.
The Miracle got a boost onto the board in the 3rd inning when
Whit Robbins
launched his sixth home run of the season over the right field wall.
Steve Singleton
had batted his way onto base one out earlier, so the home run was good for two. The Miracle would make it stand up until the bottom of the eighth.
Robbie Weinhardt
would come in to replace
Jay Sborz
on the Tiger's mound and Singleton doubled off the newcomer. After Ramos went down on strikes, his second strike out of the game, Weinhardt intentionally walked Robbins.
Johnny Woodard
would also take a walk to load the bags, although in this case, it was not intentional.
Edward Ovalle
's double to right brought in two of the three runners, and
Garret Olson
would sacrifice in the slow footed Woodard to make it 5-0 Miracle.
Anthony Slama
would be brought in for the ninth. Slama needs a good long rest as his arm is definitely not what it was earlier in the season.
Michael Bertram
would single off of him. He'd bounce back and get
Jeremy Laster
and
Brandon Timm
out on strikes.
Justin Justice
's double would put Bertram on 3rd and
Jordan Lennerton
would take a walk to load the bags.
Jeff Kunkel
singled to score Bertram, ruining the Miracle's shut out. Slama would finally get
Devin Thomas
out on strikes to end the game.
Robbins was 2-for-3 in the game with a walk, a pair of runs and a run batted in. Singleton and Ovalle were 2-for-4 each at the plate, Singleton with a double and pair of runs, Ovalle with a double and a pair of runs scored. Olson finished up 1-for-3 with a RBI, and
Juan Portes
, Ramos and
Danny Santiesteban
were all 1-for-4, and all one hit wonders. Woodard finished up 0-for-2 with a pair of walks and a run.
The win was Steedley's first at the FSL level.
Tropical Storm Fay is on the way and when the local weather will be affected remains to be seen. The Miracle head over to Sarasota for games on Sunday and Monday.
Matt Fox
(6-6, 3.81) is due to pitch for the Miracle on Sunday, with the contest slated for a 1:00 PM start.
Box
Log
Miracle
News Press
NDN
News Press: Berg
Ledger
Take I-75 North
Blog
Roger's Minor League Report
Deolis Guerra
needs to go into the bullpen. He has suffered from control problems most of the season. Sure he's 19, but so is
Alex Burnett
, who's been much more reliable. Guerra looks uncomfortable in a starting role and vulture magic may make a difference for him.
Matt Williams
was good for four yesterday, and the Twins have had a lot of luck moving Aussie's into starting roles.
With the win, the Miracle move into 3rd place in the FSL West division, 12 games behind the division leading Dunedin Blue Jays who defeated the Reds on Saturday, 5-1.
Brian Duensing
reports in
his blog
about beating the Canadians at Beijing. Be sure to check it out as the former Miracle picked up the win and gives a nice pitch-by-pitch recount of his final battle with
Stubby Clapp
.
Following the two game gig in Sarasota and a day off on Tuesday, the Miracle play three at Lakeland and three at Clearwater for the final road trip of the regular season. They return home Tuesday, August 26th for a three-game set against the Flying Tigers.