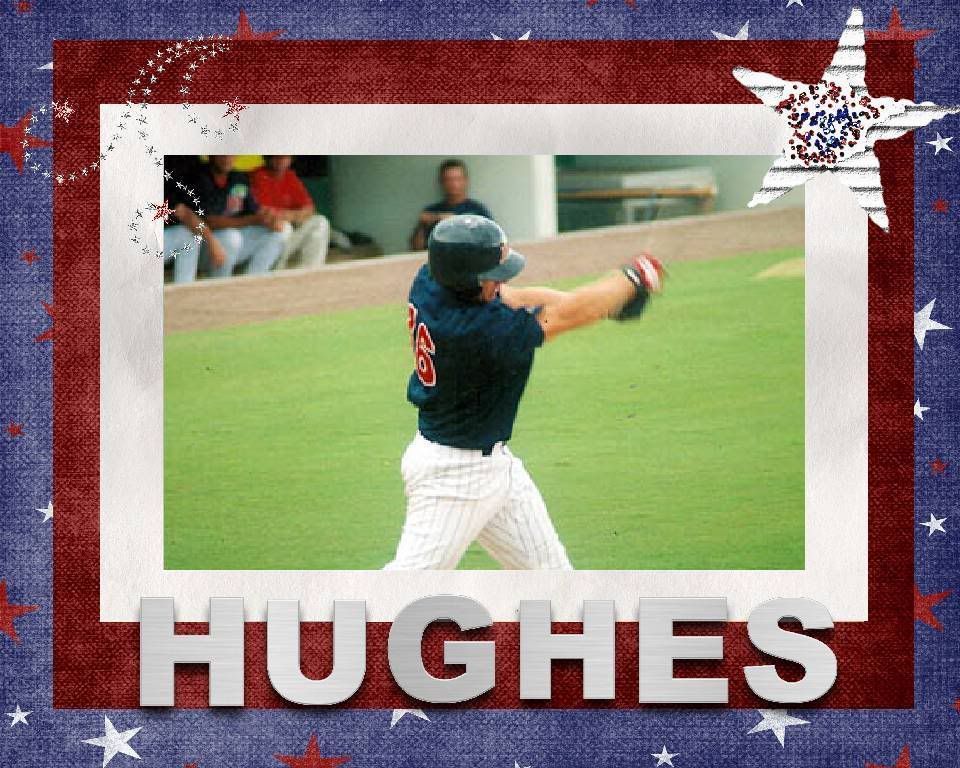 Former Miracle infielder
Luke Hughes
was honored by the Eastern League Monday when he was named the Bank of America Eastern League Player of the Week for the week ending April 27, 2008.
Hughes, a native of Perth, Australia, had an outstanding week for the New Britain Rock Cats, hitting .394 (13-for-33) with two doubles, six home runs, 10 RBI, five runs scored, two walks and a 1.000 slugging percentage in seven games. The 23-year old had at least one hit in each of the games he played in last week and hit a home run in all but two of the games that he played in, including a 4-for-5, two homer and five RBI performance in a 15-6 win against Reading last Wednesday.
With his home run outburst last week, the 6'0", 190 lb. slugger now leads the league with eight home runs and is also ranked among the league leaders in extra-base hits (14-tied 1st), slugging percentage (.689-2nd), hits (32-3rd) and batting average (.356-7th).
Hughes, who was signed by the Minnesota Twins as a non-drafted free agent on July 19, 2002, received an E.L. Player of the Week selection last season as well. In 2007, he batted .283 in 92 games and earned E.L. All-Star Game honors in his first season with New Britain.
Martin Making an impression in Double ADustin Martin
started off the season on the bench as a reserve fourth outfielder. The Rock Cats returned speedster
Brandon Roberts
to center field and power hitters
David Winfree
and
Matt Moses
– both third basemen making the switch to the outfield – were penciled in at the corners. That left little room for Martin; that is, until he stepped up to the plate for the first time.
Martin made his Double-A debut on April 5, when he went 1-for-3 with a double. He went on to hammer out 13 hits in his first six games. That included a four-hit performance on the road in Portland on April 12 that put his then league leading average at .619 (13-21). Throw in plays like a perfectly placed leadoff bunt or a highlight-reel worthy catch in left field and it would be hard to argue how Martin could be kept out of the everyday line-up.
Martin, 24, has been an offensive force for the Rock Cats. The 6'2", 211-lb. left-hander may have cooled off a bit in the past few games but still ranks third in the league with a .368 average. He leads the Rock Cats in stolen bases, is second on the team in slugging percentage and is among the team leaders in runs (14), hits (25), and doubles (6). He ranks second on the club with a .410 on-base percentage.
If Martin continues at his current rate, he may make it three-for-three on All-Star Game appearances with a showing in the Eastern League Game. That is if he hasn't played himself out of New Britain by July. Visit the
New Britain Rock Cats website
for an in depth look at the former Miracle outfielder.
Martin, who came to the Twins Organization as part of a trade with the New York Mets, was not in the line up last night, as the Rock Cats took on some of his fellow former teammates with New Britain playing in Binghamtom. Facing the soft pitching
Jake Ruckle
on the mound, the Cats jumped out to an early 5-1 lead and went on to win 7-1.
Matt Moses
was 3-for-5 in the contest with 2 hits and 1 RBI, while former Miracle 1st baseman
Brock Peterson
was 2-for-4 with 2 runs and 2 RBIs.
Erik Lis
, one of Martin's teammates on last years Miracle squad, was 2-for-4 with 1 RBI. Hughes was 1-for-4 at the plate with a walk and run.
Oswaldo Sosa
picked up the win, allowing 1 run (earned) on 2 hits and 3 walks while striking out 5 in five innings worth of work. (
Boxscore
)
The Cats play 2 more in Binghamton before returning home on Friday to face New Hampshire.
Around the system...
The Beloit Snappers came out on top against the South Bend Silver Hawks. Newly promoted
Brad Tippett
picked up the win n the relief roll, as a fielding error by Silverhawk 3rd baseman
Ramon Ramirez
allowed
Mark Dolenc
, who'd drawn a talk to start the tenth inning, across the plate.
Dan Lehman
was 3-for-4 at the plate in the contest with a triple, 1 run and 1 RBI.
Ben Revere
, who struggled a bit in his first outing on Monday, when 2-for-4 in this game, batting second in the line up behind fellow outfielder
Joe Benson
. Revere filled the center field position, while Benson shifted to right. (
Boxscore
)
Matt Williams
earned a blown save when South Bend scored an unearned run on the Australian hurler in the 8th inning. Williams worked 3 innings, striking out three over that period and allowing only 1 hit. A wild pitch by Williams and a throwing error by Lehmann, the team's catcher, lead to run after
Even Frey
doubled his way onto base.
Triple-A Rochester topped Pawtucket 9-3 at home.
Chris Basak
was 2-for-3 with a walk and run (including a double), and
Jason Pridie
was 2-for-4 with 2 runs and 2 RBIs. Former Miracle
Alexi Casilla
was also 2-for-4 at the plate, with one run.
Darnell McDonald
was 3-for-5 with 2 runs and 3 RBIs. (
Boxscore
)
Brian Duensing
allowed the Pawsox to pull to an early 3-0 lead, giving up three runs, all earned) on 7 hits and 1 walk. He struck out 4 over six innings. The Wings would begin their rally in the sixth, and scored the game winning run in the seventh to give reliever
Phil Humber
his first win of the season.
Former Ivy-Leaguer
Tim Lahey
picked up his 2nd save of the 2008 season on 1.2 innings worth of work, striking out 4 of the 5 batters he faced.
In Chicago, the parent Minnesota Twins topped the White Sox, 3-1.
Boof Bonsor
allowed 1 run (earned) on six hits and 1 walk in seven innings worth of work while striking out 8.
Delmon Young
was 2-for-2 at the plate with a walk and a run, while
Mike Cuddyer
was 2-for-4 with 1 run. Former Miracle outfield
Jason Kubel
put one over the right field wall to bring in Cuddyer for the game winning run. Young added an insurance point when
Joe Mauer
batted him in. (
Boxscore
)
After taking the night off, the Miracle return to action Wednesday at Hammond Stadium against the Clearwater Threshers. Clearwater continues to hold down the basement position in the West Division, but saw their record improve to 9 - 16 after winning their last 2. They are five games behind Fort Myers, who is tied for the top spot in the division with Dunedin. Game time is 7:05 for a Kid's Club and "Bing on the Berm" Wednesday night.