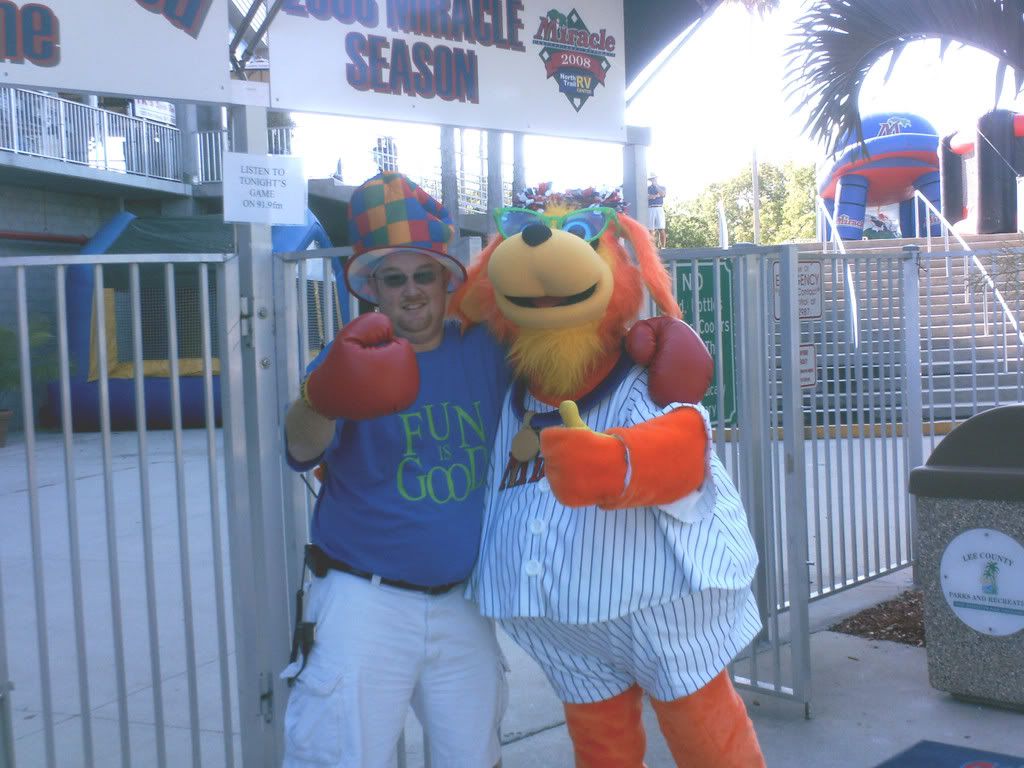 Miss A-Miracle with the Voice of the Miracle, Sean Fox
Clearwater 10 at Fort Myers 11
Record: 17 - 11
W: Z. Day (1-0, 1.29); L: B. Harker (1-1, 1.38); SV: R. Delaney (7)
HR: FTM: E. Ovalle (1).
Juan Portes
would make
Welinson Baez
pay for his fielding error in the bottom of the 6th inning, moving to second on
Edward Ovalle
's ground ball single, to 3rd on a
Wilson Ramos
hit, and getting walked in for the game winning run.
This was, of course, after the Miracle thrilled an Educational Day crowd of 2,000+ children by blowing a 8 run lead.
Fidel Hernandez
doubled on a line drive and moved to 3rd on a
Jay Miller
ground out. A
Matthew Spencer
sac-fly gave Clearwater an early lead. Miracle starter
Deolis Guerra
struggled early on and would only last 3.1 innings. That was okay though because the Miracle showed him a lot of love.
Portes and Ovalle hit back-to-back singles in the bottom of the second and Ramos followed that up with a double to bring Portes in, tying up the game. After
Whit Robbins
was called out on strikes,
Danny Berg
would reach on a fielding error that allowed Ovalle to cross the plate to put the Miracle up by one.
In the bottom of the 3rd, they broke out the bats against Clearwater lefty
Daniel Brauer
.
Rene Tosoni
and
Danny Santiesteban
both singled.
Danny Valencia
followed up with double to bring the pair in, with Santiesteban nearly running Tosoni over by the time the reached the plate. Portes would strike out, but Ovalle then tripled in Valencia. Ramos singled to score Ovalle. Robbins would knock a fly ball single out to left, and first baseman
Danny Berg
doubled to score the pair.
The Threshers decided at that point they need to change the pitcher and brought
Nate Johnson
out to try to stop the bleeding.
Yancarlos Ortiz
greeted him with a double to bring in Berg. Tosoni would be hit by a pitch, taking a walk. Sadly, Santiesteban ground into a double play to end Fort Myers' romp, but the score was 9-1 at that point.
Brian Dinkleman
was injured at the start of the inning when a pop ball struck his neck/collar bone area. I did not get a clear answer as to the extent of the injury - Larry jokingly said he had to be put down - but he did not return to the field. The Miracle would put Tosoni into right, bring Portes into cover 2nd and move Ovalle over to left field.
Mike Eylward
drew a walk off Guerra to start the inning.
John Urick
would double out to center to bring him in.
Gus Milner
then singled and
P.J. Antoniato
drew a walk to load the bags.
Welinson Baez
then hit a fly that Santiesteban could not come up with, bringing in 2. It was evident that Guerra was done at this point, and
Matt Fox
came out of the bullpen to take over, getting 2 outs to end the inning.
Ovalle homered in the fourth, a single shot to give the Miracle 10.
Spencer hit out to left and Eylward walked. Urick ground into a force out that put runners out the corners. Milner singed out to right to bring in Spencer. Antoniato's ground ball single loaded the bags again allowing
Tuffy Gosewisch
to hit a line drive out to center, bringing in Urick and Milner. A wild pitch by Fox moved the runners. Baez then hit a fly out to center that jumped the fence for a ground rule double, as the Miracle watched their lead dwindle down to one run.
Zach Day
would be brought in to end the inning.
A Spencer double out to left and a wild pitch by
Zach Day
hurt when Urick's ground out allowed the Threshers to tie up the game.
Day would pick up the win however, his first of the season, working 2.2 innings and allowing 1 run on 3 hits while striking out 2.
After Portes saved us from a potential extra inning game,
Rob Delaney
would be brought out to maintain the one run lead, picking up his 7th save of the year.
The Miracle have defeated Clearwater 9 straight this season, sweeping (just barely) the home series.
Lefty
Tyler Robertson
(0-1, 2.84) takes to the mound tomorrow as the Miracle see their first East Division team of 2008 with the Daytona Cubs coming to town for a fireworks game.
The Cubs will bring former Miracle
Adam Harben
- Flood! - (1-3, 5.28) who is expected to make the start - assuming he doesn't live up to his reputation as the "Human Rain Out" that he earned in the 2006 season.
Boxscore
Log
Miracle
News Press
News Press 2
Breeze
NDN
Pictures
---
Mad Drum Skills....
Missy's got 'em!