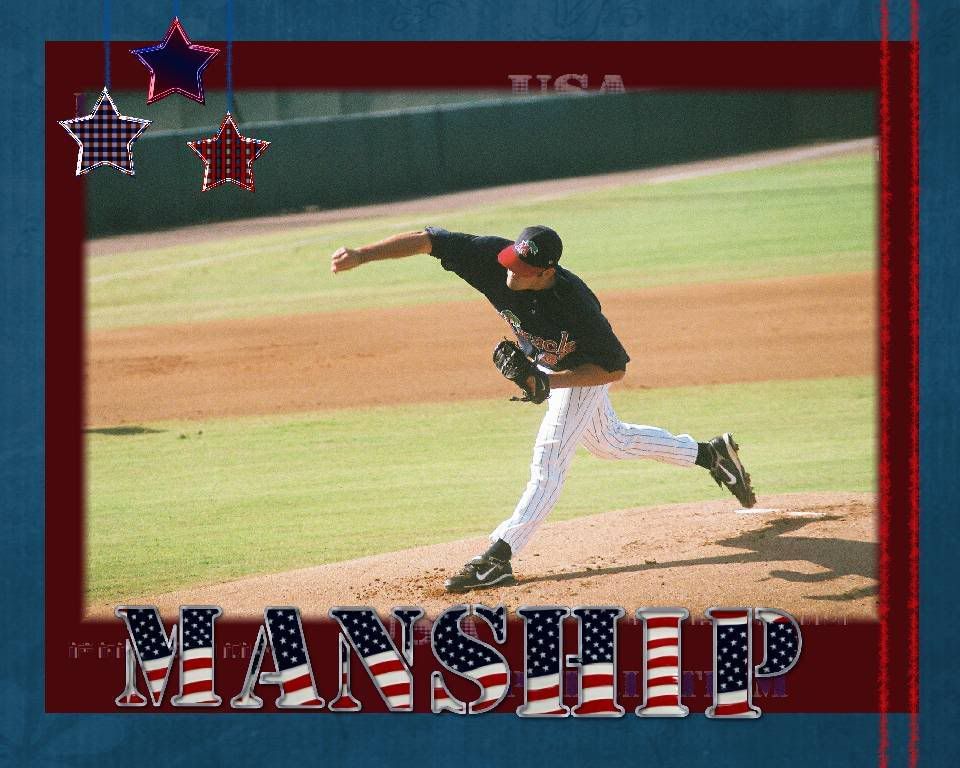 Clearwater 6 at Fort Myers 11
Record 16 - 11
W: J. Manship (4-0, 3.27); L: D. Byrd (0-4, 9.64)
HR: None.
Local strongman
The Mighty Gonzalez
may have set a Guinness World Record for lifting a keg of beer over his head Thursday night at Hammond Stadium, but the real story of the evening was Notre Dam grad
Jeff Manship
.
The Miracle starter held the Clearwater Threshers to only 1 hit over five innings, and finished up allowing 2 runs on four hits while walking 1 and striking out 6 over 6.1 innings. His fourth victory of the season gave new meaning to the word "Quality Start", it was a pity the bullpen could stand up to his level of excellence.
For the beer night crowd however, the Miracle's thunderous bats were of more interest.
The bottom of the second saw Fort Myers take their first run from Clearwater starter
Darren Byrd
. With one out on the board,
Juan Portes
singled his way onto base, and was tripled in by
Whit Robbins
who hit a line drive deep to left field.
Two more runs were added in the bottom of the 3rd with
Rene Tosoni
leading off with a double.
Danny Valencia
would be called out on strikes, but
Johnny Woodard
doubled to switch places with Tosoni.
Edward Ovalle
's sac bunt moved Woodard to 3rd, and Portes second single of the evening brought him home.
Portes would finish up the night an impressive 4-for-5 with 2 runs, but Woodard run would be his only RBI of the night.
Robbins would strike out to start the bottom of the fifth, but
Allan de San Miguel
took a walk to get on base.
Yancarlos Ortiz
singled followed by
Brian Dinkelman
to bring the Australian catcher in. Tosoni would fly out, but
Danny Valencia
then doubled in Ortiz and Dinkleman to make it 6-0.
While Manship continued to mow down Threshers, Clearwater decided they needed a fresh face on the mound.
Matt German
was brought in and was promptly greeted with a Portes single out to right. Robbins drew a free pass before de San Miguel hit a nice towering fly ball that was caught by
Quintin Berry
in center for the out. Ortiz would strike out swinging for the second out, but the Miracle were not ready to be sat down. Dinkelman singled to bring in Portes. Tosoni and Valencia drew back-to-back walks which forced in a run. Woodard singled in Dinkelman before Ovalle flew out to end the stanza.
The top of the sixth saw Manship give up his second hit of the evening to
Jesus Villegas Andino
, a single out to right. He would get Berry to ground into a force out, although why Ortiz didn't go for the double play I don't know. He would with
P.J. Antonio
though, to retire the side.
Manship would strike
Matthew Spencer
out to start the 7th, but
Jake Blalock
took a double from him and
John Urick
a single. With runners at the corners, Miracle field manager
Jeff Smith
took Manship off the mound bringing in
Danny Hernandez
. Hernandez had some problems finding the strike zone though and allowed a single to
Jay Miller
on a full count before he walked
Alan Robbins
.
Welinson Baez
saw something he liked off the young reliever and tripled out to center to score three.
Danny Vais
was then trotted out of the bullpen to replace Hernandez. Andino would reach on a fielders choice that took Baez out at home. Berry would walk before Vais got Antoniato to fly out to get the Miracle out of the inning.
Brian Schittler
would take over on the mound for the Threshers and allowed a single to Ortiz to start things off. Dinkelman's ground out moved him to second, and the speedy short stop would fly home on Tosoni's line drive to left. Valencia then doubled in Tosoni to give the Miracle two more, for a grand total of 11.
Tosoni finished up 3-for-2 with a walk and 2 hits. Valencia would go 2-for-4 at the plate with a pair of doubles, accounting for 4 RBIs. Woodard was 2-for-3 with a walk, a run and 2 RBIs in the designed hitter roll, with Robbins working a steady first base through the contest. Dinkleman would go 2-for-5 with 2 runs and 2 RBIs at the top of the order. Ortiz would be 2-for-3 with a walk and 2 runs.
Vais would issue a walk to Blalock but kept Clearwater off the board for the 8th.
Jose Lugo
did not fair so well in the 9th though, hitting Baez with a pitch to start out and allowing a double to Andino. Berry would strike out and Antoniato would ground out, but Baez scored on the play. A
Matt Spencer
single saw Andino in before Blalock popped out to Robbins in foul territory.
A long, relatively satisfying game, although I could have done with a little less excitement out of the bullpen.
Delios Guerra
(2-1, 3.75) will try to match the performance of
Cole Devries
on Wednesday and Manship on Thursday as he heads to the mound to start off an educational day game with a 10:35 AM start at Hammond Stadium.
Boxscore
Log
Miracle
News Press
Breeze
JeffCrupper.com
The Beloit Snappers managed to stick to their winning ways despite a change of scenery to the new Dow Diamond Stadium. A
Joe Benson
triple lead off the top of the 10th inning.
Ben Revere
, who was only 1-for-4 on the night, drew a walk. Following a fly out to
Ramon Santana
,
Chris Parmelee
singled in Benson for the game winning run. Catcher
Jair Fernandez
singled in Revere, and a
Steve Singleton
sac-fly brought in Parmelee to make the final score 5-2 Beloit.
Benson finished up 2-for-4 on the night with 2 runs, and Parmelee went 3-for-4 with 1 run and 1 RBI.
Matt Williams
took the win from Great Lakes, his second of the year pitching in relief.
David Bromberg
allowed 1 run on 2 hits and 3 walks while striking out 9 over 6 innings of work, but had to settle for the no decision.
Boxscore
Log
Loons
Luke Hughes
found his 9th home run of the year, a solo shot, in the 8th inning for the Rock Cats Thursday, but it was just icing on the cake as New Britain bounded past Binghamton, 7-4.
Jeff Christy
would draw a walk in the top of the 6th, move to second on a Hughes grounder, then come home on Dustin Martin's fly ball to center for the eventual game winnter.
Martin would go on to steal 2nd, and Peterson would walk to load the bags.
Matt Moses
ground into a double play which saw Hughes score.
The Perth native as 4-for-5 for the Cats with 4 runs and 1 RBI in the designated hitter roll. Moses would go 2-for-4 on the night. Newly promoted
Toby Gardenhire
, again working 3rd base on a team that has moved two potential 3rd baseman into the outfield, was 1-for-3 with a walk.
Ryan Mullins
picked up his 2nd win of the season, giving up 4 runs on six hits and 5 walks while striking out 3 over 5.1 innings.
With a sweep of the B-Mets accomplished, the Cats will now face New Hampshire for a 3 game series. Former Miracle
Kyle Phillips
is on the Fisher Cats roster having finally graduated from High-A ball, where he is hitting .247 over 22 games (77 at bats). Phillips was with the parent Toronto Blue Jays when they played at Hammond Stadium during a Grapefruit League game on March 16.
Boxscore
Log
Rock Cats
Despite bankrupting most of their farm system to acquire
Miguel Cabrera
during the off-season, the Tigers AAA affiliate was still able to down the Rochester Red Wings, 5-1 in Toledo.
Kevin Slowey
made the 3rd of three scheduled rehab appearances, allowing 2 runs on 3 hits and 2 walks while striking out 9 over 5 innings.
The Wings only run came in the top of the 4th, when
Jason Pridie
singled then stole 2nd base. He moved to 3rd on
Darnell McDonald
's grounder, then came home when
Garrett Jones
hit into a double play.
The Wings were largely toothless, being held to only 4 hits with McDonald gathering 2 of those on 4 at bats. Former Miracle
Jose Morales
picked up a hit for the Wings in the 5th.
Brent Clevlen
, a man well known to the Miracle faithful for his time served with the Lakeland Tigers, homered off Slowey, a single shot in the 2nd inning for the eventual game winner.
Mike Hessman
also took the Twins' right hander deep, in the first inning to put the Mud Hens on the board.
The two teams rematch tomorrow with Detroit lefty
Dontrelle Willis
making a rehab start for Toledo Friday night.
Boxscore
Log
Mud Hens