Tampa 5 at Fort Myers 6 (10 innings)
W: F. Mata (1-0, 0.00); L: J. Valdez (5-2, 2.14)
HR: TAM: T. Battle (5).
Southpaw
Tyler Robertson
made a quality start, working through seven - yes count 'em! seven! - innings and allowing three runs on six hits while striking out 9 and looking like the top prospect that he is. It was by far Robertson's best start of the season, and with the Miracle leading into the top of the 9th and ace closer
Rob Delaney
on the mound, the game looked to be a win for the Sacrament, California native.
Whit Robbins
threw off the 1st base bag past
Danny Berg
to allowed
Andres Perez
to get on board with a bunt single.
Seth Fortenberry
then hit a line drive out to center. Delaney got the next two batters out, but a wild pitch by Delaney moved the runners.
Luis Nunez
hit a fly ball to right that dropped, bringing in the pair to tie up the game and put the Yankees on top.
Juan Portes
,
Yancarlos Ortiz
and
Brian Dinkelman
all found singles in the 9th, but even as
Rene Tosoni
ground into a double play, Portes scored to tie up the game and send the contest into extra innings.
Frant Mata
would work the top of the 10th, going 3-up, 3-down.
Danny Berg
singled his way onto base and was plated by
Johnny Woodard
with a follow-up triple, good for a Chicken Ranch with Cheese and Bacon
AND
a Ham sandwich.
The teams would remain scoreless until the bottom of the 3rd inning when
Brian Dinkelman
walked with 2-outs on the board. He then stole second, scoring on a
Rene Tosoni
grounder to left. Tosoni would move to 2nd base as
Tim Battle
threw the ball to plate trying to save the run, and would come home on his own run when Valencia singled out to right.
Danny Valencia
was taken out of the line up at the top of the fifth - I assume so they could get
Danny Berg
some playing time and perhaps rest Valencia. There was no evidence of any injury.
Kyle Anson
doubled to lead off in the left. A
Luis Nunez
line drive to right scored Anson.
Tim Battle
then went yard over the left center wall to bring in Nunez. Despite that, Robertson struck out
Chris Kunda
and got the next two players to ground out, showing a good deal of poise on the mound.
He would also take the next three batters he faced in the sixth out as well, right through the heart of the order.
Berg would single and Woodard would double. with two men on,
Edward Ovalle
would fly out and
Wilson Ramos
would strike out. A pitcher change brought
Winklins Arias
to the mound for the Yankees, and
Whit Robbins
single to center brought in the pair and restore the Miracle lead. Robbins would move to 2nd on a wild pitch before Portes would be taken out on strikes to end the inning.
Jose Lugo
would work one inning of relief, strike out all three batters he faced, before Delaney came in, which lead us to the wild ending to what was, in the end a very long game.
Berg would finish up 2-for-3 with 2 runs, while Woodard was 2-for-4 with 1 run and 1 RBI. Robbins was also 2-for-4, scoring 2 runs as well.
By contrast, the Ovalle/Ramos pairing, which was so lethal just a few games ago, went 0-for-4 with a pair of strike outs each at the plate.
The two teams rematch for a morning game with
Cole Devries
(2-4, 5.13) throwing out the first pitch at 10:35 AM. Hoards of Southwest Florida school children will get to see Tampa ace
Eric Hacker
(2-1, .086) on the mound for the Yankees.
Boxscore
Log
Miracle
News Press
NP - Dog Daze
Breeze
Breeze Photo Gallery
Pending Pinstripes
Clinton 4 at Beloit 2
W: D. Holland (3-0, 2.61); L: D. Berlind (3-3, 3.62); SV: D. Sattler (3)
HR: None.
Ben Revere
doubled to lead off the bottom of the first inning, moved to 3rd on a
Ramon Santana
sac-bunt, then came home when
Garrett Olson
reached on a fielding error by Clinton's
Renny Osuna
.
In the 2nd,
Joe Benson
doubled, then came home on a
Ben Petsch
single.
Beloit seemed to be off to a really good start. Unfortunately a 3-run 5th by
Danny Berlind
gave Clinton the lead and they'd never relinquish it.
Berlind lasted only 4.1 innings, with 2 of the 3 runs being earned on 5 hits and 1 walks. He was unable to record a strike out.
Petsch was 2-for-3 with 1 RBI; Revere was 2-for-5 with 1 run.
The Snappers drop to 19-20 on the year. Next up, they face the Peoria Chiefs for a 3-game series starting at 6:30 PM central time at Pohlman Field.
Boxscore
Score
Snappers
Wednesday:
Herald
BDN
New Britain 6 at Binghamton 7 (Extra Innings)
W: E. Camacho (2-2, 2.05); L: B. Julianel (0-2, 3.05)
HR: NBR: L. Hughes (10). BIN: S. Paniagua (1).
Read my game recap and commentary on
Rookie Whites
Luke Hughes
returned to the New Britain line up and extended his Eastern League-best hitting streak to 17 games with a lead-off home run in the first.
Rock Cats
Courant
Press Connect
Columbus 3 at Rochester 1
W: S. Shell (2-1, 2.75); L: F. Liriano (0-2, 4.28); SV: C. Booker (4)
HR: None.
Francisco Liriano
gave up 3 runs, earned, on 7 hits and one walk while striking out 4 over 8 innings for a quality start. Sadly, he also suffered the loss as the Red Wings could not solve Nationals farm hand
Steven Shell
.
After
Denard Span
was caught stealing,
Jason Pridie
took a walk in th first inning, then stole 2nd. A
Brian Buscher
single brought him home.
Span would finish up 2-for-3 on the night, boosting his average to .369; Pridie was 0-for-2 with a pair of walks. Buscher,
Rany Ruiz
, and former Miracle catcher
Jose Morales
had the other hits for Rochester who only had a total of six on the evening.
Darnell McDonald
was placed on the DL Thursday with a strained hamstring. The Wings activated INF
Matt Macri
before the game.
Boxscore
Log
Red Wings/OSC
D&C
---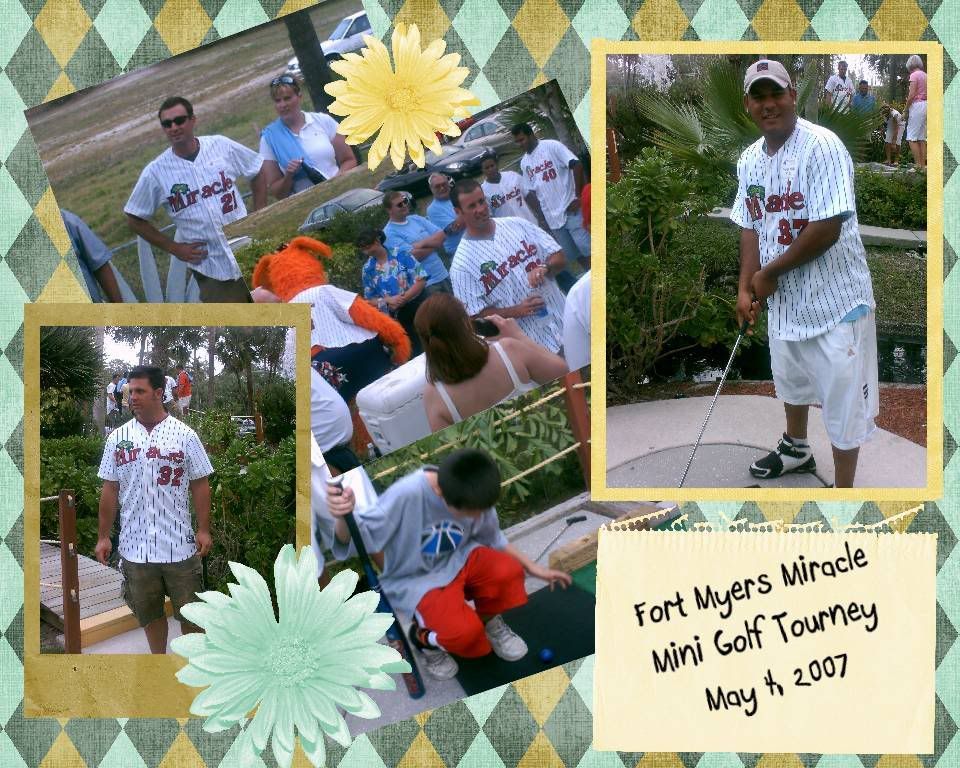 Putter about with the Miracle tonight at Castle Golf!