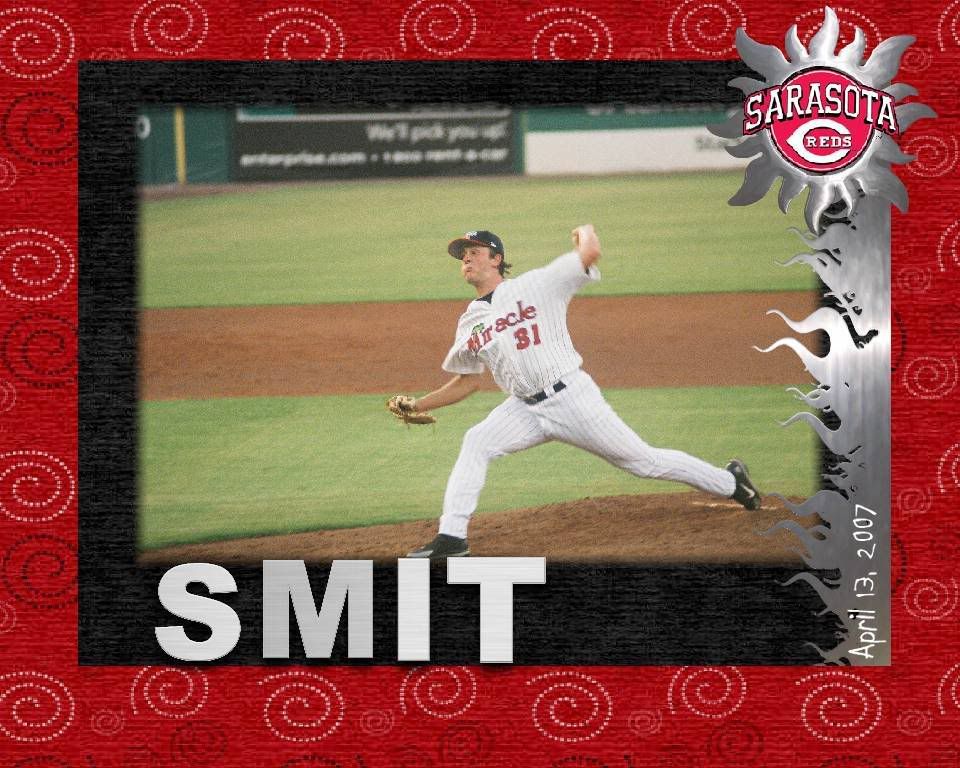 Fort Myers 2 at Sarasota 7
Record 23 - 14
W: A. Smit (3-3, 4.58); L: J. Manship (4-1, 4.19)
HR: None.
In a recent article in the
New Britain Herald
,
Rick Knapp
, the Twins director of minor league pitching is quoted as saying "If (
Jeff Manship
) pitches a full season in Fort Myers, that will be fine with me."
Evidently, it will be fine with Mr. Manship as well, give his performance Monday night against the Sarasota Reds. The Miracle starter gave up six runs, earned, on 10 hits and 2 walks while striking out 8 over 4 innings. It would be Manship's first loss of the season, and also halt the Miracle win streak at five.
Meanwhile, former Miracle pitcher
Alexander Smit
threw some very stingy shots at the Miracle, allowing only 3 hits and 2 walks over six inning. He also struck out 8 men. But the telling difference his that only 1 runner crossed the plate for the Miracle during his tenure on the mound.
The Reds would get to Manship first, with
Michael DeJesus
singling his way onto the bags, then moving to first on a wild pitch.
Justin Turner
would strike out swinging, but a
Todd Frazier
line drive to left was enough to drive in DeJesus for the first Reds run..
Fort Myers would take it back in the top of the 4th, when
Danny Valencia
tripled, then - following a line out to
Johnny Woodard
- came home on an
Edward Ovalle
sac fly.
But the bottom of the fourth would prove to be the undoing of Manship.
Chris Heisey
doubled out to left.
Danny Dorn
ground out, but Heisey moved to 3rd on the play. A
Chris Denove
single ground in Heisey.
Jose Castro
then singled to keep things going followed by a DeJesus triple to drive in two. And no, before you ask, Mr. DeJesus did not manage to hit for the cycle. Didn't even come close.
Justin Turner
hit a like drive to plate DeJesus, and
Todd Frazier
would be hit by a pitch before
Juan Francisco
's line drive brought in Turner for run number five in the inning, making the score 6-1 Reds.
Frank Mata
, recently activated off the Disabled List in Extended Spring Training came in for one inning, allowing 1 walk and striking out 1 before
Matt Fox
came in to conclude the game. Fox would not get off easy though, as Franscisco hit a single off him in the bottom of the sixth, and
Drew Stubbs
sent a triple out to left to bring him in, making it 7-1 Reds.
Wilson Ramos
would reach on a throwing error by Reds 3rd baseman
Todd Frazier
, who tossed the ball into the dugout, giving Ramos an extra base as well.
Rocky Palacios
would strike out and
Danny Santiesteban
's fly out put Ramos on 3rd.
Yancarlos Ortiz
drew a walk before
Brian Dinkleman
's double brought in Ramos for a post script.
Ramos, Palacios and Ortiz had the other three hits for Fort Myers, who only managed five on the night.
Deolis Guerra
(3-1, 4.32) will handle the pitching chores Tuesday as the two teams meet at Ed Smith Stadium for a rematch.
Rafael Gonzalez
(2-1, 3.45) will throw for the tough Sarasota squad.
Boxscore
Log
Miracle
News Press
Breeze
NDN
Lefty
Errol Simonitsch
was here for only a very short time, being promoted to New Britain to replace
Danny Graves
on their roster. Graves was promoted to AAA Rochester. Simonitsch is expected to work out of the bullpen in New Britian, at least for a while.
Despite the loss, the Miracle remain in first place in the West Division as Tampa also lost Monday night to the Flying Tigers.
New Britain 4 at New Hampshire 11
W: S. Richmond (3-4, 5.86); L: A. Swarzak (2-1, 3.96); SV: M. Gallo (3)
HR: NHM: T. Snider (4), K. Phillips (1).
The Miracle weren't the only team suffering a power outage.
Anthony Swarzak
gave up 3 runs on 5 hits and 4 walks while striking out 3 over 4 innings to take his first loss of the year for the Rock Cats. Two of the runs were unearned, thanks to shortstop
Trevor Plouffe
and catcher
Drew Butera
.
Felix Molina
was 3-for-4 at the plate in the game with 1 run and 1 RBI.
Dustin Martin
and
Erik Lis
were both 2-for-4, Lis with a run as well, and Martin with a run scored.
Former Miracle
Kyle Phillips
was 2-for-4 with 2 runs and 1 RBI, including a solo shot home run, his first of the season, for the home town Fisher Cats.
Boxscore
Log
Fisher Cats
Union Leader
Former Miracle
Steve Tolleson
was named the Eastern League player of the week. Tolleson batted .391 (9-for-23) with a double, triple, 2 homers, 10 RBIs, two stolen bases and a .783 slugging percentage to win the honor.
Tolleson, 24, had at least one hit in each of the games he played last week and scored in five of the six. He has reached base in New Britain's last 11 games and in 24 of his 29 games this season. (
NB Herald
) Neither Tolleson nor Eastern League player of the month
Luke Hughes
appeared in Monday's contest.
Clinton 6 at Beloit 5
W: K. Gomez (6-0, 2.31); L: S. Arias (1-1, 2.81); SV: D. Sattler (2)
HR: CLI: J. Greene (4). BEL: R. Santana (3).
The Beloit snappers could not overcome an early Clinton lead, following 6-5 in their first game home following a long 3-city, 10-game road trip. The loss was
Santos Arias
first since his promotion to Beloit.
Arias allowed 3 runs, earned, on 7 hits and 1 walks while striking out 6.
Right fielder
Joe Benson
was 2-for-4 in the game with a double and a run, but also struck out twice.
Ben Revere
went 0-for-3 at the plate, but took two walks, coming in for one run during the course of the contest.
Ramon Santana
hit a solo-shot home run in the 7th inning off Clinton's
Fabio Castillo
.
Charles Nolte
allowed 3 runs on 5 hits and 1 walk while striking out 1 in 1.1 innings to the Rangers farm team, while 7'1" reliever
Luke Van Mil
finished up on the mound allowing only 1 hit and striking out only 1 in 2.2 innings.
Game two of the 4-game series is set for Tuesday at Pohlman Field, first pitch is 6:30 central time.
Boxscore
Log
Beloit
Lumber Kings
Buffalo 1 at Rochester 5
W: J. DePaula (1-0, 2.70); L: J. Harris (1-1, 4.85); SV: T. Lahey (4)
HR: ROC: C. Basak (3), D. Span (1).
For once it was the Red Wings who offered some offensive relief in the Twins Minor League system, as they overcame Buffalo, 5-1.
Jose Morales
was 3-for-4 at the plate with a triple;
Denard Span
was 3-for-5 with a double, a home run and 2 runs scored.
Howie Clark
was 2-for-4 at the plate with a run, while
Darren McDonald
was 2-for-5 with a run and a run scored.
Former Miracle
Julio DePaula
picked up the win, working 2 innings and striking out 2.
Danny Graves
made his first start of the season, allowing 2 hits and striking out 2 over four innings.
Tim Lahey
recorded his fourth save of the season at the Triple-A level, working 2 innings and allowing only 1 hit while striking out 5.
Rochester remains at home, hosting the Columbus Clippers in a four-game series starting Tuesday night at 7:05 PM.
Boxscore
Log
Red Wings
D&C
R-News
B-News
Bisons
---
Homestand Happenings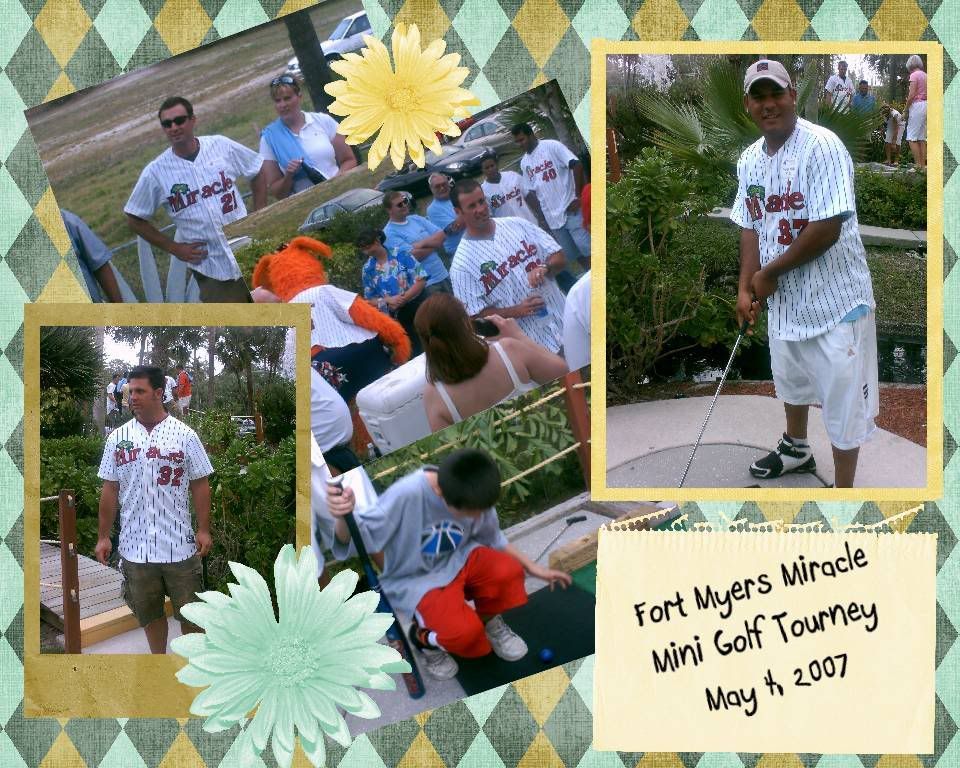 The Miracle take a break from the field, on Friday night and tee it up at Castle Golf for the 3rd annual Mini-Golf Tournament. The unique event includes a Miracle player in each foursome. A post-event "19th Hole" awards ceremony is included in registration fee.