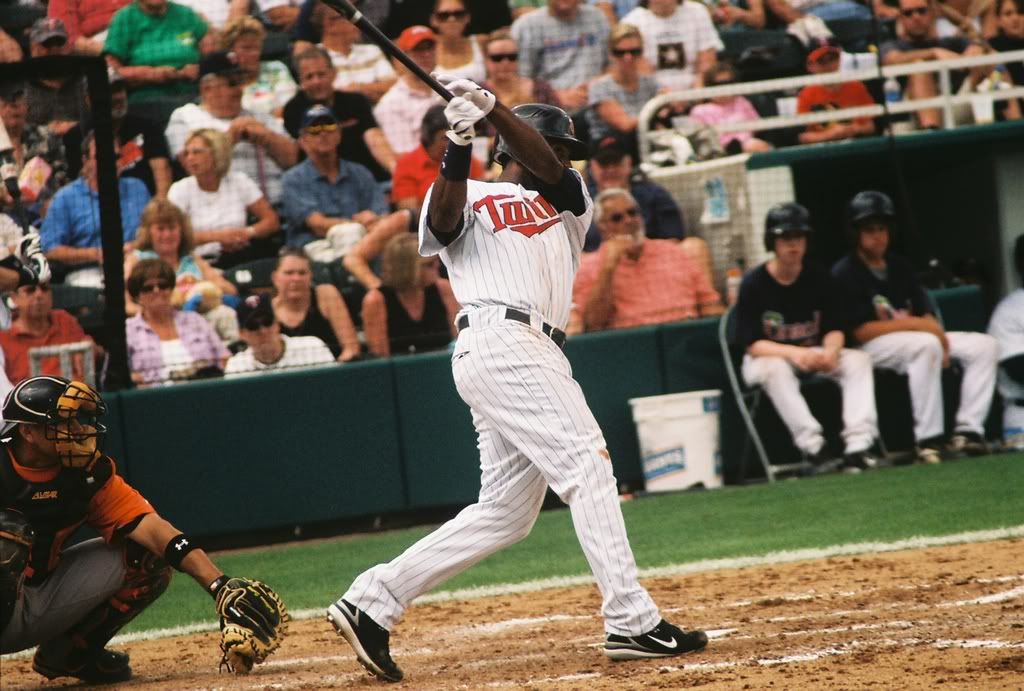 Denard Span during a Twins Spring Training Game
Columbus 7 at Rochester 10
W: C. Cali (3-0, 4.00); L: T. Clippard (2-4, 4.79); SV: T. Lahey (5)
HR: COL: D. Wallace (1). ROC: D. Span (3).
Suddenly, the Rochester Red Wings have a bite! Naples native
Carmen Cali
picked up his 3rd win of the season as the Rochester bats came alive, pounding out 13 hits for 10 runs to top the Columbus Clippers 10-7.
Denard Span
opened up with line drive single to right field, then stole 2nd base.
Jason Pridie
hit a sac-bunt that moved Span to 3rd, and
Howie Clark
would double him him.
The Twins kept things going when
Garrett Jones
doubled. A throwing error by Clippers pitcher
Tyler Clippard
put Jones and 3rd and
Chris Basak
, who'd been going for a sac-bunt, on first. After
Tommy Watkins
was called out on strikes,
Ryan Jorgensen
ground out to score Jones. Span then hit his 3rd home run of the season to add two more runs to the total, making it 4-0, Wings.
The Wing continued their offense ways in the bottom of the 3rd with
Howie Clark
doubling. Following a pop out to
Brian Buscher
,
Randy Ruiz
would single to drive in Clark, giving Rochester a five run lead.
They'd need that lead. Former Miracle
Brian Duensing
took the start and would work four innings limiting the Clippers to 4 hits and a walk, but striking out only 1. In the top of the fifth though, he ran out of steam, allowing a single to
Ed Rogers
and then
David Wallace
went yard to give the National farm team 2 runs. A missed catch by
Randy Ruiz
allowed
Tommy Murphy
to reach, followed by a bunt single by
Ray Olmedo
that moved Murphy to 3rd.
Stu Cliburn
would take a walk out to the mound to try to get Duensing calmed down, but the southpaw then walked
Yurendell de Caster
to load the bags. A line drive by
Alex Escobar
brought in Murphy. Duensing would get
Pet Orr
to ground into a double play, but Olmedo scored in the deal. Then
Jason Dubois
hit a double out to center to bring in de Caster, tying up the game.
It was at that point that
Stan Cliburn
came out and lifted Duensing, bringing in Cali to get the final out.
The wings made up for it though in the 5th, with Clark singling and Buscher walking. Both would be brought home when Jones followed up a Ruiz strike out by doubling in the pair.
With one out on the board in the top of the 6th, Wallace would double then come home on a Murphy line drive.
Rochester would take the run back though when Span doubled, then came home on a Pridie follow-up single.
Julio De Paula
would take over for the 7th inning, going 3 up and three down, and the Wings went the same way with
Jim Ed Warden
on the mound for Columbus.
Larry Broadway
would double off De Paula in the top of the 8th. Rogers ground out moved him to 3rd and a wild pitch saw him across the plate. Wallace then walked, which prompted Cliburn to bring in
Tim Lahey
to replace DePaula. Former Miracle
Garrett Guzman
would come in as a pinch runner for Wallace and would steal 2nd, but Olmedo's ground out retired the side.
Watkins hit line drive to right to get on the bags and moved to second on a
Ryan Jorgensen
sac bunt. Span would then be intentionally walked before
Mike Bacsik
would be brought in from the bullpen to replace Warden. Pridie's line drive brought in Watkins, while Span would come home on a Clark sac-fly. Despite a double by Buscher and an intentionally walk to Ruiz, the Wings would sit down after Jones ground out, stranding the runners.
Lahey struck out 2 and got Escobar to ground out to finish off the top of the 9th, giving the victory to the Wings.
Span and Clark were both 3-for-4, Span with 4 runs and 2 RBIs and Clark with 2 runs and 2 RBIs. Jones would go 2-for-4 with 1 run and 2 RBIs.
Span became the first Red Wings player to hit a home run in three consecutive games since Justin Morneau June 14-16, 2004. (Morneau also hit a home run in three straight 4/30-5/2, 2004 as did Chris Heintz 4/29-5/1, 2004.) If Span could hit a home run in four consecutive games he would become the first Red Wings player to do so since
Sam Horn
June 23-25, 1990. Horn hit six home runs during that four-game stretch.
The two teams rematch on Thursday and Friday with both games starting at 7:05 at Frontier Field.
Boxscore
Log
Recap