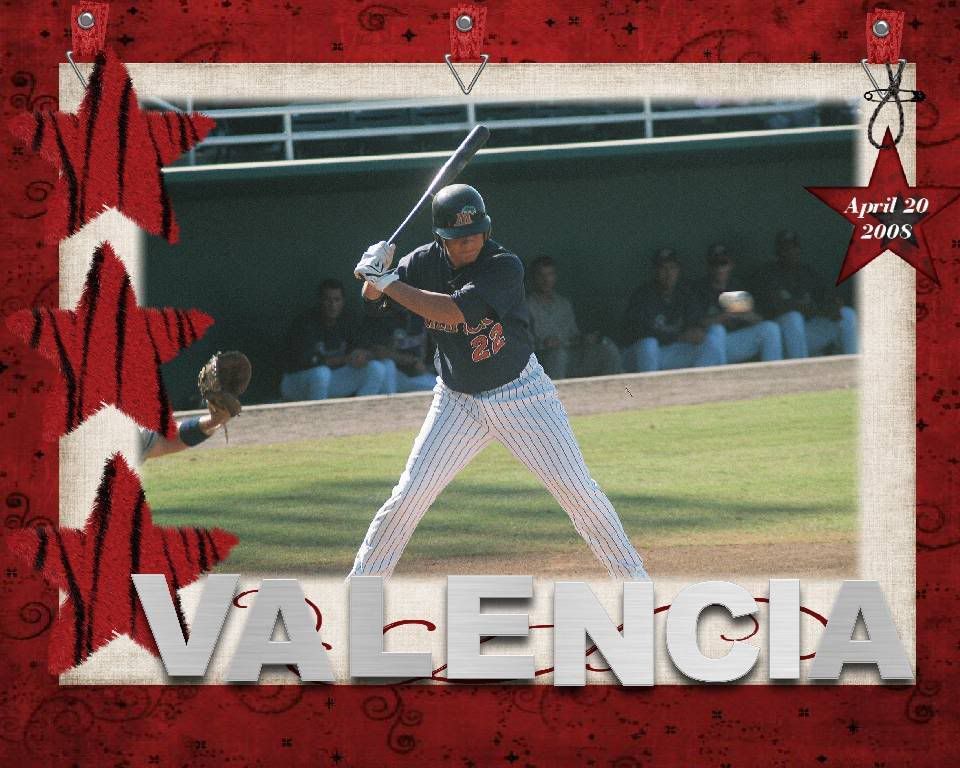 Fort Myers 10 at Sarasota 6
W: D. Guerra (4-1, 4.93); L: R. Gonzalez (2-2, 6.35)
HR: FTM: D. Valencia (4), E. Ovalle (3), R. Tosoni (1). SAR: J. Francisco 2 (7).
The Fort Myers Miracle out slugged the Sarasota Reds during a slug fest at Ed Smith Stadium Tuesday night. The teams had 22 combined hits.
With two outs on the board in the first inning,
Danny Valencia
drew a walk.
Johnny Woodard
then hit a line drive double to drive in Valencia, earning himself a ham sandwich in the process.
The Miracle would add three more runs in the third inning, when
Brian Dinkelman
and
Rene Tosoni
walked and Valencia tripled them in. After a Woodard strike out,
Eddie Ovalle
's sac fly brought in Valencia. Sadly
Wilson Ramos
beautiful double was wasted as
Whit Robbins
flew out to end the inning.
Ortiz would single in the top of the 4th and, with two outs on the board
Rene Tosoni
and Valencia would hit back-to-back homers, using the wind to take the ball over the center field wall. Valencia is making a strong case to find himself in the FSL All-Star game this June.
The Reds finally got to
Deolis Guerra
in the bottom of the 4th inning.
Todd Frazier
drew a walk and
Juan Francisco
hit his first home run of the game, his sixth of the season over the center field fence. Following a pop out to Heisey,
Danny Dorn
doubled out to Right, then came home on a
Chris Denove
single. Tosoni would try to relay the ball the first, but found the Red's dugout instead of
Whit Robbins
, allowing Denove to move to 2nd base. That would make the score 7-3 Miracle, but the Reds were not done.
Misael DeJesus
replaced
Rafael Gonzalez
on the Reds mound for the top of the 5th. He would keep the Miracle largely quiet in that inning, allowing a walk to Robbins, hitting
Danny Berg
with a pitch, and then walking
Yancarlos Ortiz
to load the bags. Dinkelman would strike out though, leaving the ducks stranded.
Todd Frazier
doubled in the bottom of the 5th and Francisco - who looks like he will be joining Mr. Valencia at the All-star game - hit his second home run of the game, his 7th of the season, over the right field fence. That made the score 7-5 and the Reds were again very much in the contest.
Tosoni would single in the top of the sixth, but would get caught stealing second. Woodard took a walk and
Edward Ovalle
homered over the left field wall, his 3rd yarder of the year, to make it 9-5 Miracle.
The top of the 7th would do it for the Miracle. With
Ruben Medina
on the mound, Robbins would get plunked by a pitch.
Danny Berg
ground into a force out that took down Whit, while
Yancarlos Ortiz
followed that up with a single, moving Berg to second. Dinkelman's line drive out to left scored Berg to make it 10-5.
Danny Vais
replaced Guerra on the mound in the bottom of the sixth and allowed a pair of walks before retiring the side. He'd stay there for the seventh, getting
Justin Turner
to fly out and striking out Frazier and
Drew Stubbs
.
Slama came on it the 8th inning, allowing only a walk to
Chris Denove
to placate the Reds. A throwing error by
Whit Robbins
in the 9th allowed
Michael DeJesus
to reach, and progress to second. Slama would allow a single to Frazier that would plate DeJesus to give the Reds six, but he'd strike out Francisco and Stubbs to end the game.
Valencia, Tosoni, Ovalle and Ortiz were all 2-for-4 on the night; Valencia with 3 runs and 3 RBIs, Tonsoni with 2 runs and 2 runs scored, Ovalle with 1 run and 3 RBIs, and Ortiz with 1 run. Catcher
Wilson Ramos
was 2-for-5 at the plate.
The Miracle return home on the victory bus to Hammond Stadium to conclude the series. It's also Sanibel and Captiva Island Night at the ballpark with the Island Night parade starting at 6:00.
Normally we'd make the Reds walk over to Fort Myers, but because they won game one of the series, we'll let them ride on a bus too. But just for this one game.
Alex Burnett
(2-1, 2.70) will be on the mound for a 7:05 first pitch, taking on Sarasota's
Daniel Guerro
(2-2, 5:68).
Boxscore
Log
Miracle
News Press
Breeze
NDN
Special Note:
Dan Covey
, the Director of Group Sales for the Brevard County Manatee lost his home recently to a wild fire. 71 home in total were destroyed by the fire in the Palm Bay area. The Manatees are asking for donations of furniture and other household items, but as it is a bit far to get those items to Melbourne from Fort Myers, you might want to help out with a cash donation. Contact
Kyle Smith
at the Manatees by calling 321-633-9200 for additional information.
Anything not used by Covey and his family will be donated to the other 70 families who lost their homes in the fire.
Clinton 5 at Beloit 7
W: S. Steedley (2-1, 1.54); L: H. Nelo (0-1, 3.86)
HR: CLI: M. Moreland (2).
The Snappers claimed game two of their four-game series with the LumberKings by a final of 7-5 with the help of Clinton reliever
Adalberto Flores
and his back-to-back balks in the bottom of the eighth inning. Flores and his LumberKings pitching staff allowed six of their seven runs in the last two innings to fall to the Snappers.
Ben Revere
and
Garrett Olson
were both 2-for-4, Revere with 3 RBIs, Olson with a run.
Joe Benson
was 1-for-3 with 2 runs and a walk;
Chris Parmelee
was 0-for-2 with 2 strike outs, but with a pair of walks as well.
David Bromberg
allowed 3 runs - earned - on seven hits and 2 walks while striking out 9 over 6 innings.
Brad Tippett
gave up 2 more runs on 2 hits and 1 walk while striking out 1 in 1.1 inning of relief.
Spencer Steedley
picked up his 2nd win of the season, working 1.2 innings in relief, and striking out 2 to close the game.
Parmalee would draw a walk in the bottom of the 8th and be replaced by pinch runner
Mark Dolenc
.
Danny Lehmann
singled to bring in
Garrett Olson
who had doubled his way onto base, to tie up the game. A wild pitch by Flores put Dolenc on 3rd. After
Steve Singleton
lined into a double play,
Joe Benson
walked his way onto base. A balk by Flores allowed Dolenc to score to give Beloit the winning run. A wild pitch followed by another Flores balk saw Benson cross the plate for the insurance marker.
Game three of the series is Wednesday, starting at 6:30 PM Central Time.
Boxscore
Log
Snappers
From Monday:
Herald
BDN
New Britain 2 at Binghamton 4
W: R. Parnell (3-2, 5.27); L: J. Rainville (2-5, 9.00); SV: E. Kunz (7)
HR: BIN: C. Stewart (3).
Jay Rainville
allowed 4 runs, 3 earned on 7 runs and 1 walks while striking out 2 over 6.1 innings to suffer his fifth loss of the season.
Back-to-back doubles in the 4th by
Steve Tolleson
and
Dustin Martin
put the Rock Cats on the board. In the fifth
Felix Molina
and
Drew Butera
hit back-to-back singles. Tolleson' ground out moved the pair and a wild pitch by the B-Met's
Robert Parnell
allowed Molina to score.
Six different New Britain batters had one hit each, with
Brock Peterson
,
Erik Lis
and
Trevor Plouffe
(who struck out twice) going without.
Boxscore
Log
Rock Cats
B-Mets
Courant
Press Connect
Columbus 7 at Rochester 5
W: C. Balester (4-2, 3.79); L: K. Mulvey (2-5, 3.89); SV: C. Manning (5)
HR: ROC: B. Buscher (5), D. Span (2).
Home runs by
Brian Buscher
and
Denard Span
did not help much, nor did out-hitting the Columbus Clippers as the Rochester Red Wings still fell, 7-5 at home.
New Britain managed 14 hits to Columbus' eleven, but the game was pretty much won by Columbus in the first inning. A fielding error by
Howie Clark
, a balk by
Kevin Mulvey
and doubles by
Ryan Langerhans
and
Javi Herrera
helped the Clippers to a 5 run lead. the Wings got 2 back in the bottom of the inning, one of Spans single shot homer. Buscher's fifth of the year gave them another run in the third, and they drew to within one run in the bottom of the 4th, when
Howie Clark
singled and was driven in by
Chris Basak
's double.
Ricky Barrett
allowed walk to Herrera in top of the 6th. A sac bunt and a single saw him across the plate for what would prove to be the game winning run.
Span was 2-for-3 with 2 runs and 1 RBI in the slugfest,
Darnell McDonald
was 2-for-4 with a run, Buscher was 4-for-5 with a run and 3 RBIs, Clark was 2-for-4 with 1 run and
Chris Basak
was 3-for-4 with 1 run scored.
The two teams rematch Wednesday at 11:05 for a businessman's special.
Boxscore
Log
Red Wings
D&C
Infielder
Sergio Santos
has been claimed off waivers by the Minnesota Twins and sent to Rochester. Santos was batting .183 with four RBI in 26 games for Syracuse. Santos was Arizona's top pick in the 2002 draft, and was traded to Toronto in the
Troy Glaus
deal 12/27/2005. Santos was an Eastern League All-Star in 2007, hitting 20 homers in 113 games for the Jays' Double-A New Hampshire club. He will be in uniform for the Wednesday morning game.
The Red Wings and Syracuse Chiefs play in the Cooperstown Classic this Sunday May 18; a limited number of tickets remain for the game and the special VIP reception after the game, featuring Hall of Fame catcher
Carlton Fisk
.
---
Homestand Happenings
The brief home stand concludes on Saturday, May 17 with an event so great you will want to stay late! The "Great All-Nighter" takes place following the 7:05 p.m. contest.
Scouts, families and church groups are encouraged to bring their pop up tents and gear for an overnight camp out on the field. Movies will be shown on the big screen for campers and all pre-registered scout troops of 20 or more will receive a commemorative scout night pin.