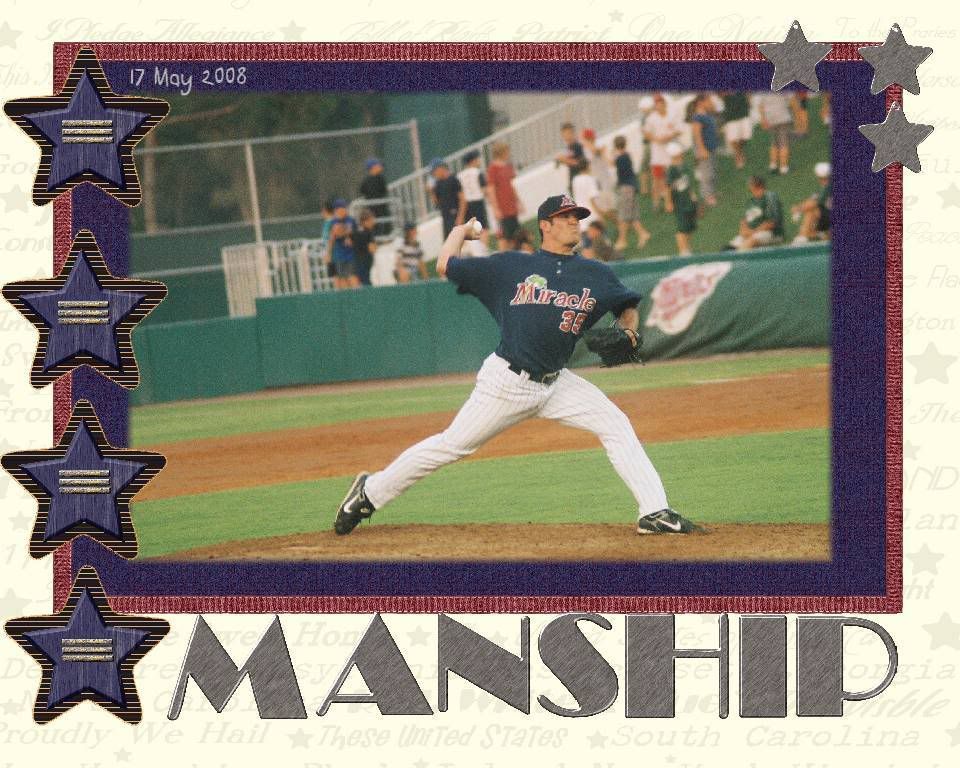 Palm Beach 4 at Fort Myers 3
W: E. Hernandez (2-0, 6.00); L: J. Manship (5-2, 3.38); SV: F. Samuel (5)
HR: FTM: D. Santiesteban (3).
Prior to the game,
Johnny Woodard
was placed on the disabled list with a broken hamate bone. He will be out 5 weeks to 2 months, depending upon who you talk to. The standing joke is that he and
Danny Valencia
where arm wrestling for a ham sandwich when it occurred. Evidently he broke it during batting practice.
The Palm Beach Cardinals defeated the Miracle 4-3 Thursday night, as the rally fell short. Despite what the box score says,
Jeff Manship
did not pitch nine innings, only 7.
Danny Vais
pitched the last two.
He did pitch very, very well however through five before getting into some trouble during the sixth.
Andrew Brown
doubled off him in the second inning. He's move to 3rd on a
Tony Cruz
ground out.
Daryl Jones
then pretended he was hit by a pitch. At least, it was argued as catcher
Allan de San Miguel
, who was much closer to the incident than I was, claimed the ball never touched the guy. However, the umpires ruling stood.
Luke Gorsett
then ground out which scored Brown.
In the bottom of the 4th,
Juan Portes
walked his way onto base.
Whit Robbins
hit a good solid double out to left and field manager
Jeff Smith
waved Portes past 3rd. Unfortunately, the ball got to the plate first, and Portes was taken out at home.
So the Miracle would not get on the board until the bottom of the 5th when
Danny Santiesteban
went yard over the center field fence.
This is where it gets weird. In the top of the 6th
James Rapoport
and
Donovan Solano
hit back-to-back singles. It then looked like
Brian Carlie
hit into a double play, but the umpire would rule him safe. Meanwhile Rapoport scored.
Andrew Brown
's single brought in Solano. Following
Tony Cruz
's pop out, Jones got hit by a pitch (again?)
Luke Gorsett
would line out and
Daniel Descatso
singled to score Carlie. Brown would try to go home, but this time the Miracle made the play at the plate, taking the runner out.
Brian Dinkelman
drew a walk in the bottom of the 6th. Following a fly out to
Yangervis Solarte
, Portes hit a line drive to move Dinkelman to 2nd. A pitching change was in order for the Cards, and
Whit Robbins
greeted
Justin Fiske
with a fly ball single that scored Dinkelman.
Edward Ovalle
would reach on a fielding error by Carlie, and Portes would score, to make make it 4-3 Palm Beach.
Manship would get three quick outs in the 7th before giving way to Vais, however aside from a single to Ovalle in the bottom of the 9th, the Miracle could get no offense going to change the final score.
Robbins and Ovalle were both 2-for-4 in the contest.
Wilson Ramos
was 0-for-4 in the designated hitter role with 3 strike outs.
Deolis Guerra
(4-1, 4.67) tosses out the first pitch tomorrow at 7:05 in game two of the four game series.
Brandon Dickson
(2-4, 3.64) will get the nod on the mound for Palm Beach.
Boxscore
Log
Miracle
News Press
Breeze
NDN
Note:
Roger, please e-mail me. I'd send you the injury updates, but I have no way of reaching you short of posting on Twinkie Town.
There are no immediate plans to replace Woodard on the Miracle roster, it will stand at 24.
Terry Ryan
arrived into town, just in time for my annual Me-Mauer-ial Day game with him on Monday. The GCL Twins will take on the GCL Pirates at 10:00 AM on Monday, May 26th.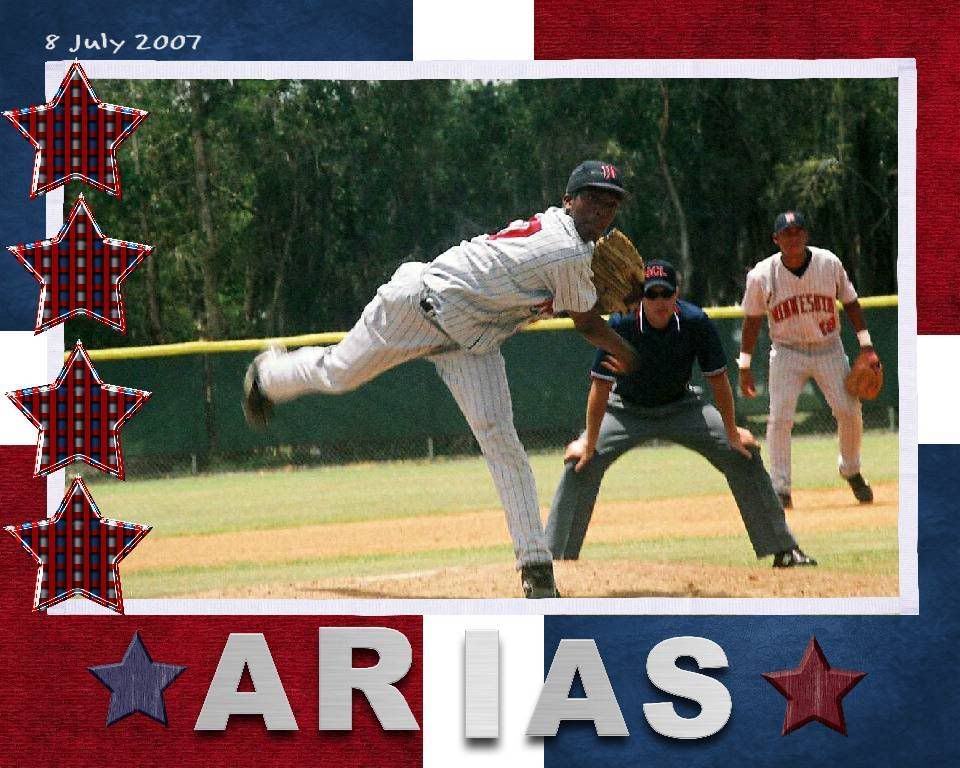 Beloit 5 at Clinton 1
W: S. Arias (2-1, 2.83); L: K. Gomez (7-1, 2.52)
HR: None.
Santos Arias
limited the Beloit Snappers to 1 run on 3 hits and 2 walks while fanning 7 over 7 innings.
Loek Van Mil
worked the final two innings, allowing only 2 hits while striking out 4.
Danny Lehmann
tripled in the top of the 3rd then came home on a
Chris Cates
ground out. In the top of the 4th,
Chris Parmelee
tripled to score
Garrett Olson
, who'd reached on a fielding error.
Ramon Santana
would be hit by a pitch.
Steve Singleton
's line dive plated Parmelee, while Santana scored on a sac-bunt and a ground out.
Santana would single in the top of the 6th, move to 3rd on a Singleton sac-bunt, and come home when
Mark Dolenc
ground into a double play.
Ben Revere
would go 2-for-5 at the plate, but did not factor into the scoring.
The teams split the series 2-games each; Beloit starts a 4 game homestand against Burlington on Friday with the first pitch coming at 6:30 PM central time.
Boxscore
Log
Snappers
Lumber Kings
Wednesday:
BDN
Herald
Rochester 3 at Pawtucket 11
W: M. Tejera (3-3, 4.15); L: P. Humber (1-5, 5.89)
HR: PAW: J. Bailey 2 (12), C. Carter (5).
Phil Humber
lasted just 3.2 innings as he allowed 7 runs, six earned, on 5 hits and 4 walks while striking out 2. A change of pitching did little to stem the bleeding through, as the Rochester Red Wings were thoroughly whipped by the Pawtucket Pawsox.
The Wings would go scoreless until the top of the 7th, when
Randy Ruiz
singled, then moved to 3rd on a fielding error by
Chris Carter
that also allowed
Garrett Jones
to reach. He'd be plated by a
Jose Morales
ground out, to save the visitors from being blanked.
In the top of the 8th,
Tommy Watkins
walked, and
Darrell McDonald
reached on a
Brandon Moss
fielding error.
Brian Buscher
then doubled the pair in.
Ruiz was 2-for-4 in the contest, the only wing with a multi-hit game.
Matt Macri
was called up to the Twins to replace
Adam Everett
who was placed on the disabled list.
Darnell McDonald
was activated from the disabled list to replace him on the Rochester roster (
D&C
). Infielder
Felix Molina
was also promoted from AA to Rochester.
Boxscore
Log
PawSox
D&C
R-News
Extra Bases