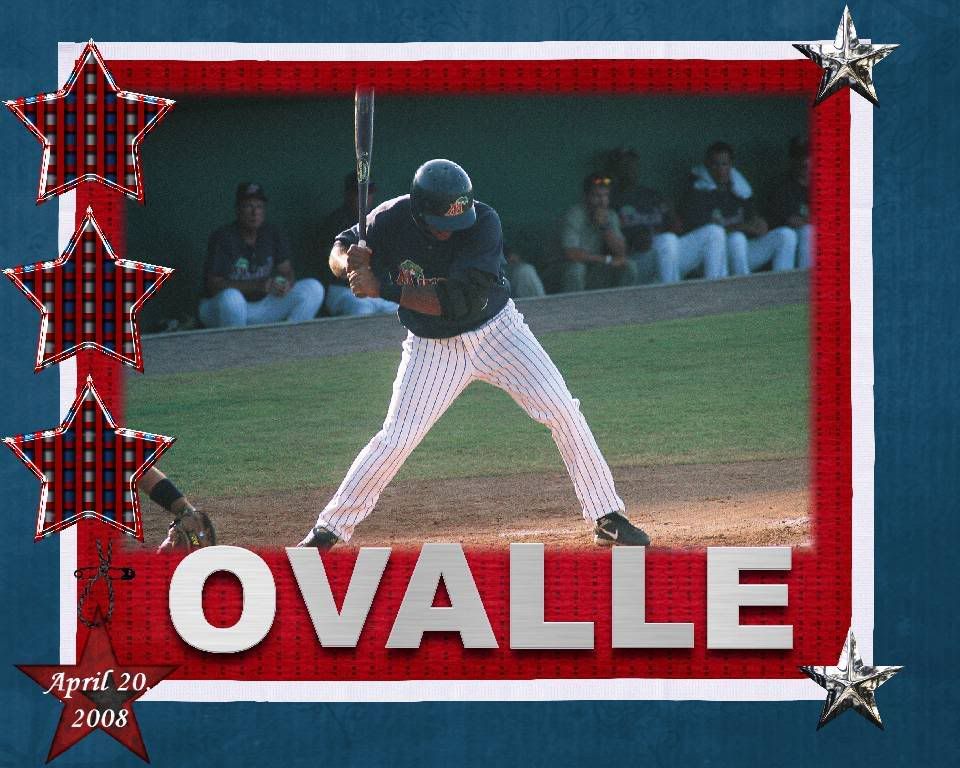 Fort Myers 2 at Jupiter 4
Record: 28 - 16
W: G. Taylor (5-3, 3.96); L: A. Burnett (3-2, 3.18); SV: R. Wolf (1)
HR: None.
The rally monkeys, and bats,were not evident Monday night as the Fort Myers Miracle allowed Jupiter to double them up, 4-2.
Florida Marlins prospect
Graham Taylor
held Fort Myers to only 5 hits and 1 walk over 7 innings, allowing 2 runs in the that span, and striking out 4.
Ross Wolf
would baffled them for the final two stanzas.
As noted after the last time he pitched,
Alex Burnett
needs to start watching the number of hits he gives up.
Smelin Perez
would take the first hit off him with one out in the first inning. Burnett would get
Logan Morrison
out on strikes, before Perez got impatient and stole 2nd base.
Kevin Randel
's line drive brought him in, and Randel took an extra base on a fielding error by
Eddie Ovalle
.
Spike McDougall
then hit a grounder to
Juan Portes
that scored Ranel. McDougall would try to make it to second, but was taken out before he got there to end the inning.
The Miracle would take one back in the top of the 3rd.
Yancarlos Ortiz
and
Yangeris Solarte
both singled with one out on the board. Ortiz would come home on a
Whit Robbins
' force out and Portes would strike out to end the inning.
Back-to-back singles by
James Guerrero
and
Christopher Dunn
turned into two more Hammerheads runs when
Agustin Septimo
doubled off Burnett to plate the pair in the bottom of the fourth.
The Miracle would not answer back until the top of the 7th when
Edward Ovalle
tripled and came home on a
Danny Berg
single. Sadly it was all the answer the Miracle could muster, leading to the loss in game two of the four game series.
With
Brian Dinkelman
,
Danny Valencia
and
Rene Tosoni
out of the line up, the Miracle were short most of their big bats. Ovalle was 2-for-4 with 1 run, the only Miracle with a multi-hit game. Portes,
Wilson Ramos
and
Danny Santiesteban
were all 0-for-4 with a pair of strike outs each.
Dinkelman was given the night off after an early exit from Monday's game, while the voice of the Miracle,
Sean Fox
, reports that Valencia's thumb is still banged up, but that he will try to play on Tuesday.
Big lefty
Tyler Robertson
(1-2, 3.53) will get the start Tuesday night for the Miracle.
Jeff Allison
(2-4, 2.47) will throw out the first pitch for the Hammerheads at 6:35 P.M.
Boxscore
Log
Miracle
Hammerheads
News Press
Breeze
NDN
Future Fish
Minnesota sports writer
Joe Christensen
noted in his
blog
that
Scott Baker
was flown to Florida on Friday. He's scheduled to throw 2 bullpen sessions at the Sportsplex and will "likely pitch in an extended spring training game next Thursday. He has been on the DL with a strained right groin."
The GCL Twins are playing the O's in Sara next Thursday, and while it's entirely possible that Baker will hop in a little white SUV and drive over to Twin Lakes Park, it seems somehow unlikely.
If he needs to pitch Thursday, well...the Miracle are at home that night. Otherwise, he could pitch Friday at Extended depending upon which the Twins would prefer.
Harrisbug 1 at New Britain 5
Record: 22 - 21
W: J. Rainville (3-5, 7.53); L: T. Crawford (1-1, 4.81)
HR: None.
Jay Rainville
got just his third win of the season, but held the Harrisburg Senators to only 1 run -unearned - on three hits while striking out 8 over 7 innings for a quality start that should do wonders for his confidence.
Trevor Plouffe
was 3-for-4 in the contest with a run and an RBI.
Steve Tolleson
,
Luke Hughes
,
David Winfree
,
Felix Molina
and
Drew Butera
all had hits for the Cats with Butera driving in 3 runs on his sixth inning double.
The Cats faced several former teammates/Miracle on the Senators squad in starter
Tristan Crawford
, who surrendered 5 runs on 8 hits and 3 walks while striking out 3 over 5.1 innings and reliever
Levale Speigner
, who worked one inning of hitless baseball.
Garrett Guzman
served as the Senators designed hitter, going 0-for-3 at the plate, while
Luis Jimenez
worked 1st base for the Washington Farm.
Ofilio Castro
would reach in the top of the 3rd on a throwing error by
Trever Plouffe
. He took 2nd base when the ball bounced into the bullpen. One out later,
Mike Daniel
's ground ball single would plate him for the only Senators run.
Boxscore
Log
Rock cats
Senators
Patriot News
Lip Service
Rochester 0 at Syracuse 5
W: M. MacDonald (1-0, 3.81); L: K. Mulvey (2-6, 4.36)
HR: None.
The Rochester Red Wings were shut out in the conclusion of the Cooperstown Classic on Monday night.
Kevin Mulvey
suffered the loss for the Wings, his 6th of the season.
Former Miracle
Jose Morales
was 2-for-3 at the plate while
Matt Macri
returned to the line up, going 2-for-4.
Brian Buscher
was 0-for-2 with 2 walks.
Dunedin Blue Jays almuni
Ricky Romero
had taken the start for Syracuse but lasted only 2 innings before the rains came down on Sunday.
Boxscore
Log
MiLB.com
Rochester 7 at Syracuse 6
W: T. Lahey (2-3, 4.08); L: M. Gallo (0-1, 13.50); SV: C. Cali (1)
HR: ROC: R. Ruiz (3). SYR: C. Cannon (3).
The Wings bounced back in game two however, taking an early lead 5-2 lead and holding off a late inning Chiefs rally.
Denard Span
would reach on a fielding error by
Erik Kratz
to get things started. Two outs later,
Brian Buscher
would be hit by a pitch.
Randy Ruiz
then put his 3rd home run of the season over the left field wall to give the Wings 3.
The Chiefs took two back in the bottom of the inning, but a double by
Ryan Jorgensen
in the top of the 2nd helped the Wings get the runs back.
Chris Basak
went 3-for-4 at the plate with a run,
Randy Ruiz
was 2-for-4 with 2 runs and 4 RBIs. Aside from the home run, he also hit a double in the top of the 5th.
Brian Duensing
would give up 3 runs, earned on six hits and 1 walk while striking out 2.
Julio Depaula
gave up 2 runs on 2 hits and a walk in .1 inning, while
Tim Lahey
earned both a blown save and the win, giving up 1 run on 1 hit and walk in 1.2 innings. Naples resident
Carmen Cali
earned his first save for the Wings.
Boxscore
Log
Red Wings
D&C
Extra Bases
R News
Post Standard
Beloit 6 at Clinton 5
W: M. McCardell (1-1, 2.70); L: H. Nelo (1-2, 4.32); SV: S. Steedley (3)
HR: CLI: M. Moreland (4), R. Osuna (3).
Beloit used a 3-run ninth inning to rally past the Division leading Clinton Lumber Kings to take game one of the four game series.
Mike McCardell
, recently returned off the disabled list, picked up the win, working 2 innings of relief and allowing 1 run on 1 hit and 2 walks while striking out 5.
Ben Revere
returned to the line up, going 3-for-4 at the plate with 2 runs scored.
Garrett Olson
was also 3-for-4 with a pair of runs.
Ozzie Lewis
,
Sean Singleton
,
Joe Benson
,
Greg Yersich
, and
Ramon Santana
also recorded hits.
Trailing 3 runs at the top of the 8th, Santana doubled his way onto base, then came home on Revere's ground ball single.
Chris Cates
would ground out to start the top of the 9th, but Olson and Lewis hit back-to-back singles.
Mark Dolenc
would replace Lewis as a pinch runner, and Singleton's ground ball to right would rive in Olson and advance Dolenc to 3rd.
Joe Benson
would draw walk. A fielding error by Clinton's
Jonathan Greene
allowed Dolenc and Singleton across the plate to give the Snappers the lead.
Spencer Steedly
would allow 2 singles and a walk to load the bases for the Lumber Kings in the ninth, but he got
Engel Beltre
to strike out and
Renny Osuna
to line out to end the inning and the game.
Game two of the series is Tuesday with a 7:00 PM central time first pitch.
Danny Berlind
(3-3, 3.62) will start for the Twins farm team. Beloit (23-20) trails Clinton by 7.5 games in the Midwest League standings.
Boxscore
Log
Snappers