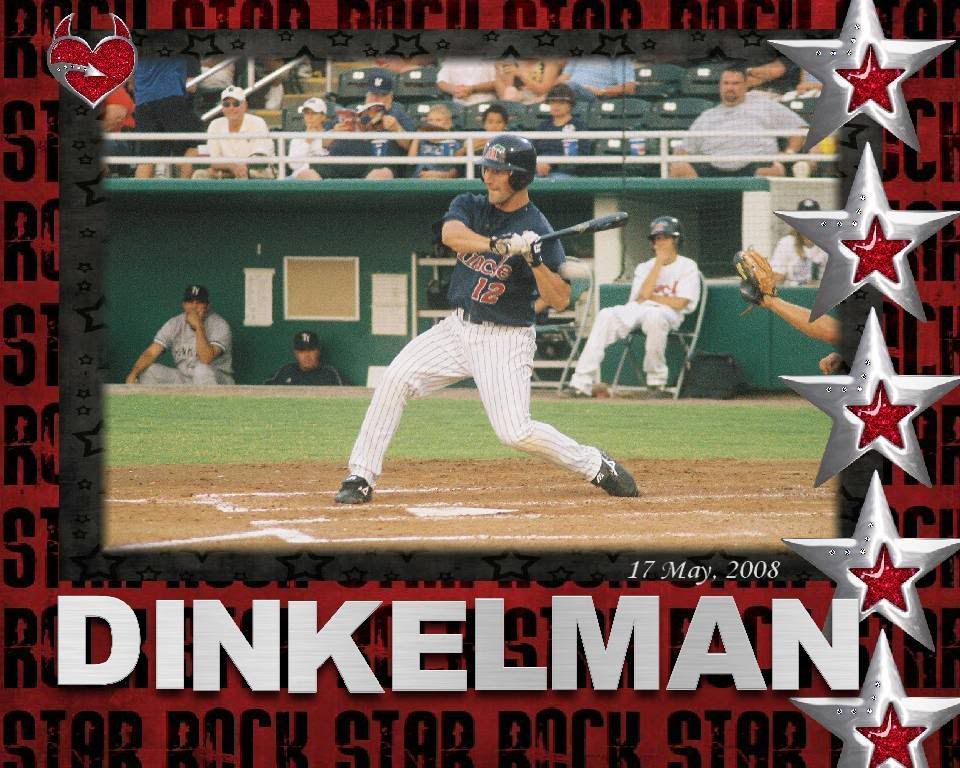 Palm Beach 3 at Fort Myers 5
W: D. Guerra (5-1, 4.56); L: B. Dickson (2-5, 3.64); SV: R. Delaney (11)
HR: None.
The Miracle picked up a 5-3 win Friday in a very long game to kick off the Memorial Day Weekend at Bill Hammond Stadium.
Brian Dinkelman
singled in the bottom of the seventh.
Juan Portes
would fly out and
Danny Valencia
's line drive would put two men on.
Whit Robbins
then drew a walk to load the bags.
Edward Ovalle
doubled out to left to drive in two, Robbins would try to cross the plate as well, but was tagged out at home. Ovalle decided to run for three, but the ball was relayed back to second for the 3rd out. Still it proved to be the game inning runs for the Miracle.
Fort Myers actually got on the board first with Dinkelman walking. A missed catch on a pick off attempt moved Dink to 2nd. Portes would line out, but Valencia's line drive to center drove in Binkelman.
Deolis Guerra
was struggling with his control early on. With two outs on the board, he'd walk
Tony Cruz
.
Danny Descalso
then doubled out to
Danny Santiesteban
in right to bring in Cruz, tying the game.
Nick Derba
would pop out to catcher
Wilson Ramos
, who made a great catch by the netting near the visitor's dugout to end the inning.
In the third Guerra walked
Antonio DeJesus
.
James Rapoport
would hit into what should have been a double play, but the umpire called Rapoport safe at first. Rapoport then stole second, but
Donoval Solano
would draw a walk off Guerra, who suddenly seemed to lose the strike zone. Following a ground out to
Brian Cartie
, Guerra issued walks to Brown and Jones to force in a run. He finally put one over the plate, which Cruz hit to the outfield and which was handled by Mr. Santiesteban.
Guerra would be tagged for 2 runs, both earned on 2 hits and 7 walks. He fanned only 2 and lasted 5 innings. I wasn't all that excited by his performance. Granted, it's a little hard to get his speed when
Tyler Robertson
is operating the gun, but I was only seeing speeds off him in the mid-to-lower 80s. Supposedly he throws 93, but I didn't see it.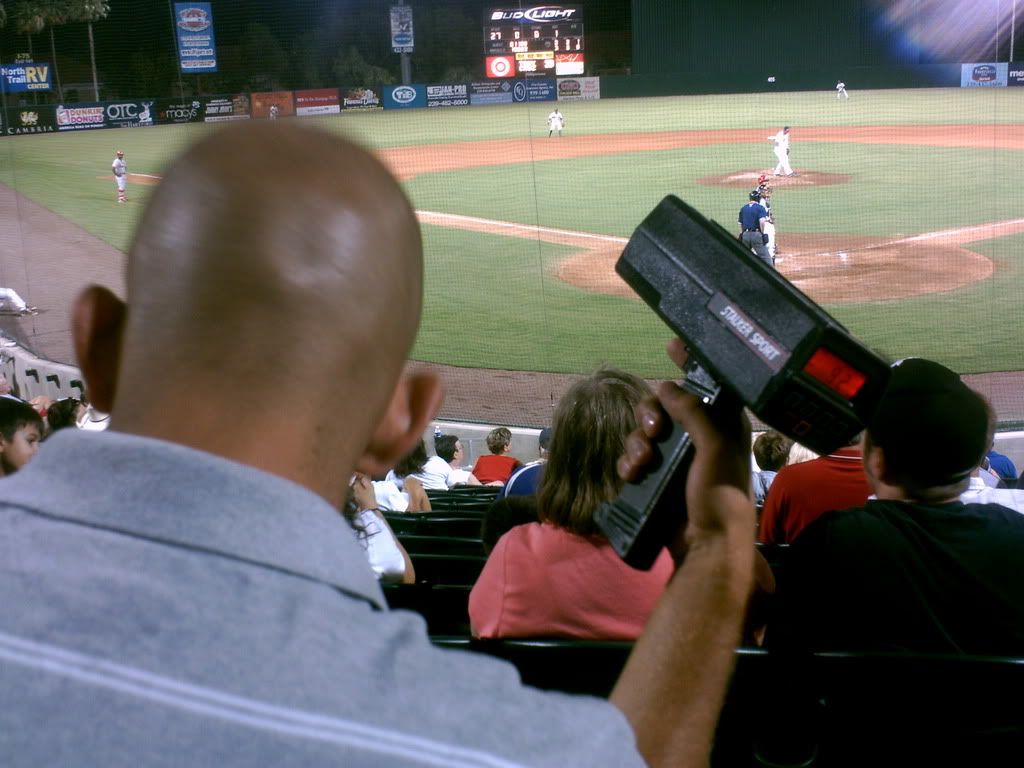 Dear Mr. Robertson, please hold the gun still, some of us are trying to look at it!
Yancarlos Ortiz
walked in the bottom of the fifth, and Dinkelman would double. Portes sac fly scored Ortiz, and Valencia would sacrifice Dinkelman home.
Frank Mata
was pitching in the 90s, and would handle the sixth and seventh innings, giving way to
Anthony Slama
in the 8th. After striking out Brown, he would issue a walk to Jones. Cruz then reached on a force attempt when Ortiz flubbed the catch.
Daniel Descalso
then doubled off Slama to drive in Jones. Slama would get the next two batters out on strikes to preserve the Miracle lead.
Rob Delaney
picked up his 11th save of the year, going three up and three down to finish of the game.
Santiesteban was pulled in the fourth inning, supposedly due to an injury. He did however return to the field as first base coach for the last two innings, so perhaps it was more of a precautionary move than anything.
Dinkelman was 2-for-3 in the contest with 3 runs, Valencia was 3-for-3 with 1 run and 1 RBi. Ramos was 2-for-4 but did not factor into the scoring.
The homestand continues Saturday eveing with
Alex Burnett
(3-2, 3.16) tossing out the first pitch at 7:05 PM.
Shaun Garceau
(3-0, 1.93) will be on the mound for the Cards. Fireworks will provided by North Trail RV and Coors Light and - one hopes - by the Miracle bats.
Boxscore
Log
Miracle
Zooperstar Photos
News Press
NDN
Breeze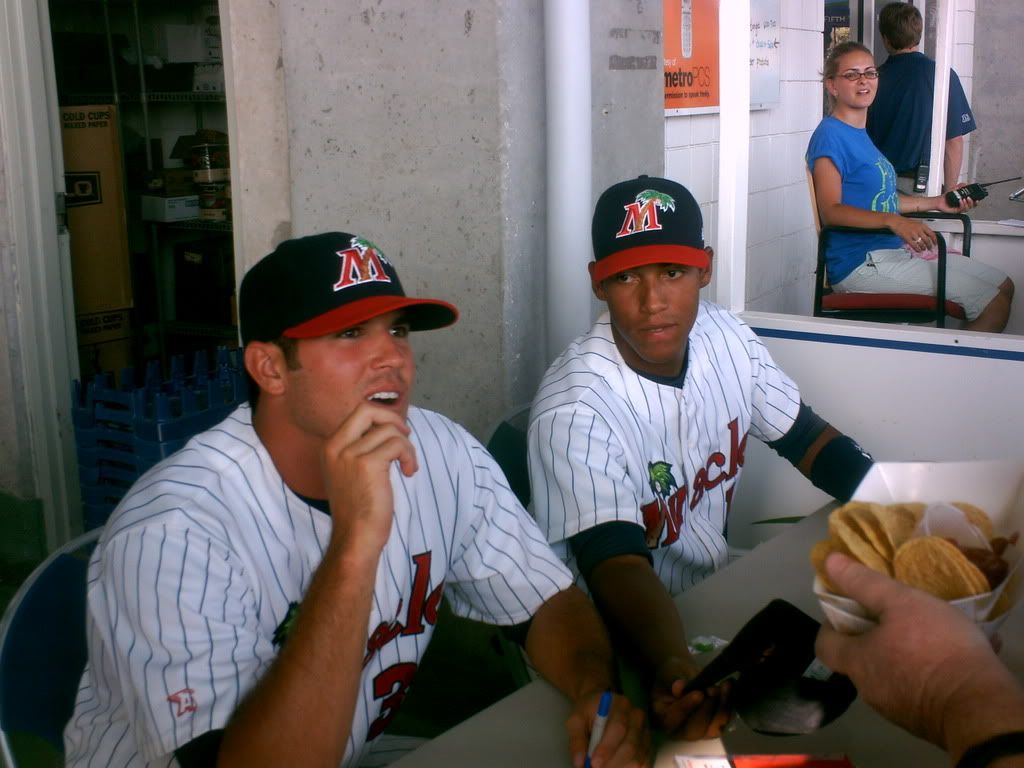 Jeff Manship and Yangervis Solarte sign autographs before the game
Note:
TwinsBaseball.com reported Friday that RHP
Scott Baker
will make two minor league rehab starts beginning Monday at Extended Spring Training. The game, which is played at the Lee County Sportsplex, starts at 10:00 AM.