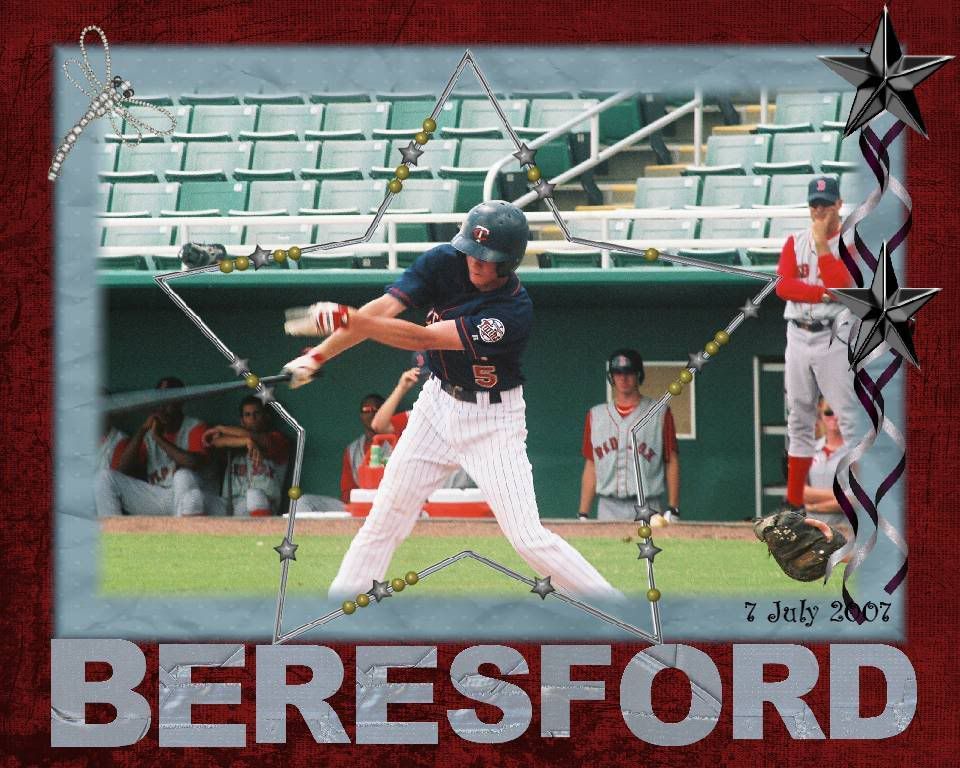 Elizabethton 7 at Pulaski 4
W: D. Rondon (1-0, 0.00); L: N. Czyz (0-1, 18.00); SV: S. Blevins (1)
HR: ELI: E. Bigley (1).
The Elizabethton Twins took early lead, held off a mid-game rally and went on to defeat the Pulaski Mariners, 7-4 in game one of the best-of-five Appalachian League Championship series.
Reliever
Danny Rondon
would claim the win for the E-Twins, while
Steve Blevins
, a 2008 promotion to the E-Twins from the GCL, handled the save.
With two outs on the board in the first inning,
Jon Waltenbury
would take a walk.
Evan Bigley
would then double him in to put the Twins on the board.
They extended their lead in the top of the second with
Angel Morales
singling his way onto base.
Jeff Lanning
would fly out, but
James Beresford
knocked a ground ball single to left and
Dominic De La Osa
took a walk to load the bags.
Nick Romero
then hit a ground rule double to center to plate Morales and Beresford. Waltenbury sacrificing in De La Osa to give the Twins a 4-0 lead.
Brad Tippett
left the game after only two outs in the first with an injured elbow, with
Curtis Leavitt
replacing him on he mound. The California hurler found trouble in the bottom of the fourth, allowing back-to-back doubles to
Kris Sanchez
and
Jose Rivero
, getting the Mariners on the board.
Guy Welsh
took a walk. A sac-bunt by
George Soto
advanced the runners, and a ground out by
Jacob Shaffer
plated Rivero to cut the Twins lead in half.
Waltenbury singled in the top of the 5th, and Bigley reached on a force attempt in which Soto at second misplayed the ball.
Mike Harrington
then doubled to drive in Walt for an insurance run.
They'd need it, as
Gabriel Noriega
walked to start the the bottom of the fifth.
Mario Martinez
singled, which prompted
Ray Smith
to call for a pitching change getting Leavitt off the hill and putting Rondon in. The GCL Twins ace closer from 2007 would allow a double to
Juan Fuentes
which scored Noriega and Martinez, making it 5-4 Twins. He'd get
Kris Sanchez
to fly out however and Rivero and Welsh to strike out, ending the inning.
Lanning would get plunked by a pitch, with Baby Bearcat singling him to second. De La Osa would also get plunked, loading the bags. Romero would sacrifice in Lanning, but Waltenbury would pop out and Bigley line out, retiring the side.
Leavitt would get charged with 4 runs on four hits and a pair of walks while striking out 4 over 3.1 innings. Rondon would give up 2 hits and fan 3 over the next 2 innings with Jarred Eacott coming in for the seventh and eighth, allowing one walk and fanning three.
Bigley would homer in the top of the 9th, a solo shot, for the Twins 7th run of the night. Blevins would strike out Noriega and Martinez in the bottom half of the final set, with Fuentes claiming a single. Sanchez hit into a force out however, ending the contest.
Beresford was 2-for-4 with a run, and Bigley, the game's yard bird, was 2-for-5 with a double, a run and two RBIs. Walt finished up 1-for-3 with a pair of runs and 1 RBI. Lanning was also 1-for-3 with a run.
Romero, Harrington, and Morales were all 1-for-4, Romero with a double and 3 RBIs, Harrington with a double and a run scored, and Morales with a run.
The two teams rematch tonight at Joe O'Brien Stadium for game two of the series. The first pitch is due out at 7:00 P.M.
Box
Log
Lookout Landing
Blog
Rattler Radio
Blog
---
DSL Mariners 1 at DSL Twins 0
W: F. Bautista (1-0, 0.00); L: E. Santana (0-1, 3.00); SV: H. Perez (1)
HR: None.
The DSL Mariners blanked the DSL Twins at Baseball City Thursday, ending the Twins bid for a DSL Championship.
Victor Ozuna
took a triple off reliever
Eddy Santana
and scored on a missed catch by
Manuel Soliman
at 3rd base.
The D-Twins actually out hit the Mariners, but could not convert on their chances.
Yorby Martinez
would double in the bottom of the fifth, and after Soliman went down on strikes, try to go home on a
Wilfy Gil
single to left. He was taken out at the plate however, as
Angel Zapata
riffled the ball in to Mariners' catcher
Hassiel Jimenez
, who got the tag on Martinez.
Danny Santana
would single in the bottom of the sixth, then steal 2nd. He'd get caught trying to take 3rd however.
Six different Twins had hits, with
Carlos Vasquez
, Martinez and Gil going 1-for-3 at the plate; Vasquez with a walk, and Martinez with a double. Santana,
Jean Carlos Mercedes
and
Jairo Rodriguez
finished up 1-for-4, all one-hit wonders.
Jhonatan Arias
is already schedule to make an appearance State-side at Fall Instructional League, but it will certainly be interesting to see which of this talented group of young men will join the 2009 GCL Squad.
The DSL Angels will face the DSL Nationals1 in the Semi-final round, while the DSL Mariners take on the DSL Giants. Thanks to the DSL Twins for all their hard work this season, and a big thanks ti Director of Latin American Operations
Jose Marzan
for answering countless questions as we explored the Latin American Leagues in depth for the first time, here at Rookie Whites.
Box
Log
Thanks also to everyone who has stopped in to see how our Twins farm system was fairing. I hope I have not failed you too badly despite the hardware problems that have plagued me this summer.
While the regular seasons winding down for our twins prospects, we will continue to follow our boys through Arizona Fall League, Fall Instructional League and of course, Venezuelan Winter League.