Fort Myers 3 at Clearwater 2
W: D. Guerra (11-8, 5.26); L: A. Cruse (4-9, 3.53); SV: A. Slama (25)
HR: None.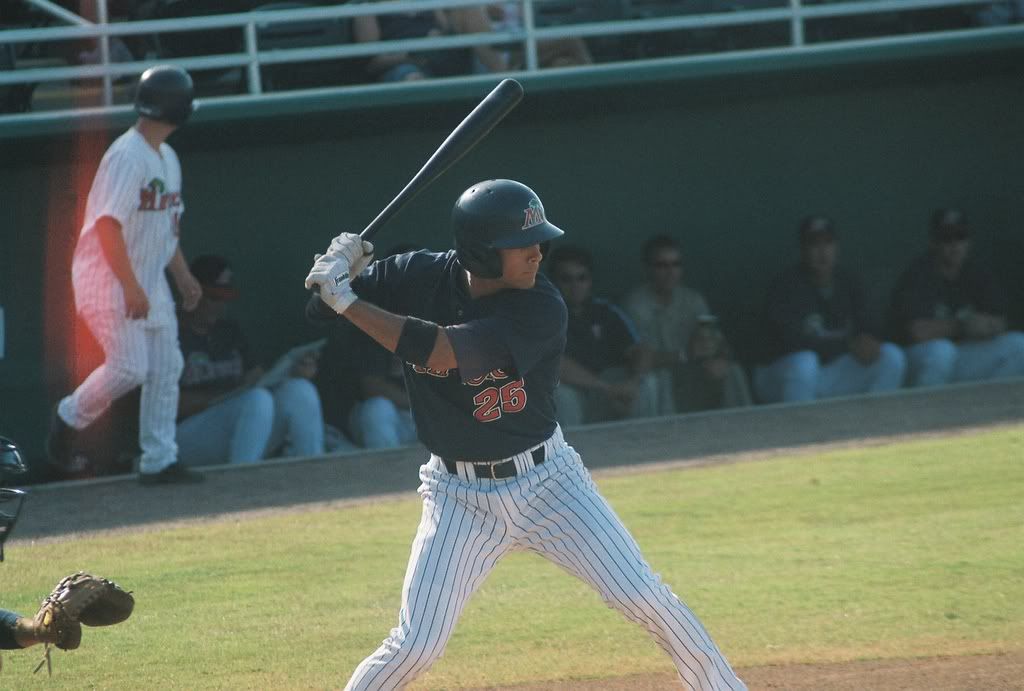 The Fort Myers Miracle pounded out 11 hits, but came away with only three runs, Monday night at Bright House Networks Field. Still it was enough to avoid a sweep by the Clearwater Threshers, as they won, 3-2.
Clearwater would open the scoring, with
Tuffy Gosewisch
doubling, then moving to 3rd on
Fiedel Hernandez
's single.
Quintin Berry
sacrificed him in for the first Clearwater run.
The Miracle would not take it back until the top of the 5th when
Edward Ovalle
and
Johnny Woodard
hit back-to-back doubles, tying up the contest.
Woodard would single in the top of the 7th, and
Danny Santiesteban
doubled. Woodard would try to go home, but was taken out at the plate on the throw. However it did allow Santiesteban to reach 3rd.
Garrett Olson
's single pushed him over the plate for the go ahead run.
Juan Portes
doubled Olson to 3rd and after a pitching change that saw
Ben Pfinsgraff
replace
Andy Cruse
,
Eli Tintor
took a walk to load the bags. Pfinsgraff unleashed a wild pitch that scored Olson before
Steve Singleton
flew out to score the runners.
Wilson Ramos
would triple in the top of the 8th and
Whit Robbins
would get plunked by a pitch.
Edward Ovalle
reached on a fielder's choice that took Ramos out at the plate before Woodard ground into a double play.
Deolis Guerra
worked six innings, allowing only 1 run on 3 hits and 3 walks while striking out six. It was a substantially better start than his last outing.
David Shinskie
worked the seventh, walking one and striking out 1, giving way to
Carlos Gutierrez
in the 8th.
With one out on the board, the rookie hurler would hit
Jesus Villegas Andino
with a pitch.
Michael Taylor
struck out swinging, but
John Urick
reached on Woodard's fielding error.
Mike Eylward
singled to score Andino. After a couple of substitutions, pinch hitter
Gus Milner
would ground out, ending the Clearwater threat.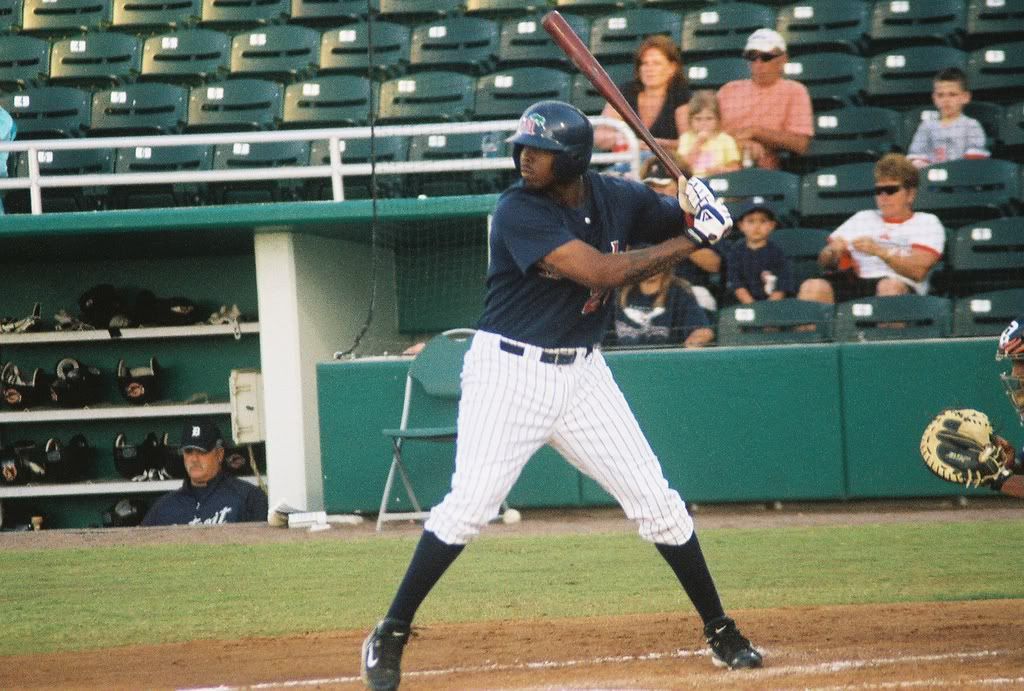 Olson would double in the top of the 9th, but
Juan Portes
flew into a double play that doubled Olson off 2nd to retire the Miracle for good.
Anthony Slama
would strike out two before getting
Fidel Hernandez
to ground out, ending the contest.
Woodard was 2-for-4 with a double and a RBI, but also cost the Miracle a pair of runs. Olson went 3-for-4 at the plate with a double a run and a run batted in.
Eli Tintor
was 2-for-3 with a walk, but did not factor into the scoring. Ramos, Ovalle, and Santiesteban were all 1-for-4; Ramos with a triple, Ovalle and Santiesteban with a double and a run each. Portes would finish up 1-for-5 with a double.
The Miracle now return home for the final 2-for-Tuesday of the 2008 season as they host the Lakeland Flying Tigers for a three game series to start out their final homestand.
Alex Burnett
(8-5, 3.92) will be in the driver's seat on the mound for the Miracle on NASCAR night.
Johan Nickerson
(11-4, 3.88) is due up on the hill for the Flying Tigers. The races get underway at 7:05 PM.
Box
Log
Miracle
Threshers
Breeze
NDN
JeffCrupper.com
Blog
Rene Tosoni
went 3-for-3 at the plate with a home run in Monday's GCL game which the GCL Twins won. Tosoni is eligible for the FSL playoffs, and should prove to be a huge boost for the Miracle (
GCLTwins
).
Danny Valencia
hit his 8th AA home run as the New Britain Rock Cats defeated the Portland Sea Dogs, 6-5, at Hadlock Field.
Matt Tolbert
was 2-for-5 with a double, a pair of runs, and a RBI on major league rehab (
Sea Dogs
).
Former Miracle
Anthony Swarzak
defeated former Miracle
Brian Wolfe
as the Rochester Red Wings downed the Syracuse Chiefs, 7-1. Ol' Wolfey gave up 4 runs, earned, on 10 hits and 1 walk in 3.1 innings as the Wings exploded on him.
Beloit topped Kane County 4-3 at Pohlman Field.
Chris Cates
was 3-for-5 with a RBI in the lead off roll, filling in for
Ben Revere
who went to Minnesota to consult with Twin's physician Dr.
John Steubs
about some loose particles in his knee, which have been causing him some discomfort. Relief pitcher
Chris Anderson
had an emergency appendectomy on Friday Night and was placed on the DL.
From
MILB.com
:
THE WEEK THAT WAS:
It was a rough week for the Miracle as Fort Myers won just two of five games. But the winners of the FSL West's first-half title learned who their opponents in the divisional playoffs will be as Dunedin wrapped up the second-half title.
WHO'S HOT, WHO'S NOT:
LF
Juan Portes
is getting hot right when the playoffs are about to begin. The Boston native is in postseason form, hitting .375 in the past 10 games (12-for-32). ... 3B
Garrett Olson
hasn't been as fortunate as he has just five hits in his last 34 at-bats for a .147 average.
PLAYER TO WATCH:
SP
Alex Burnett
was dominant in an 8-1 road win over Lakeland on Aug. 21. The right-hander from Anaheim, Calif., fanned 10 Flying Tigers while walking just one over six innings for his eighth win of the season.
PERFORMANCE OF THE WEEK:
In a 15-1 road win at Sarasota on Aug. 17, DH
Johnny Woodard
nearly beat the Reds all by himself. The Oakland, Calif., native had three hits in four at-bats with four RBIs. Woodard singled in a run in the second inning with a fly ball to left field. In the third he got an RBI on a groundout to second. In the fifth Woodard got his third and fourth RBIs when he belted a drive over the right-field wall for a two-run homer.
QUOTE OF THE WEEK:
"I jumped over two levels -- Advanced Rookie and Low A," SP
Joe Testa
told the Brick Township Bulletin (N.J.) of how he was promoted to Fort Myers. "It's exciting, and I got my first start. At first, I was surprised to get the start. I just pitched my game, and that was the best defense playing behind me, ever. All the plays they made looked routine. When they [other team] hit ground balls off me, they were harder than in the Rookie league and the guys made the plays for me. I had to adjust. Mentally, I was fine, because I had done this before, but physically, it was different," said Testa. "In the past few weeks, I was throwing only one or two innings when I'd go out there, so this was definitely different. I just made sure I loosened up."