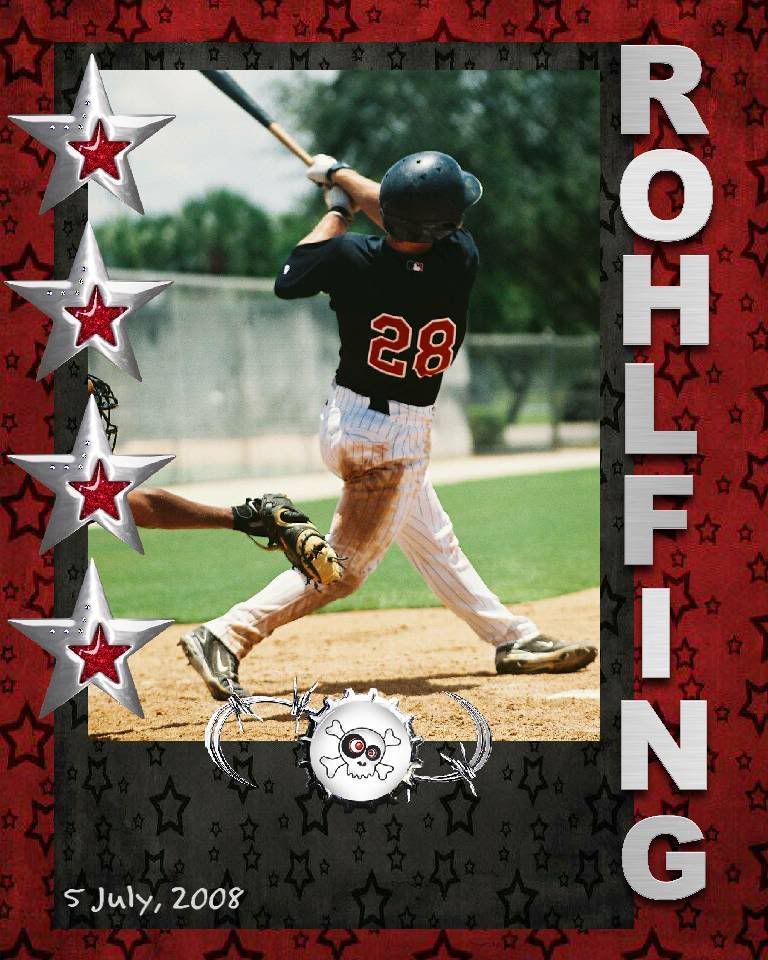 GCL Orioles 4 at GCL Twins 7
W: E. Ibarra (4-0, 3.12); L: J. Moore (1-4, 2.98)
HR: TWI: D. Rohlfing (1).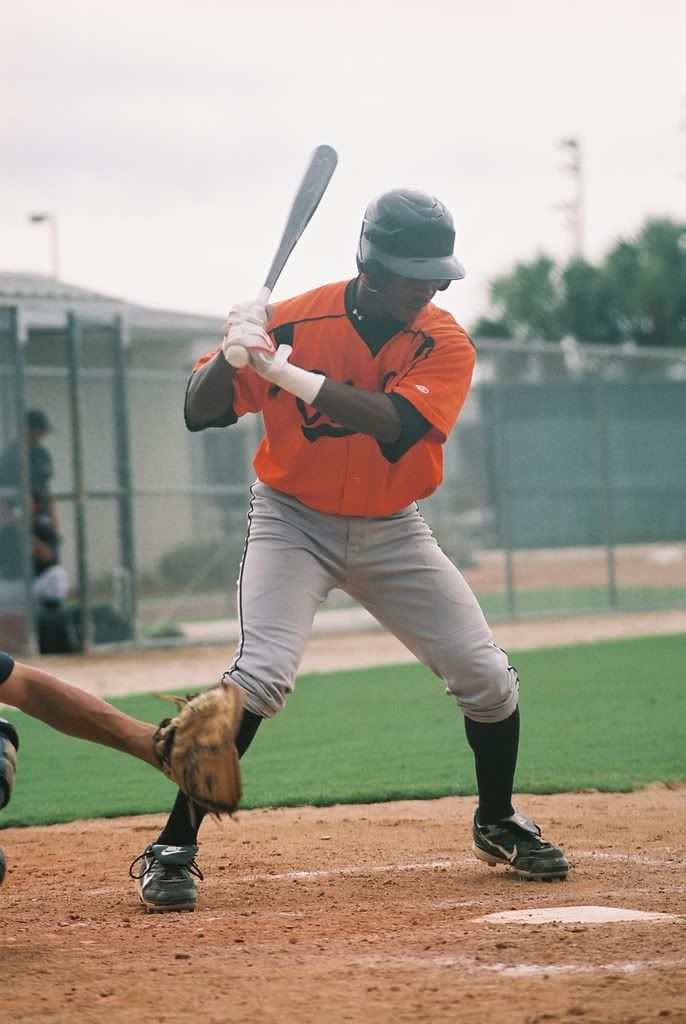 The Twins took an early lead despite a poor outing in the 7th by rehabbing pitcher
Jay Sawatski
.
Aaron Hicks
singled. He'd then try to steal 2nd but would be caught out between bases. While they were playing pickle,
Edinho Meyer
threw the ball passed second and into the outfield, allowing Hicks to get to 2nd base.
Anderson Hidalgo
singled sending Hicks to 3rd.
Rene Tosoni
, who has been rehabbing a broken foot, would go down on strikes.
Andres Diaz
doubled in Hicks and a passed ball by
Janensis Guerrero
scored Hidalgo.
Reggie Williams
singled in Diaz to give the Twins a 3-0 lead. Williams would try to steal 2nd, but this time he was caught.
Danny Rohlfing
would go down on strikes to send the Orioles to the plate.
Tosoni singled his way onto base.
Reggie Williams
then tripled in Tosoni, although for Reggie, it was a very close call at 3rd.
Danny Rohlfing
then sent a ball out to right that cleared the fence, bringing Williams in, making it 6-0 Twins.
Jerome Hoes
singled out to right, and Meyer took a walk. Twins starter
Edgar Ibarra
took
Garabez Rosa
and
Omar Casamayor
down on strikes.
Grolman Gonzalez
singled, sending Hoes across the plate to give the O's 1. Meyer would be taken out at second on the play, retiring the side.
Hoes singled then stole 2n in the top of the sixth. Meyer's ground out moved Hoes to 3rd and Rosa singled him in. Casamayor would single as well but Gonzalez flew out and
Derek Gianakas
ground out to send the Twins up to bat.
Robert Bundy
would take over the mound from Orioles starter
Justin Moore
for the bottom half of the stanza.
Danny Rohlfing
tripled out to center and came home on
Tyler Ladendorf
's single. Two outs later,
Aaron Hicks
' single moved Ladendroft to 3nd, and a wild pitch by Bundy put Ladendorf on 3rd and Hicks on 2nd.
Anderson Hidalgo
would fly out however, ending the inning with two men left on base.
Janensis Guerrero
tripled off
Jay Sawatski
in the top of the 7th.
Xavier Avery
singled him in.
Francisco Mejia
ground into a double play however. A missed catching error by Diaz at first allowed Hoes to reach and Sawatski would hit Meyer with a pitch.
Javier Santana
would go in to run for Meyer. Rosa singled to fill the bags, and a wild pitch by Sawatski allowed Hoes to score. Casamayor would go down on strikes however, to give the Twins a win.
Rohlfing, the game's yardbird, was 2-for-3 with a triple, a pair of runs and two RBIs. Williams was also 2-for-3 at the plate with a triple but only one run to go with his pair of runs scored. Hicks was 2-for-4 with a run, and Tosoni and Diaz were each 1-for-3 with a run, Diaz with a double and a RBI as well. Hidalgo was 1-for-4 with a run.
Ladendorf was 1-for-2 with a walk and a run while Lara was 1-for3, becoming the games one hit wonder.
Ibarra scattered six hits and a pair of walks over six innings, allowing 2 runs, both earned while fanning 4.
The teams would break for lunch before the start of game two.
Box
Log
GCL Twins 2 at GCL Orioles 1
W: K. Nanney (4-1, 1.65); L: J. De La Cruz (0-2, 3.15); SV: K. Mota (12)
HR: None.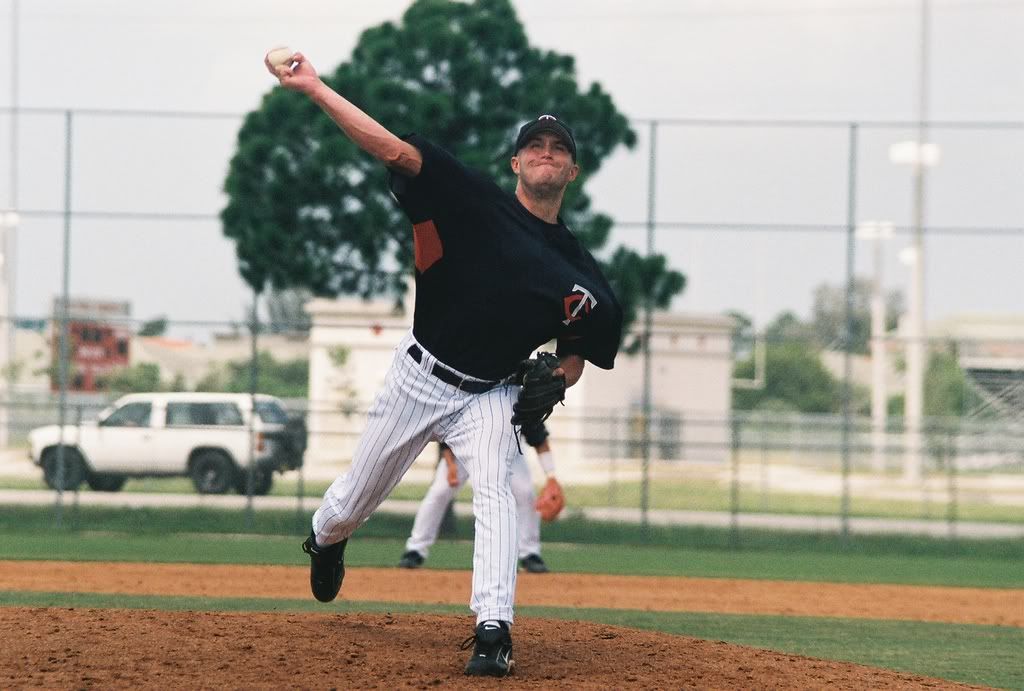 Khol Nanney
came back from lunch to announce he'd made a bagel. "Well, there were some bagels sitting there and some peanut butter, so I put some peanut butter on the bagel. That's alright, isn't it." And if it wasn't? Well...let's not go there.
The Twins bats cooled off considerable in this one, but they still achieved the goal, which was winning the game. We've already secured our playoff berth, but we want to win the division as no one wants to play the elimination game on the road.
Jon Goncalves
took a walk in the top of the first.
Juan Sanchez
went down on strikes, as did
Danny Ortiz
. Orioles' starter
Sam Taveras
would unleash a wild pitch that sent Goncalves to 2nd.
Mike Gonzales
then spanked a ball out to center to score Goncalves.
Mike Tonkin
took the start for the Twins and worked the first four innings, allowing only 3 hits and a walk while striking out only 1.
Nanney, the bagel thief, would come in for the fifth.
Michael Gioioso
singled a line drive out to center and
Francisco Majia
's sac-bunt moved him to 2nd. A passed ball by
Jae-Hyung Jang
advanced the runner to 3rd.
Xavier Avery
would draw a walk before
Larry Rivera
hit into a ground out, plating Gioioso to tie the game.
The top of the sixth would see a number of pitching changes for the O's.
Jario De La Cruz
started out and walked
Juan Sanchez
. Ortiz's bunt would pop out and be caught by Gioioso, coming in from 3rd in foul territory. Sanchez then stole 2nd base and Rohlfing, who had replaced Gonzales in the line up ad was playing at first, struck out.
Brian Anderson
came in to replace De La Cruz and walked
Hyeong-rok Choi
. They Orioles then gave the ball to
Leonardo Madrigal
who walked
Reggie Williams
, loading up the bases.
Miguel Achil
was summoned from the bullpen, and walked
Jae-Hyung Jang
to force in Sanchez for what was to prove the game winning run.
Brian Kirwan
pitched the bottom of the sixth on a rehab assignment from Beloit. Getting
Dennis Perez
and
Justin Martin
to both fly out and striking out
Jose Kianes
. However, J.J. passed the ball on the third strike and Kianes went to first.
Javier Santana
would reach on Sanchez's fielding error before Kirwan could get Gioioso out on strikes.
Kelvin Mota
allowed a single in the bottom of the 7th - the O's had home field advantage in this contest - but got Avery and Rivera to fly out and sat Garabez Rosa down on strikes, ending the contest.
Gonzales was 2-for-2 with a RBI before being replaced by
Danny Rohlfing
in the top of the fourth. He "tweaked" something, and was on the bench by the end of the game, but it appeared to be minor. Williams was 1-for-2 with a double and a RBI. Goncalves and Sanchez, both 0-for-3 with walks, had a run each.
The Pirates were idle, so the Twins are again one game back from their division rival with three left to play.
Box
Log
Herald Tribune
Jose Marzan
was at the game and confirmed that the DSL playoff format was best of 3, best of 3 and best of 5 for the upcoming playoffs. The DSL Twins host the DSL Mariners in round one starting on Monday at 10:30 AM.
I imposed upon
Ian Mopas
to take the rest of the pictures into the clubhouse for me, and hand them out. All of the boys thanked me except, predictably enough,
Danny Ortiz
who has never said two words to me, and
Josmir Pinto
, who I did not see. I felt bad because
Angelo Sanchez
was the odd pitcher out this year and I didn't get to see him throw. Is seems like I get one every year and I feel bad that I don't have shots. I can only say that I'll try to make it up to him in Spring Training.
I did pretty good autographing wise, getting
Xavier Avery
,
Larry Rivera
,
Jerome Hoes
,
Luis Ramirez
and
Justin Martin
from the Orioles. I was looking for
Edwin Cintron
and
Vito Frabizio
as well, but they were not with the team on this trip. Rivera, especially liked his
layout
which left me fielding questions from about half the rest of the team who wanted to know when I was going to one for them. I will, but as I won't bet likely to get any more autographs until Fall Instruction League, it won't be until after the this next weekend when the Miracle's six game homestand concludes.
For the Twins I got
Pat Neshek
(x4) on rehab,
Deibinson Romero
(x2),
Brian Kirwan
(x2),
Miguel Munoz
,
Andres Diaz
,
Mike Gonzales
,
Juan Sanchez
,
Herbert Lara
,
Reggie Williams
, and
Anderson Hidalgo
who had just a heck of a time with the pen. That new click technology really baffles some of the boys. Ian finally got him through the sharpie experience. "Do they not have click pens in South America?" I ask Ian. It's not like he's the first to have problems. And yes, I've actually seen some Americans at the FSL level puzzled on how to get the "cap" off the click sharpies.
If you haven't done so yet, please check out the new Photo center on
Shutterfly
. While I am still less than thrilled with the new power uploader, the new photo center is just rockin'!