Lakeland 7 at Fort Myers 5
W: L. Oliveros (1-1, 5.19); L: A. Burnett (8-6, 3.79); SV: R. Garcia (1)
HR: FTM: J. Woodard (6).
Both
Jonah Nickerson
and
Alex Burnett
got off to absolutely wretched starts, the difference is Nickerson came out and Burnett did not. Although to Alex's credit, after initial inning, he did not allow another run.
It was the night of the million bloodsuckers at Hammond Stadium, and
Justin Justice
got the party started when he reached on a fielding error by
Edward Ovalle
out in left.
Gustavo Nunez
ground into a force out which took Justice down at second. A wild pitch by Burnett put Nunez at 2nd, and
Louis Ott
took a walk.
Michael Bertram
reached on an error by Ed's favorite player
Johnny Woodard
, which loaded up the bases. Catcher
Devin Thomas
would go down on strikes before
Jordan Lennerton
singled out to center to scored two.
Jeramy Laster
doubled to bring on Bertram and
Brandon Timm
singled to score Lennerton and Laster. Timm would steal second and advance to 3rd on a throwing error by
Wilson Ramos
, but
Carmelo Jaime
ground out before further damage could be done.
Nickerson walked
Juan Portes
to lead off.
Steve Singleton
and
Rene Tosoni
both hit into ground outs but Ramos took a walk. Woodard then put a fly ball over the right field wall to give the Miracle a quick three. Ovalle doubled and Tintor singled to send him ot 3rd.
Danny Lehmann
's single plated Ovalle. That's when Nickerson came out of the game, with
Lester Oliveros
replacing him on the mound.
That pretty much calmed everything down for a few. Woodard doubled in the bottom of the 3rd. Both Lehmann and
Garrett Olson
would get hit by pitches in the bottom of the 4th and advanced on a throwing error by Timm, but Singleton ground out and Tosoni flew out leaving them stranded.
Robbie Weinhardt
replaced Oliveros in the bottom of the fifth and hit Ramos with a pitch that looked like it really hurt. Woodard would strike out before Ovalle was plunked with a pitch as well. Tintor went down on strikes, but Lehmann drew a walk to load the bags.
Garrett Olson
would go down swinging however, stranding the men.
Joe Testa
replaced Burnett in the top of the sixth and walked
Jordan Lennerton
.
Jeramy Laster
singled and Timm walked the bases full. Jaime singled to drive in Lennerton and Lester. Jaime would then be caught stealing.
Justin Justice
doubled, but
Gustavo Nunez
ground out to send the Miracle up to bat.
After that inning, Testa proved pretty amazing, striking out three in the 7th and another in the 8th.
Speaking of the 8th,
Garrett Olson
struck out to open the bottom half of the stanza. Portes singled before Singleton went down on strikes.
Danny Santiesteban
took a walk, and Ramos singled to drive in Portes. A wild pitch by
Cody Satterwhite
advanced the runners, but Woodard struck out to send the Tigers back up to bat.
Burnett allowed 5 runs, none of which were earned, on five hits and a pair of walks while striking out seven. Testa worked the final four, allowed 2 earned runs on 4 hits and 3 walks while fanning five.
Ramos was 2-for-3 with walk, a run and a RBI, Woodard was 2-for-5 with with a double, a run and three RBIs from the home run. Portes was 1-for-5 with a walk and a pair of runs. Ovalle and Tintor were 1-for-4, Ovalle with a double and a run, Tintor with a walk. Lehmann rounded things out, going 1-for-3 with a walk and a RBI.
The Miracle and the Flying Tigers play two tomorrow on RaceTrac Cheaper by the Gallon night and Kids Club Wednesday.
Rick Porcello
(7-6, 2.80) said he was pitching game one for the Flying Tigers.
Box
Log
Miracle
Breeze
NDN
Ledger
Take I-75 North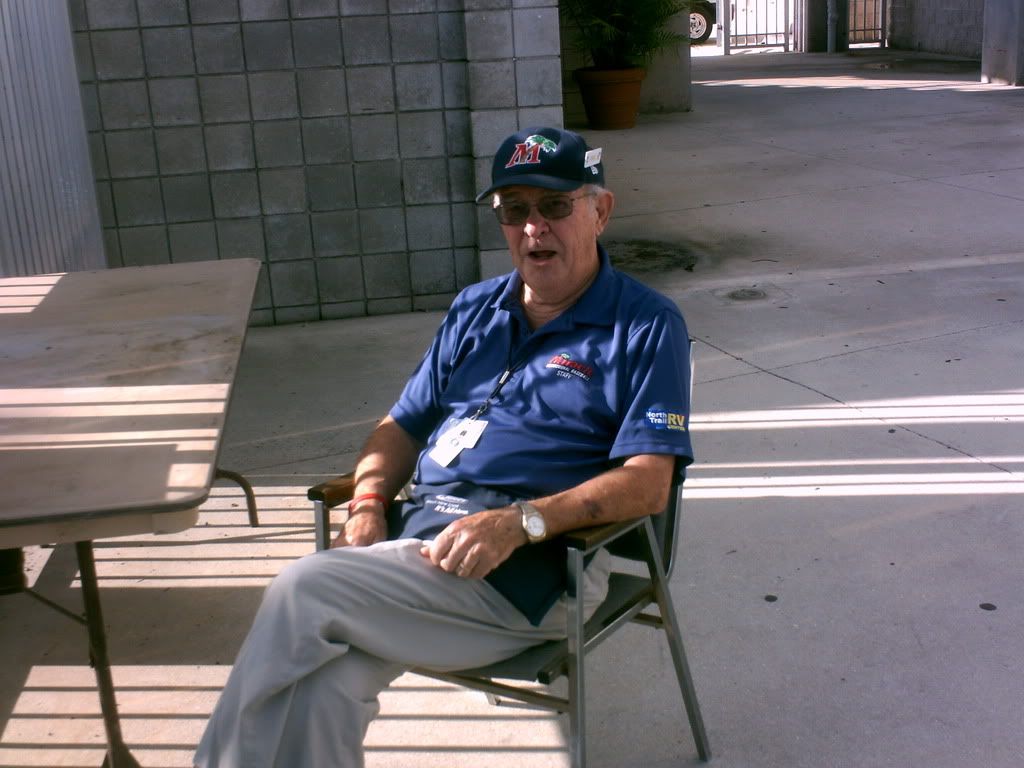 Chuck Golden: the hardest working person at the ballpark
New railings were installed to help hold up the players
A big race car came to visit on NASCAR night....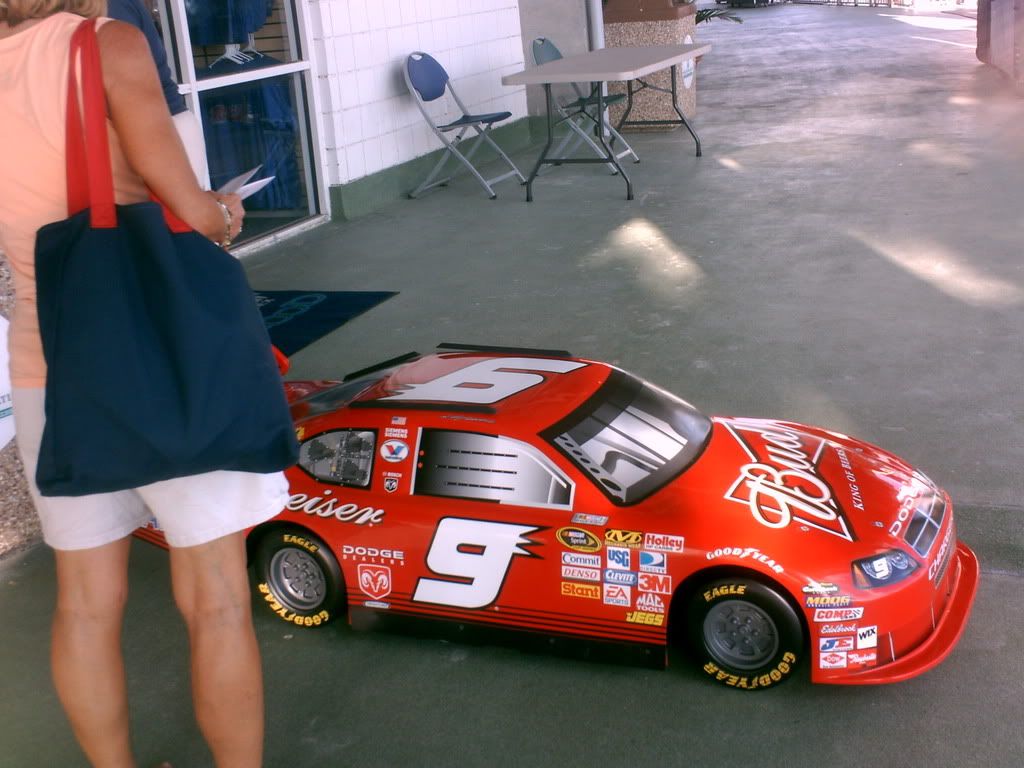 ...and a little one as well!
Insect repellent is available at the gift shop. Cigar smoke will keep the little vampires away as well, but the insect repellent smells better.
The Portland took both sides of a double header from the New Britain Rock Cats. They won the first game 6-4, and the second game 7-2.
Brandon Roberts
homered in the second game, one of only four hits for the Rock Cats (
Seadogs/OSC
).
The Syracuse Chiefs rolled over the Rochester Red Wings, 9-1 at Frontier Field.
Luke Hughes
was 2-for-4 at the plate with the lone Wings tally (
RD&C
).
Charles Nolte
suffered the loss as the Kane County Cougars rallied past the Beloit Snappers, 3-2.
Mark Dolenc
was 2-for-4 with a run for the Snappers (
Snappers
).
Fay finally found it's way up into the Appalachian Mountains, and as a result, the game between Princeton and Elizabethton was canceled due to rain. The E-Twins are schedule to start their playoff series against Pulaski on Wednesday.