GCL Twins 5 at GCL Nationals 10
W: P. Arnold (1-0, 3.18); L: M. Munoz (0-1, 67.50); SV: D. Gil (1)
HR: None.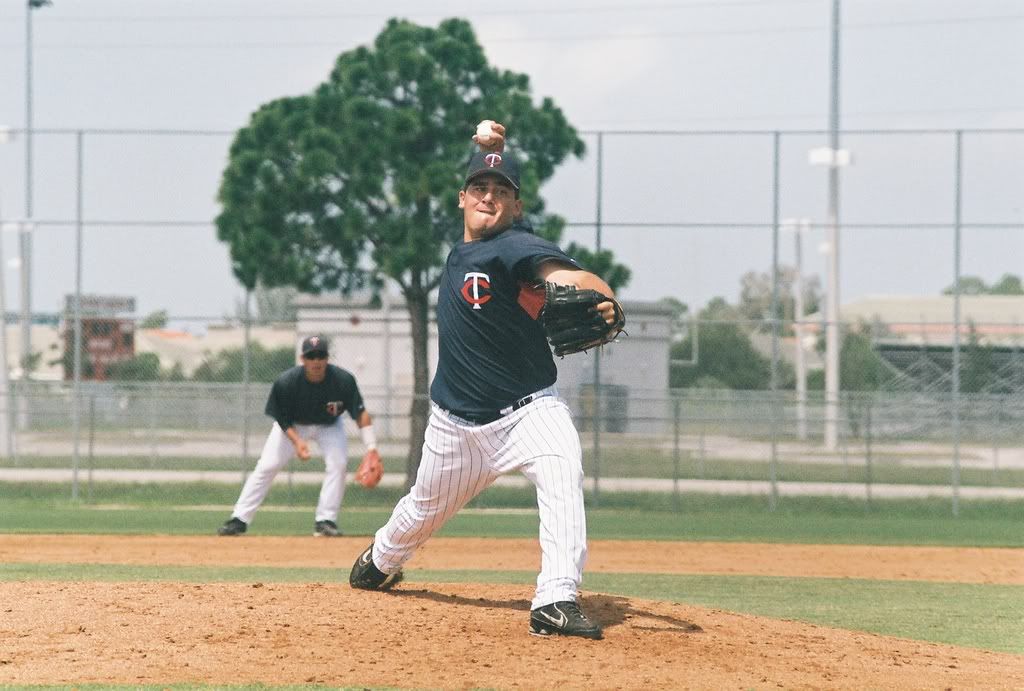 While
Miguel Munoz
has shown an incredible capacity for the strike out, he has also demonstrated questionable control throughout the 2008 season. Thursday, Munoz was volatile.
After getting
Chris Curran
to fly out in the first inning, Munoz would give up singles to
Esmailyn Gonzalez
and
Destin Hood
.
Ronnie Labrie
then drew a walk off him to load the bases.
Johnathan Ramirez
singled to score two. Munoz then hit
John Higley
with a pitch, keeping the bags full.
Stephen Lombardozzie
's line drive to left brought in Labrie and
Sandy Leon
took a walk to force in Ramirez. A fielding error by
Danny Rohlfing
at first allowed
Brett Newsome
to reach and Higley to score. After batting around the order, Munoz would finally find the strike zone, taking Curran down swinging, but then turned around and gave up another walk, this time Gonzalez, forcing in Lombardozzie. Field Manager
Jake Mauer
finally got Munoz off the mound, going with
Mauro Schiavoni
, who got Hood to ground into a force out.
The Twins can swing some sticks but a six run hole is pretty big to come back from.
With two outs in the top of the 3rd,
Juan Sanchez
singled and
Danny Ortiz
doubled him in.
Mike Gonzales
snapped a line drive out to center to bring in Ortiz before
Josmir Pinto
popped out.
Lombardozzi singled out to center followed by a Leon pop out. Lombardozzie then stole 2nd and Newsome's line drive single brought him in to make it 7-2 Nats.
Shiavoni would work 4.1 innings allowing only 3 hits while fanning four, but National starter
Patrick Arnold
was reasonably stingy, scattering six hits over 5.2 innings while fanning five.
Frederico Tanco
would take over for him with two outs on the top of the sixth, getting Rohlfing to fly out to retire the Twins.
Mike Tonkin
relieved Shiavoni in the bottom of the inning, walking Newsome and advancing him on a wild pitch, but then getting Curran to pop out, Gonazlez to line out and Hood to ground out.
The Twins would not really threaten until the top of the 8th when Gonzales took a walk and Pinto singled him to second. A wild pitch by Tanco advanced the pair.
Anderson Hidalgo
's ground out plated Gonzales, while Pinto move to 3rd on Rohlfing's ground out.
Tyler Ladendorf
would get plunked by a pitch. The Nationals made a pitching move then, inserting
Danny Gil
for Tanco.
Jon Goncalves
would come in to the Twins line up as a pinch hitter and took a walk.
Aaron Hicks
' single to right drove in Pinto and Ladendorf, but
Reggie Williams
flew out to end the rally too soon.
The Nationals took the runs back in the bottom of the inning.
Leon doubled of Tonkin and moved to 3rd on Newsome's sac bunt. Curran would reach on a fielder's choice, but the Twins could not get the play made at the plate, and Leon scored. Gonzalez doubled, putting runners on 2nd and 3rd. Mauer would call closer
Kelvin Mota
out of bullpen, but Mota gave up a double to Hood that drove in the two Nats runners. He'd be taken out at 3rd though as Labrie was allowed to reach on a fielder's choice. Ramirez then ground into a force out to end the inning.
Gil would get the job done for the Washington farm in the top of the 9th, getting Ortiz and Gonzales to hit into ground outs. He'd allow a single to Pinto, but Hidalgo ground into a force out, ending the Twins championship hopes early.
The Twins were not the only South Division team disappointed in their playoff quest as the GCL Pirates fell to the GCL Phillies, 7-4 in Bradenton.
The Phils and the Nationals now move on the final best of three series to determine the Rookie League Champions.
Box
Log
As always THANK YOU TWINS FOR A GREAT 2008 SEASON! Coming up next, Fall Instructional League here at the Lee County Sportsplex!