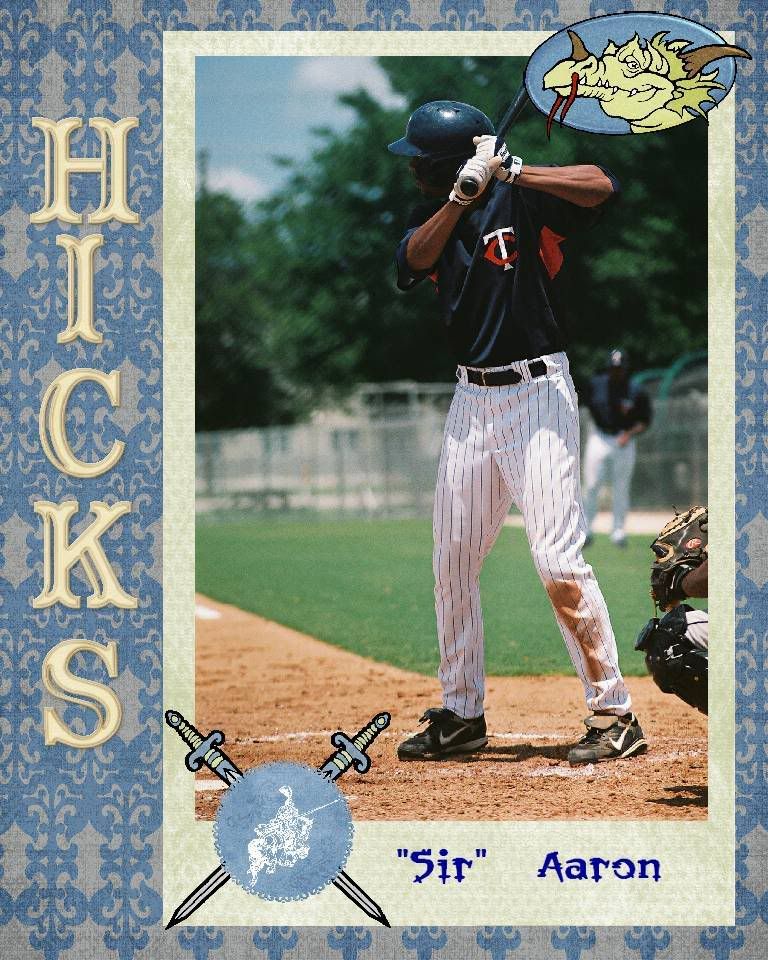 GCL Reds 5 at GCL Twins 7
W: A. Sanchez (4-3, 3.62); L: L. Machuca (1-3, 6.48); SV: B. Pugh (2)
HR: RDS: D. Lutz (1). TWI: R. Tosoni (1).
The GCL Twins were ahead when a late afternoon thunderstorm interrupted, and then ended the game at the Lee County Sportsplex early.
Angelo Sanchez
took the start for the Twins, picking up his 4th win of the season.
Aaron Hicks
doubled to lead off the bottom of the first.
Juan Sanchez
struck out, but
Rene Tosoni
singled to score the Twin's centerfielder.
Mike Gonzales
hit a grounder to right to move Tosoni to 3rd, and
Josmir Pinto
singled out to left to drive in Tosoni.
Tyler Ladendorf
hit into a double play, giving the Reds a turn at the plate.
Sean Conner
would lead off with walk and
Frank Pfister
doubled him in.
Samuel Vasquez
singled, moving Pfister to third, but
Donald Lutz
lined into an unassisted double play with Vasquez being doubled of first.
Mariekson Gregorius
poped up leave the Twins with a slender lead.
It would not hold up past the top of the 3rd however, as
Mauricio Pimente
and
Alexis Oliveras
hit back-to-back singles. A throwing error by Tosoni allowed Pimentel to score, tying up the game.
Kevin Coddington
's line drive to right put Oliveras on 3rd, and he'd score on
Humberto Sosa
's ground out. Conner and Pfister would both fly out, bring the Twins up to bat.
Tosoni launched one over the right field fence to tie up the game.
Lutz followed suite in the top of the 4th to put the Reds on top again.
Jakub Hajtmar
singled, and moved to 2nd on
Javier Brown
's sac bunt.
Herbert Lara
reached on a fielder's choice that netted Hajtmar at 3rd. Lara then stole 2nd, and advanced to 3rd when Coddington over threw 2nd on a caught stealing attempt. Hicks singled, driving in Lara, then stole 2nd.
Juan Sanchez
's line drive to center plated Hicks. The Reds would call for a pitching change, bring
Brodie Pullen
in to replace
Luis Machuca
. Sanchez then stole 2nd base before
Rene Tosoni
singled. A wild pitch by Pullen put Tosoni on 2nd, and Gonzales walked to load the bags. The mounting excitement went for naught though as Pinto struck out, stranding the runners.
Danny Ortiz
would replace Tosoni in the top of the 5th. Coddington would draw a walk sandwiched in between strike outs to Oliveras and Sosa. Conner double him in, but Pfister went down on strikes, making it a short inning for the Reds.
Bruce Pugh
replaced Sanchez in the top of the sixth. Following a fly out to Vasques, Lutz would single and then move to second on Pugh's throwing error during the pick off attempt. Gregorius took a walk, as did Pimentel. Oliveras would ground into a double play though with the bases loaded to Pugh out of his jam.
Neither team would threaten much in the next 1 and a half innings before the rains, so the Twins were declared the victory. Sadly however, the Pirates defeated the Red Sox, so the Twins did not make up any ground in the standing.
Tosoni was 3-for-3 at the plate with 2 runs and 3 RBIs, including the home tun. Hicks was 2-for-3 with walk, a double, a pair of runs and a RBI. Pinto and Hajtmar were 2-for-4 each, Pinto with a RBI as well. Brown and Ortiz were 1-for-1 each, Brown with a walk and a RBI to leave Ortiz as the one hit wonder of the contest.
Juan Sanchez
finished of 1-for-4 with a run and a RBI. Ladendorf was 0-for-2 with a pair of walks and a run. Lara was 0-for-4 at the plate, but had a run as well.
The Twins play a double header tomorrow against the Red Sox at the City of Palms Complex, they must win their next two and the Pirates much lose their next to for them to tie the division. Game time is 11:00 AM for the Twins final contests for the 2008 regular season.
Box
Log
Reds Minor Leagues
Blog
Redleg Nation
Blog
---
DSL Mariners 0 at DSL Twins 1
W: P. Guerra (1-0, 0.00); L: H. Perez (0-1, 1.42); SV: E. Alvarez (1)
HR: None.
Jairo Perez
doubled in the bottom of the 4th, moved to 3rd on a wild pitch by Seattle's
Henry Perez
, and came home on
Jairo Rodrgiuez
's line drive to left.
It was the only run for the DSL Twins, but it was the only one they needed as
Pedro Guerra
scattered nine hits and a walk across 8 innings while striking out six to keep the Mariners off the board.
Edison Alvarez
shut down Seattle for the final inning, to give the Twins a win in game one of the best-of-three wildcard round of the 2008 DSL playoffs.
The Twins won on only three hits - two came off the bat of Rodriguez.
The series now shifts to the Eppy Guerrero Complex in Villa Mella for Tuesday's 10:30 AM rematch.
Box
Log
DSL
---
The 2008 Fall Instructional League preliminary Roster and Schedule is now available online. As always, these things are set in pixels, not stone, and are therefore subject to change without notice.
You might note that
Mark Hamburger
's name is on the list, but he was traded this afternoon to the Rangers for
Eddie Guardado
(
LEN3
), so obviously, he won't be coming.
Of note is the position switch for
Juan Richardson
from 3rd base to catcher. Also making a position change is
Danny Santiesteban
, who will begin pitching full time after joining the organization as an outfielder in 2005.
The two new signees
B.J. Hermsen
and
Blayne Weller
will getting their first taste of the majors at the camp as well.
Game times are nominally listed as 1:00 PM expect for Saturday which some sadist has scheduled for 10:00 AM. I should not that the games NEVER start at 1:00, usually more like noon, but the official start time is "whenever the other team shows up".
Days list as "Game Day" usually but not always include an inner-squad scrimmage which can start at any time.
There will also likely be a few prospects at camp that are not on the list and while which be rehabbing injuries, most notable would be
Pat Neshek
, although
Tyler Robertson
said he'd probably pitch instructs as well.
As always, there are no official game reports being posted, nor are any stats from FIL going to be made available, much the chagrin of all you stat watchers. I will however be bringing you pictures and video from the camp so we can get a subjective look at our new draftees.
Nelson Prada
will be the field manager this year, aided as always be an able coaching staff including
Eric Rasmussen
,
Milt Cuyler
,
Jim Dwyer
,
Jose Marzan
and
Jeff Smith
.
(Note: the printable version of the roster in in Excel spreadsheet .xls format.)
Schedule / Roster / Printable Roster