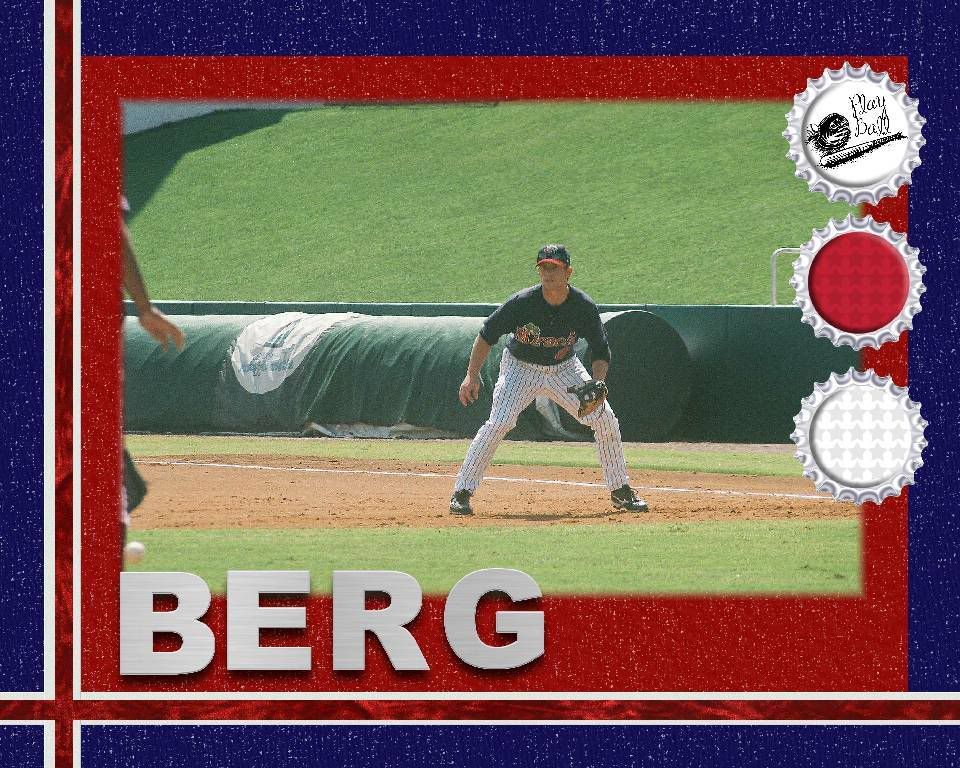 Daytona 6 at Fort Myers 4
W: B. Petrick (1-0, 0.00); L: T. Robertson (0-2, 3.86); SV: D. Garcia (3)
HR: DAY: T. Wright (1).
Danny Valencia
comes up to me before the start of the game, quite serious, and says "I want you to know that my mother reads your blog every day, and she is very, very, very upset by all the terrible things you write about me."
This might have worked, except I know Danny and know he's one of the biggest practical jokers on the team.
"Oh?" I reply. "But I never write anything bad about you, Danny. Only about Woody (
Johnny Woodard
). Like what was he trying to do yesterday, running while you were on second base."
Danny laughs. "He thought he saw a ham sandwich in my pocket and was coming to get it."
"I swear I'm gonna kill him before this season is out," Woodard said, when informed of this later.
It does amaze me that the homicide rate in baseball is as low as it is.
In any case, the Miracle had two strikes against them to start with. It was day game. And they were wearing their white uniforms.
I had been commending the pitching staff for keeping the home runs down. The Miracle had given up only 9 coming into today's game. Only Jupiter has allowed less with five.
Tyler Robertson
would give up number 10 on the season in the first inning, when
Ty Wright
put one over the left field fence to give Daytona first blood rights.
The Miracle took it back though in the bottom of the inning.
Brian Dinkelman
would single his way onto base. He'd be taken out at second when
Rene Tosoni
hit to 2nd, but the attempt at a double play failed when Cubbies short stop
Darwin Barney
threw the ball into the first base dugout. Tosoni progressed to 2nd on the throwing error.
Danny Valencia
- he who I write such terrible things about - doubled in Tosoni to make the Cubbies unhappy. (Or is that the problem Danny? Is your Mummy a Cubbies fan?)
Robertson however seemed to be struggling again, and allowed a single to
Russ Canzier
and a double to
Tony Thomas Jr.
Barney would make up for his error by doubling the pair in, making it 3-1 Cubs.
"I thought he was throwing harder than that," I said to
Jeff Manship
who had control of the speed gun. Robertson was tossing in the high 80's and I was certain that he'd been up around 92 earlier in the season.
"He was," Manny replied. "I don't know what his problem is."
Cole Devries
added that Robertson had been throwing harder last year in Beloit as well.
We have a brief discussion about pitching speeds. "I throw 98," Manship says helpfully. I know Manny, that's what I love about you. Well, it's one of the things, anyway.
With one out in the top of the 5th,
Jonathan Wyatt
, Canzier and Thomas all single to load the bags. A failed force attemp allowed Barney to reach, and Wyatt and Canzier to score when
Juan Portes
overthew
Brian Dinkelman
, who was playing at short.
Jonathan Mota
then singled to bring in Thomas, making it 6-1 Cubbies.
The Miracle would find some offense in the bottom of the inning, with Portes doubling, then coming home on a
Danny Berg
single.
Allan de San Miguel
-FINALLY- got a single.
Danny Santiesteban
would strike out, but Dinkleman took a walk to load the bags. A Tosoni single would bring in Berg, cutting the Cubbies lead in half.
But Fort Myers would only find one more, when Berg singled and de San Miguel walked to get on base. Dinkelman would ground into a force out, but Berg would score on the play.
Robertson would give up 6 runs, 5 earned on 14(!) hits and one walk while striking out only 2.
Danny Vais
worked two innings in relief, and
Danny Hernandez
mopped up in the 9th.
Alessandro Maestri
pitched a very good game as the score board read 1 run, 2 hits, and 3 errors for the Miracle going into the fifth inning.
Portes was 2-for-3 at the plate with 1 run, and Berg was 2-for-4 with 2 runs and 1 RBI. Woodard was hitless in the game and picked up his 4th error to boot. I was considering offering him a ham sandwich if he'd put one over the fence for us.
The two teams rematch tomorrow with Devries (2-3, 5.08) headed to the mound for the Miracle against Cubs righty
Esmailin Caridad
(2-2, 6.20). I suppose I should dig out my Cinco de Mauer visor and wear it to the game, despite the fact that I am not Mexican and can think of no reason to celebrate the victory of Mexican forces over French forces in 1862.
Boxscore
Log
Miracle
Breeze
News Press
News Journal
NDN
Beloit 1 at Lansing 4
W: E. Estanga (3-0, 0.44); L: B. Tippett (1-1, 4.50)
HR: None.
The Snappers dropped game one against Lansing, 4-1 after a late ining rally.
Ben Revere
singled in the top of the 4th, then moved to 2nd on
Garrett Olson
's ground out. A
Chris Parmelee
fly out to center saw him to 3rd base, and he'd come home ona fielding error by Lugnuts 3rd baseman
Kevin Ahrens
.
It was the only run that the Snapper would see off Lansing starter
Randy Boone
however, who allowed only six hits in 7 inning while striking out 4.
Two of those hits belong to Revere, who would go 2-for-4 at the plate with the lone run. Venice, Florida, native
Chris Cates
was 2-for-3 at the plate.
Steve Singleton
and
Danny Lehmann
had the other two Snappers hits.
Brian Kirwan
would work through six innings, allowing 1 run in the sixth inning on a pair of back-to-back doubles that allowed the Lugnuts to tie up the game. He allowed a total of 4 hits and struck out 2, making this his best start of the season.
Brad Tippett
worked through the seventh inning but then got into trouble in the 8th.
Justin Jackson
would triple in the game winning run for Lansing, and
Matthew Liuzza
doubled in a pair of insurance markers.
Boxscore
Log
Lugnuts
New Hampshire 5 at New Britain 6
W: D. Graves (2-0, 3.38); L: Z. Dials (0-1, 1.93)
HR: NHM: A. Hatch (3). NBR: T. Plouffe (2).
Dustin Martin
's line drive single in the bottom of the ninth brought
Trevor Plouffe
home for the game winning run as the Rock Cats rallied past the Fisher Cats to win 6-5.
Luke Hughes
and Martin lead off in the bottom of the 1st with back-to-back singles.
Brock Peterson
's ground ball to center would bring in Hughes, and Martin would score on
David Winfree
's ground out.
Matt Moses
singled before
Trevor Plouffe
would double in Peterson to give the Rock Cats an early 3 run lead.
They would lose it in the 3rd with
Anthony Hutch
homering off Rock Cats starter
Oswaldo Sosa
. Back-to-back singled combined with a wild pitch would hurt when
Jacob Butler
doubled to bring in a pair, tying the game.
Scott Campbell
would triple in two more runs the following inning to give the Fisher Cats the lead. Plouffe would homer in the 7th to put the Cats within one.
Matt Moses
would double in the 9th and cross the plate on a fielder's choice in the 9th to tie the game.
Plouffe was 3-for-4 with 2 runs and 2 RBIs; Martin and Moses were both 2-for-4 with 1 run each, Martin also had a walk and a RBI.
Boxscore
Log
Rock Cats
NB Herald
Rochester 4 at Toledo 8
W: E. Bonine (6-0, 3.43); L: B. Duensing (2-4, 3.67); SV: B. Neal (11)
HR: ROC: G. Jones (3), R. Jorgensen (1).
Despite home runs by former Miracle
Garrett Jones
in the fifth inning and new catcher
Ryan Jorensen
in the sixth inning, the Red wings could not over come an early deficit and fell to Toledo, 8-4.
Brian Duensing
got off to a rough start for Rochester walking
Mike Hollimon
and
Mike Hessman
and then hitting
Jeff Larish
with a pitch to load the bases.
Brett Clevlan
's double drove in all three. Clevlen would score on a
Erick Almonte
single. After visit to the mound by Rochester's pitching coach, Duensing walked
Jackson Melian
.
Nick Trzesniak
then singled in the pair, giving the Mud Hens a 6 run lead.
Duensing would settle down after that though, going 5.2 innings and allowing 5 hits, 4 walks and striking out three. Unfortunately the Wing bats could not get him out of the hole he'd dug.
Former Miracle
Alexi Casilla
was 3-for-4 in the contest with 1 runs, and
Darnell McDonald
was 2-for-4 with a double and 1 RBI.
Francisco Liriano
will follow
Kevin Slowey
on the mound Monday night for the Red Wings. It should be the final rehab start for Slowey, who has been named as the Twins probable starter for Thursday in place of
Scott Baker
(strained groin). Baker will have an MRI Monday to determine the severity of the injury. If Baker is not placed on the DL, Minnesota will need to make a player move before activating Slowey for Thursday.
Boxscore
Log
MudHens
Detroit 6 at Minnesota 7
WP: M. Guerrier (2-1) LP: Z. Miner (1-2) S: J. Nathan (11)
HR: DET: C. Graderson (5)
Minnesota used a 4 run seventh inning to overcome the Tigers at the Metrodome, 7-6. Former Miracle
Justin Morneau
was the only Twin with a multi-hit game, going 2-for-4 at the plate with a run and 2 RBIs.
With two outs on the board
Matt Tolbert
would double out to left.
Nick Punto
would find himself safe on a throwing error by Tiger's 3rd baseman
Carlos Guillen
.
Carlos Gomez
would single in Tolbert, before
Brendan Harris
hit a ground rule double to drive in Punto.
Joe Mauer
's single to center brought in Harris and Gomez for the game winning run.
Boof Bonsor
gave up 6 runs (5 earned) on 8 hits while striking out 5 over six innings.
Matt Guerrier
picked up the win, his second of the season in relief, pitching 2 inning and allowing 1 hit and 1 walk while striking out 1.
Boxscore
Log
Recap
PiPress
Strib
Twins Minor League Player of the Week:
Rochester's
Darnell McDonald
is the Twins Minor League Player of the Week for April 26-May 2. McDonald, 29, went 13-for-30 (.433) with four doubles, two home runs and 15 RBIs. He scored 10 runs and had a .900 slugging percentage in seven games.
McDonald was acquired in a trade with Washington on June 24, 2007.
Miracle Challenger Camp:
The Fort Myers Miracle minor league baseball team is set to offer its third annual Special Needs Kids Baseball Camp. The camp is open to the first 25 individuals with a physical or mental challenge age 17 and under. The event will be from 10 a.m. to noon May 17 at Hammond Stadium.
Miracle players and coaches will teach kids the baseball skills of hitting, throwing, catching and fielding. The camp affords participants the opportunity to experience the feeling of being on a professional baseball field.
The camp is free to all who attend. To register a child for the camp, call 239-768-4210 or e-mail sgliner@miraclebaseball.com. Include your name, the child's name, full address, phone number and any special needs for your child.
Dave Clark
, a Cape Coral resident and polio survivor, is helping the Miracle again this year. Clark, currently a professional baseball scout, has put together these camps all over the country.
Kids are asked to bring their own baseball gloves. An adult chaperon is required to be in attendance with each child attending the clinic. Each participant will receive four tickets for that evening's baseball game against the Tampa Yankees as well as lunch following the camp.