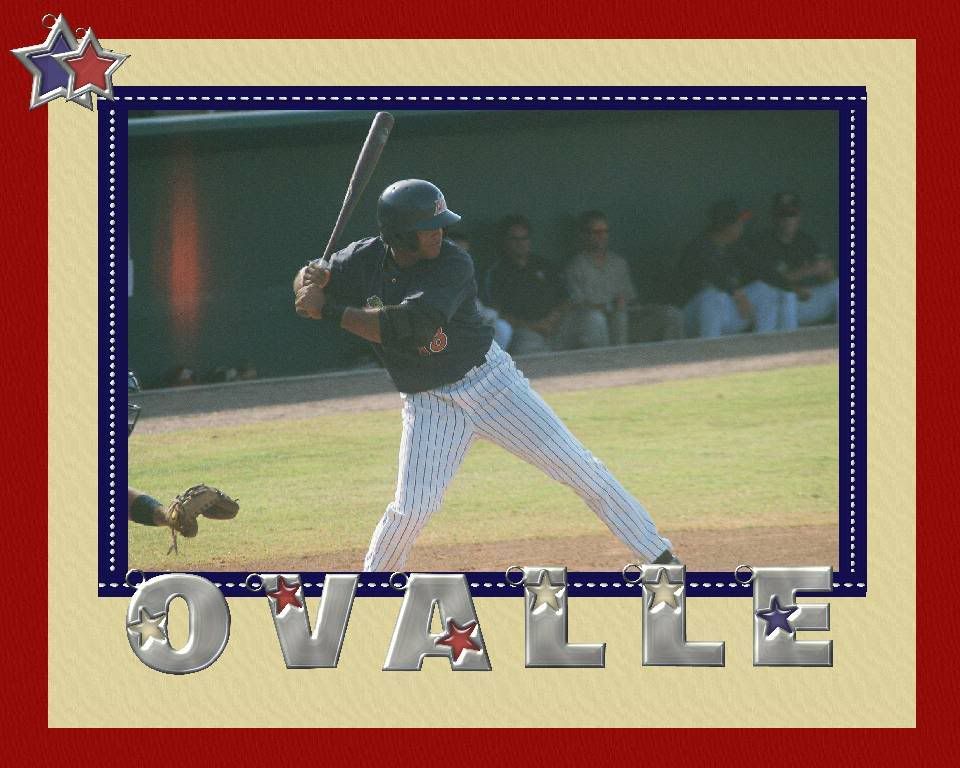 Daytona 2 at Fort Myers 5
Record: 18 - 11
W: A. Burnett (2-1, 2.28); L: A. Harben (1-4, 6.30); SV: A. Slama (5)
HR: FTM: E. Ovalle (2).
The Fort Myers Miracle took game one of their home series against the Daytona Cubs.
Edward Ovalle
hit his second home run in as many days to drive in 3 off
Adam Harben
in the 3rd inning.
A former Twins prospect, Harben struggled with his control, throwing quite a few balls and running up his counts. He'd be charged for all five Miracle runs on six hits and 4 walks while striking out 3. He lasted 4.2 innings.
I made
Cole Devries
promise me that if he ever found himself as a six year pro pitching in High-A in the Cubs organization that he would resign immediately. It was a very melancholy thing to watch Harben struggle.
Whit Robbins
tripled in the end inning, then came home on a
Juan Portes
sac=fly to put the Miracle on the board first.
In the 3rd
Brian Dinkelman
, who is evidently just fine after his run with a ball yesterday, hit a double. A wild pitch by Harben sent him to 3rd. Tosoni would draw a walk before
Danny Valencia
's single saw Dinkelman across the plate.
Johnny Woodard
flew out before Ovalle put one over the left field fence.
The Miracle actually had the bases loaded in the first inning, when Woodard evidently forgot that Valencia was at 2nd base and tried to steal it. He was caught in between bases. I believe that
Rene Tosoni
was planning on stealing home, but Valencia was giving no indication whatsoever that he was going for 3rd. Woodard's bat has been hot, his judgement and his on field skills continue to need substantial improvement.
Alex Burnett
worked six inning for the Miracle allowing five hits and 1 walks while striking out 3. He got into a bit of a jam in the top of the 4th allowing singles to
James Adduci
and
Blake Lali
and walking
Russ Canzier
, but he'd then get
Mark Reed
to strike out and
Josh Lansford
to fly out to end the inning.
Jose Lugo
worked one inning of relief but got into trouble in the top of the 8th, walking
Jonathan Wyatt
and allowing singles to
Jonathan Mota
and Adduci. With Wyatt across the plate and no outs on the board, the Miracle would turn to
Anthony Slama
to come in and preserve the lead.
He'd allow a lead off single to
Mark Reed
in the top of the 9th.
Darwin Barney
singled one out later and then
Jonathan Wyatt
doubled to bring Reed in. Barney would be thrown out at home, and Mota would ground out to end the inning.
Dinkelman finished off 2-for-3 in the contest with a double and 1 run, Ovalle was 2-for-4 with 1 run and 3 RBIs off the homer.
The two teams rematch tomorrow for a 1:05 pm contest.
Tyler Robertson
(0-2, 2.84) will face off against
Alex Maestri
(2-1, 1.44).
Boxscore
Log
Miracle
News Press
Beloit 8 at Great Lakes 2
W: D. Berlind (2-2, 4.71); L: B. Morris (0-3, 4.83)
HR: BEL: C. Parmelee (6). GLL: A. Lambo (4).
Chris Parmelee
's sixth home run of the season drove in 2 in the fourth inning to put Beloit on the board.
Garrett Olson
had singled his way onto the bags before Parms launched a ball over the left field wall.
Steve Singleton
's line drive combined with a
Ben Petsch
fly ball single and a
Ramon Santana
ground out brought in what would prove to be game winning run before the Snappers were retired.
Danny Berlind
tossed a nice quality start, allowing only 2 runs on four hits and 1 walk while striking out five over 6 innings.
Ben Revere
was 3-for-5 in the contest with a double and a RBI, Olson and Singleton were both 2-for-4, Olson with a walk and 2 runs, Singleton with 1 run. Parmelee and
Joe Benson
were both 2-for-5, Benson with a double, 2 runs and 2 RBIs and Parms with 2 run and 3 RBIs. The problem with the pair was when they weren't hitting, they were striking out - Benson with 3 Ks in the game and Parmelee with 2.
The Snappers will scurry over to Lansing to start a 3-game series against the Lugnuts, with the first game starting at 1:05 on Sunday.
Boxscore
Log
Loons
New Hampshire 4 at New Britain 6
W: J. Rainville (2-3, 9.00); L: B. Magee (0-4, 6.47); SV: A. Gabino (2)
HR: NHM: R. Klosterman (3), T. Snider (2).
Luke Hughes
continued his hot streak at the plate, hitting 4-for-5 with a double and 2 runs as the Rock Cats topped the Fisher Cats in New Britain.
Catcher
Drew Butera
was 2-for-4 with 1 run, while former Miracle
Dustin Martin
was 2-for-5 with a triple, 2 runs and 3 RBIs.
Jay Rainville
picked up the win (finally!) allowing only 2 runs on 5 hits and 1 walk while striking out 5 over 5 innings.
Armando Gabino
recorded his 2nd save of the season.
Boxscore
Log
Rock Cats
Herald
Press - Graves
Courant
Rochester 0 at Toledo 4
W: C. Lambert (4-1, 2.48); L: K. Mulvey (2-3, 3.82)
HR: TOL: J. Larish (8), M. Hollimon (3), D. Sardinha (3).
Toledo's
Chris Lambert
held the Rochester Red Wings to 4 hits and 1 walks over the 5.2 inningS he worked, and allowed his bull pen to do the rest, as Toledo blanked the Red Wings 4-0.
Kevin Mulvey
was not up to a pitcher's duel, allowing 4 runs (earned) on 8 hits and 1 walks while striking out five over 5 innings.
Denard Span
,
Darnell McDonald
,
Garrett Jones
and
Alexi Casilla
were the 4 lucky wings to come up with hits.
Meanwhile, four Mud Hens had multi-point games.
Catcher
Ryan Jorgensen
made his Red Wings debut, pinch-hitting for
Jose Morales
and then coming into the game behind the plate...
Francisco Liriano
will follow
Kevin Slowey
on the mound Monday night. It's expected to be the final rehab start for Slowey.....The Wings were shut out for the fifth time...Rochester is now 14-16, their first losing record 30 games into the season since 2002 (14-16).....With Friday's win Rochester has a three-game winning streak vs. lefthanded starters, and an 8-5 record vs. left-handed starters this season. The Red Wings have a 94-109 record vs. left-handed starters since 2003 when they changed affiliations to the Minnesota Twins. Rochester has had only two winning records vs. left-handed starters since 1997 (23-17 in 2005 and 23-9 in 1997).
Boxscore
Log
Mud Hens
Detroit 1 at Minnesota 4
WP: B. Bass (1-0) LP: J. Verlander (1-5) S: J. Nathan (10)
H: DET: C. Granderson (4) MINN: C. Monroe (2)
It was a different story as the parent Minnesota Twins downed the Detroit Tigers, 4-1.
Mike Lamb
had two runs in the game, including the game winner in the sixth when he was driven in by
Mike Cuddyer
.
Craig Monroe
's home run in the seventh gave the Twins a couple of extra runs for insurance.
Scott Baker
left the game after only 3 inning with slight discomfort in his groin.
Brian Bass
worked the next four, allowing only 3 hits.
Pat Neshek
,
Jesse Crain
and
Joe Nathan
handled the mop up duties.
Lamb was 2-for-4 at the plate with 2 runs, former Miracle
Joe Mauer
was 3-for-4, and Monroe was 2-for-3 with 2 RBI. Cuddyer, who was 1-for-4 also had 2 RBIs.
Boxscore
Log
Recap
PiPress
Strib