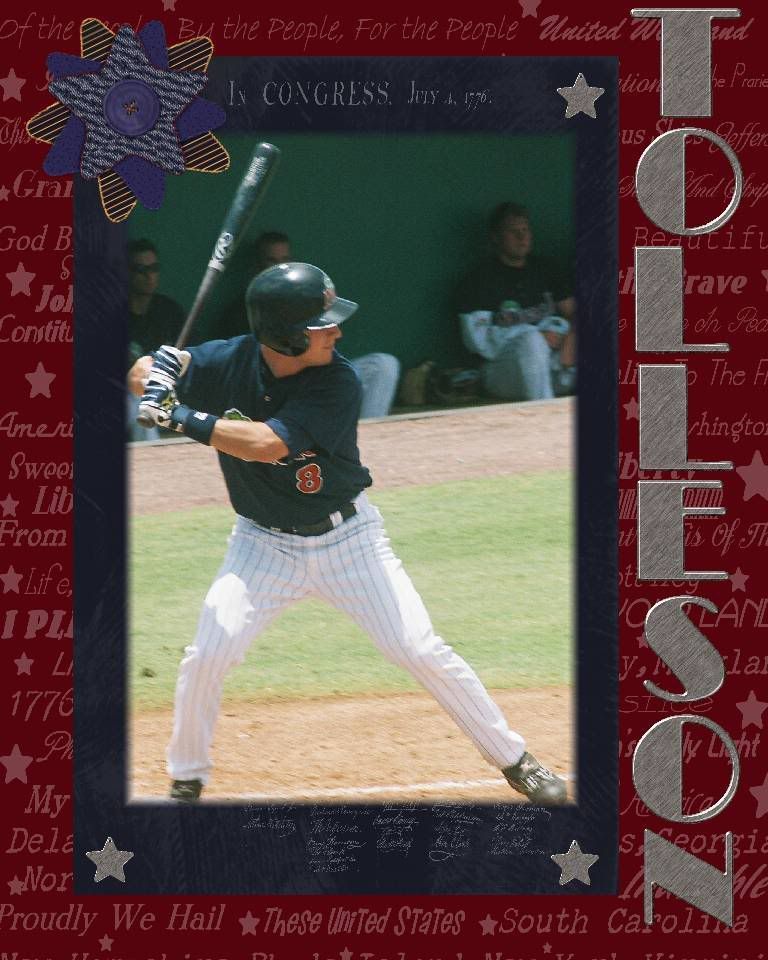 Bowie 3 at New Britain 5
Record: 18 - 12 (Second place, Northern Division)
W: Z. Ward (2-0, 0.46); L: K. Mickolio (0-1, 3.50); SV: B. Julianel (6)
HR: None.
New Britain rallied back from a 2-0 deficit to beat the Baltimore farm team 5-3 in New Britain.
Matt Moses
as 2-for-3 at the plate with 1 run and 2 RBIs to lead the offense.
Luke Hughes
was 5-for-2, extending his hit streat to 15 games, with a walk. He struck out twice.
Drew Butera
drew three walks during the game, and finished with a run and an RBI despite going 0-for-0 at the plate. Former Miracle
Steve Tolleson
was 1-for-2 at the plate with a walk.
Ryan Williams
allowed 3 runs - all earned - on 5 hits and 3 walks while striking out 6 over 6 innings.
Zach Ward
picked up the win in relief, his second of the season.
Moses doubled in the bottom of the 7th to drive in
Brock Peterson
for the game winning run. Moses would come hom on a wild pitch for the insurance marker.
Boxscore
Log
Rock Cats
Baysox
NB Herald
Rochester 1 at Columbus 3
Record 14 - 19 (5th place, North Division)
W: G. Mock (2-1, 3.77); L: R. Barrett (1-2, 2.79); SV: C. Schroder (3)
HR: COL: R. Olmedo (1).
The wing were clipped by the Clippers again, 3-1 after taking an early lead in the 3rd.
Chris Basak
doubled, stole 2nd base and then scored on a
Denard Span
single to center for the load Red Wings run.
Span would go 3-for-4 at the plate with 1 RBI, former Miracle catcher
Jose Morales
was also 3-for-4 at the plate. Basak was 2-for-3 with a walk and 1 RBI.
Ricky Barrett
suffered the lose, his 2nd of the season in relief of
Phil Humber
who lasted only 4 innings.
Boxscore
Log
Clippers
R&D
Minnesota 1 at Chicago White Sox 7
Record 16 - 15 (1st place, Central Division)
WP: G. Floyd (3-1) LP: N. Blackburn (2-2)
HR: CWS: J Dye (4)
Two former Fort Myers Miracle figured into the scoring in Tuesday's loss as
Jason Kubel
drove in
Joe Mauer
for Minnesota's lone run.
Another Fort Myers alumni, pitcher
Nick Blackburn
, gave up 4 runs (3 earned) on six hits and 3 walks while striking out 1 over 6. It was not a great outing for the former Miracle All-star, who has otherwise been pretty solid for the Twins.
To make matters worse,
Gavin Floyd
held the Twins to only 1 hit and 3 walks in the game.
The Twins will need to make a showing tonight if they want to hang on to first place. The Chi-Sox trail them by only 1 game after last night's loss.
Boxscore
Log
Recap
Strib
PiPress