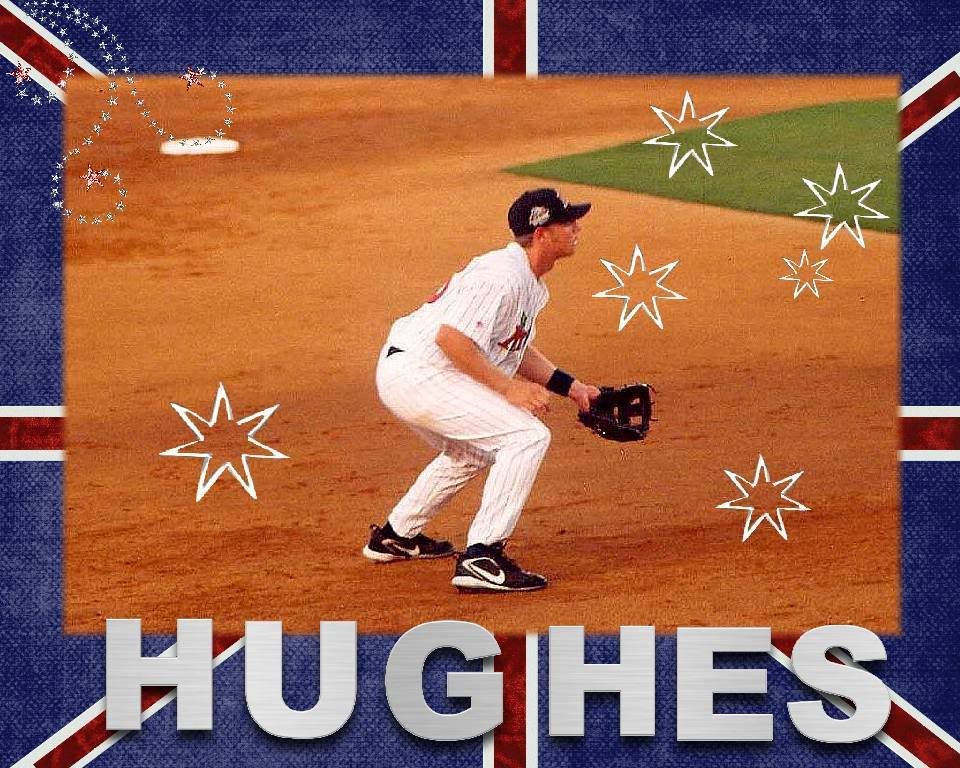 Who is
Luke Hughes
? A few months ago, only the most die hard of the prospect watchers could probably have answered that question. Now - suddenly - the 23 year old infielder is the hottest minor league player in the Twins organization.
Hughes, who played on the Fort Myers Miracle in 2005 and 2006, got off to an outstanding start for the AA New Britain Rock Cats, batting .354 (35-for-99) with six doubles, one triple, eight home runs, 20 runs scored, 18 RBI, 14 walks and three stolen bases in 24 games during the month of April.
Hughes had a hit in all but four of the games that he played in during the month, including 11 multiple hit games and one multiple home run game on April 23rd.
Now, Hughes has gone from being the talk of New Britain to being the talk of the Eastern league, edging out Bowie pitcher
Chris Waters
to be named the Eastern League Player of the Month for April, 208.
A native of Perth, Australia, Hughes joined the Twins as a non-drafted free agent in 2003. He played that season for the Gulf Coast League and batted .308, being named to the post-season All-star team. After that though, Hughes fell under the radar, hitting .284 in Rookie Elizabethton in 2004. In 2005, his performance in Beloit - in which he batted .257 with 7 home runs, 42 runs and 42 RBIs earned him a mid-season performance to the High-A Fort Myers Miracle.
But he only hit .203 for the Fort Myers club while splitting time between first and second base. As a result, he stayed in Fort Myers for the following season, hitting .231 with 32 runs and 37 RBIs including 4 home runs. He was promoted to Double A in 2007, but did little to light the town on fire.
For those that paid attention to Baseball's World Cup in November, Hughes current ball pound performance should be no surprise, as the 6'0", 190 lb slugger turned in an impressive perforance for Team Australia, boosting the squad into the Quarterfinals.
He hit .289 in the Claxton Shield during the Australian summer and turned up for spring training, ready to tear the cover off the ball - and that's exactly what he's been doing.
Hughes currently leads the Easter League in virtually every offensive category, including batting average (.385), home runs (9), hits (47), on-base percentage (.449), extra-base hits (18) and runs scored (29) and he is also ranked second among all of the players in Minor League Baseball in total bases this season, with 85.
This is not the first award the Aussie has taken home this season, as he was also named the Bank of America Eastern League Player of the Week for the week ending April 27th.
As impressive as his performance was in April, Hughes has been even better so far during the month of May, hitting .522 with one double, one triple, one home run and nine runs scored in five games. He currently has a 14-game hitting streak, which is tied for the longest streak in the Eastern League this season. Eight of the 14 games have been multiple hit games and Hughes is hitting .431 with seven homers, 20 runs scored and 15 RBI during the streak.
Hughes batted .263 with 18 doubles, nine home runs, 56 runs scored and 43 RBI in his Double-A debut for the Rock Cats last season.
How long Hughes remains in New Britain remains to be seen, especially with the AAA Rochester Red Wings off to a struggling start this season. Unless Hughes cools down substantially, the should be a shoe in for the Eastern League All-star showcase, assuming he lasts in the Eastern League that long. Hughes is the first New Britain player to be honored as POTM since another former Miracle was honored the same way:
Jason Kubel
in 2004. Kubel, currently with the major league Twins is one of several former Miracle players on MLB's All-Star Ballot.
In other news, TwinsBaseball.com reported Tuesday night that the Twins will place RHP
Scott Baker
on the disabled list Wednesday, and call up former Miracle lefty
Glen Perkins
to pitch on Saturday. Baker's DL move will allow
Kevin Slowey
to be activated for his start on Thursday; Minnesota will need to make a move to open up a spot for Perkins by Saturday.