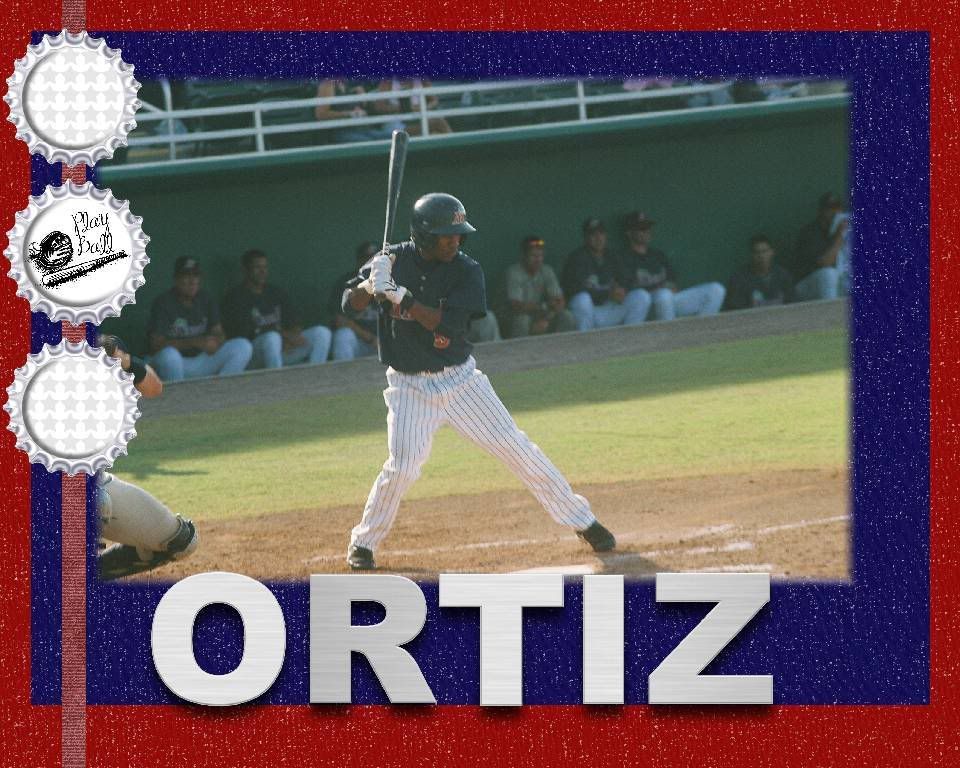 Daytona 9 at Fort Myers 1
Record: 18 - 13 (tied with Tampa for 1st in the West Division)
W: E. Caridad (3-2, 5.17); L: C. Devries (2-4, 4.58)
HR: None.
Prior to Sunday's game at Hammond Stadium, the Daytona Cubs had lost six straight. Now suddenly, they look like FSL Championship contenders.
Cole Devries
had been in the zone last Wednesday and pitched a great game against Clearwater. He was in the zone again last night, turning in a quality start and working 7 innings. Sadly, the he gave up two runs, and the Miracle offense was very limited.
Back-to-back singles to start the top of the 3rd put
Russ Canzier
and
Josh Lansford
on base.
Jonathan Mota
moved them with a sac bunt which allowed Devries the room to walk
Jonathan Wyatt
. Following a pop out to
Tony Thomas Jr.
,
James Adduci
would single to drive in Canzier. Devries would then get
Ty Wright
to ground out to end the inning.
Edward Ovalle
tripled in the bottom of the inning, and came home on
Yancarlos Ortiz
sac fly to tie the game up.
In the top of the fourth,
Blake Lalli
singled, and moved to 2nd on
Wellington Castillo
's ground out. Canzier then tripled him in, but a ground out to Lansford and a fly out to Mota left Canzier stranded at 3rd.
The Miracle barely threatened however over the rest of the game, despite the substiution of
Danny Berg
for
Wilson Ramos
and
Rocky Palacios
for Ortiz in the batting order.
Devries gave up the 2 runs - both earned - on 7 hits and 1 walks. He would not record a strike out, but that's okay.
Esmailin Caridad
would give up 1 run on six hits while striking out 1 over 6.2 innings. But that was okay too, the top of the 8th the Miracle were still in the game.
Zack Day
got on the mound, and sent them back to the chalk board. Day will now work on his arm strength by writing "I will not give up four runs on six hits in one inning" 101 times on that chalk board.
Thomas tripled to start out the inning. Following a pop out to Adduci, Wright singled to bring in Thomas. Lolli would be taken out on strikes, the only strike out for the Miracle during the contest. Castillo and
Yusef Carter
picked up back-to-back singles, which also brought in Wright, followed by a double to Lansford that scored the pair. Suddenly, the Miracle were down six to one.
Thanks Day, great job.
Brian Dinkelman
would be hit by a
Jeremy Papelborn
pitch and
Rene Tosoni
would draw a walk, but Palacios flew out,
Juan Portes
struck out and
Danny Valencia
ground out, stranding the runners.
Danny Hernandez
replaced Day on the mound and when Mr. Day finishes with the chalk board, it will be Mr. Hernandez's turn to write "I will not give up 3 runs on 1 hit and 3 walks in one inning" 101 times.
Hello, Scooby Do, where are you? Danny needs a clue from you now...
But the strike zone remained a mystery to the Miracle's young reliever, as he walked
Jonathan Wyatt
and Thomas to start the inning. Adduci would ground into a force out. A wild pitch brought brought Wyatt home before Wright also drew a walk. Lolli then doubled to drive in Adduci and Castillo brought in Wright on a sac-fly.
A pitching change to
Grant Johnson
did not spark the Miracle offense either, as the team quietly went three up, three down to retire to the clubhouse and lick their wounds.
I had been trying to recruit a new bullpen Saturday at Extended Spring Training, but
Jim Shellenback
said all he had was a bunch of babies. I might take him up on that offer, they couldn't be any worse than the babies that are in the Miracle bullpen.
Ovalle was 2-for-3 on the game with a triple and 1 run.
Danny Valencia
was 2-for-4 but did not factor into the scoring. Tosoni, Ramos and
Whit Robbins
each picked up single hits in the contest.
The series finishes up on a two-for-Tuesday night at Hammond Stadium, with
Jeff Manship
(4-0, 3.27) hoping to get the team turned around. He will face
Jose Ceda
(2-1, 5.48) for the Cubs.
Boxscore
Log
Miracle
Cubs
News Press
Breeze
NDN
News Journal
Beloit 4 at Lansing 2
W: S. Arias (1-0, 1.64); L: L. Perez (0-4, 7.89); SV: M. Williams (2)
HR: None.
Things looked brighter in Lansing, Michigan, where
Santos Arias
picked up his second win of the season against the Lugnuts. The Blue Jays farm would take 2 runs off him in the bottom of the 1st inning on three singles, but they would find little else as Arias only gave up 4 hits over five innings while striking out 5.
Ben Revere
singled out to left then moved to second on a fielder's choice that took out
Joe Benson
at 3rd.
Garrett Olson
would bring the speedster home on a fly ball single to right.
In the top of the Sixth,
Chris Parmelee
and
Ramon Santana
would draw back-to-back walks and
Steve Singleton
then loaded the bases with a ground ball to center. Catcher
Jair Fernandez
drew a walk to force in a run, tying the game, and Santana would come home when
Greg Yersich
ground into a double play for the game winning run.
Revere would triple in the 7th, and let Olson single him home for the insurance marker. The Snappers were able to find a couple of guys -
Charles Nolte
and
Spencer Steedley
- who would each work an inning or two without giving up seven runs, and
Matt Williams
closed out the game for his second save of the season.
Revere was 2-for-4 with a walk and 2 runs and Olson was 2-for-5. The Snappers would draw nine walks during the game with Parmelee picking up 3 and Santana 2. Parmelee's other two at bats were both strike outs.
The two teams will play the rubber match on Tuesday with
David Bromberg
(1-2, 5.70) making the start for the Twins farm team.
Boxscore
Log
Lugnuts
Lansing Journal
Bowie 4 at New Britain 5
W: A. Gabino (2-1, 1.04); L: J. Burch (0-1, 6.00); SV: B. Julianel (5)
HR: BOW: B. Davis (1), J. Tucker (1). NBR: M. Moses (1).
The Rocks Cats rallied past Bowie in the 8th inning to pick up another win at home,
Armando Gabino
getting his second victory of the season for New Britain.
Luke Hughes
continued his hot streak at the plate, going 2-for-3 with walk and a run to extended his hitting streak to 14 games. His .385 batting average leads the Eastern League.
Erik Lis
was also 2-for-3 in the designed hitter roll with a double a walk and a RBI.
Brock Peterson
as 2-for-4 with a run and 2 RBIs.
Matt Moses
hit a home run in the sixth that drove in two to put the Cats a head in the sixth, but
Blake Davis
went wall in the top of the seventh for the Baltimore affiliate off former Miracle
Kyle Aselton
to again tie up the contest.
Moses would draw a walk in the 8th, and
David Winfree
would be hit by a pitch, moving Matty Mo to 2nd. Lis would then double to score the game winning run.
Yohan Pino
would give up 3 runs on 8 hits and 1 walks while striking out 3 over six innings, but left with a no decision for the Cats.
Boxscore
Log
Rock Cats
Baysox
NB Herald
Feature on Ozzie Sosa
Rochester 6 at Columbus 7
W: M. Bacsik (3-1, 3.63); L: T. Lahey (1-1, 5.87); SV: C. Manning (3)
HR: ROC: D. McDonald (4), C. Basak (2). COL: L. Broadway (2).
Evidently the Miracle are not the only Twins team with bullpen woes as Columbus clipped the Red Wings late, on a six run 8th inning.
Mariano Gomez
and
Tim Lahey
share the blame for that blow up with Gomez surrendering 2 runs on 3 hits and Lahey allowing 4 runs on 4 hits.
Kevin Slowey
was pulled before the game as he is to start for the Twins on Thursday. Instead
Francisco Liriano
worked five innings allowing only 1 run on 2 hits and 4 walks while striking out 4.
Darnell McDonald
was 2-for-3 with 2 runs and 4 RBIs,
Denard Span
was 2-for-4 with a walk and 2 runs and the "spare pieces" (per the BYTO minors board) of
Howie Clark
and and
Chris Basak
were 2-for-4 with 1 RBI and 1-for-3 with 1 run and 1 RBI respectively.
On Monday McDonald was named the International League Batter-of-the-Week for the week of April 28-May 4. McDonald batted .448 (13-for-29) with four doubles, one triple, two home runs and 14 RBI in seven games this week. He's the first Red Wings player honored by the IL this season, and first Rochester player to win Batter-of-the-Week since former Miracle catcher
Jose Morales
did it on April 23-30, 2007. McDonald was also named the MiLB.com International League Player of the Week. (
Press Release
)
Prior to Monday's blown lead, the Wings bullpen had been tremendous through the last 24 games, going 7-2 with eight saves and a 1.98 ERA. In 86.1 innings of work, the relievers had allowed just 19 earned runs on 65 hits while striking out 76.
Boxscore
Recap
Red Wings
Dispatch
R-News