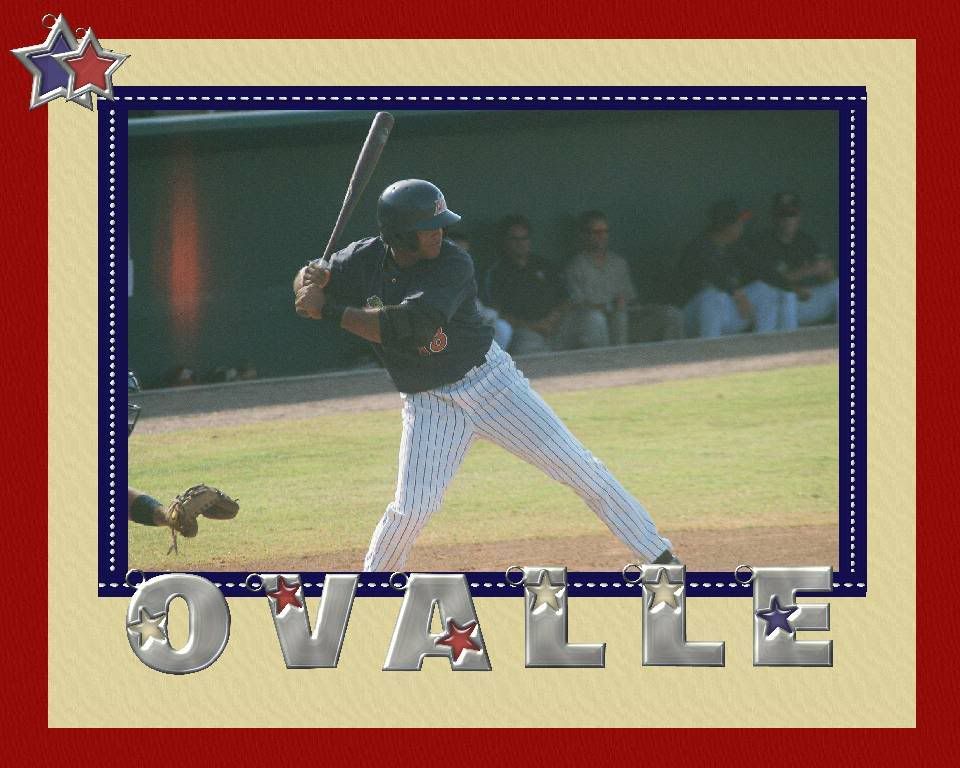 Daytona 2 at Fort Myers 4
Record: 19 - 13
W: A. Slama (2-0, 0.50); L: C. Lambert (0-1, 4.11); SV: R. Delaney (8)
HR: None.
Prior to the start of the game, reliever
Zach Day
was released. I understand he is finished with professional baseball.
If you like good pitching, this was your game.
Jeff Manship
gave up 2 runs, earned, on 7 hits and 2 walks while striking out 8 over 6 inning. But his performance was overshadowed by that of Daytona's
Jose Ceda
, who allowed only 2 hits and 2 walks to Fort Myers over 6 innings, while striking out five.
Even so, it was the Miracle who got on the board first, with
Brian Dinkelman
and
Rene Tosoni
hitting back-to-back singles.
Danny Valencia
walked to load the bases. Following a line out to
Whit Robbins
,
Eddie Ovalle
hit a sac-fly to bring in Dinkelman.
Wilson Ramos
would be hit by a pitch, but
Juan Portes
ground out to end the inning and Miracle scoring threat.
Daytona however did not let the Miracle hold their lead long.
Darwin Barney
drew a walk in the top of the 5th with one out, and
Jonathan Wyatt
doubled to move him to 3rd. A sac-fly by
Tony Thomas
scored Barney to tie up the game.
James Adduci
then got a double off Manship to bring in Wyatt.
Yusef Carter
would single, but Miracle shortstop
Yancarlos Ortiz
fired the ball back to
Allan de San Miguel
at the plate to get Adduci out at home and safe the run.
The score would stay at 2-1 Cubs throught the next 3 innings until the bottom of the 8th. With the fans calling for a rally, Ortiz would reach on a throwing error to first by pitcher
Billy Petrick
who missed his first baseman and tossed the ball into the outfield. Ortiz found himself on second, and Petrick found himself being replaced by
Casey Lambert
. The Miracle seemed to like Lambert however, as Brian Dinkelman's line drive to left brought in Ortiz to tie up the game.
Rene Tosoni
then hit a ground rule double over the right field wall. Lambert would intentionally walk Valencia to get at
Whit Robbins
, a move that originally worked, as Robbins popped out, but
Edward Ovalle
hit one into the gap out to left to bring in 2 and suddenly the Miracle had a nice lead.
Jeff Smith
would then call in The Sandman,
Rob Delaney
, to put the Cubbies to sleep in the 9th.
Mark Reed
gave him some trouble, fouling several balls out to keep the Cubs alive with 2 outs, but he'd finally connect for a soft grounder that Delaney caught easily and tossed over to Robbins to end the game.
The Cubs have very much been a travel team, with a 10-8 record on the road verses a 6-8 record at home.
With the win, the Miracle hang on to first place in the West Divison, tied with the Tampa Yankees who have won their last six. The Yankees might be in for some trouble though, as their ace,
Eric Hacker
, has been reportedly placed on the Disabled List.
Fort Myers takes the night off, then travels to Port St. Lucie on Thursday to start a four game series agaist the Mets, who are 8-24 on the season, but are 6-4 in their last 10. Five of their 8 wins have come on home turf.
Deolis Guerra
(2-1, 4.61) will get the start for the Miracle. He will likely face
Dillon Gee
(2-2, 4.55) on the Tradition field mound.
Boxscore
Log
Miracle
D-Cubs
News Press
Notebook
Breeze
NDN
Prior to the game, the trivia question posed by
Gary Sharpe
was "What was
Jake Mauer
's number with the Miracle? Did he ever wear #4?" The answer is that Jake wore #12 while he was with the Miracle. He did wear number 4, but it was with Quad Cities, and never in Fort Myers.
I had questioned
Tyler Robertson
's speed during his start on Sunday, but Tyler says that what he is throwing is normal for him at this time of the year. "I'm a slow starter," he explained, and went on to say that he didn't start hitting 92 MPH until he got up to Beloit for the second half of the season. He suggested I check my notes from last season, but the problem is...I don't know where I put them?
He also states that he likes the white uniforms better become they look more professional, despite the fact that traditionally, the Miracle tend to lose when they wear them. I guess he's not superstitious, as he doesn't believe in the day game curse either.
Around the system:
the Snappers finished off the Lugnuts
,
the Rock cats defeat the Baysox, and the Wings and the Twins both drop their games.
A couple of people had asked about the layouts I'm having signed. They are stashed on
Photobucket
and while I do not sell them (as they are not licensed for commercial distribution), nothing would stop you from getting prints via Photobuckets' Qoop service for your personal use. Note that they are formated to 8 x 10 size and will likely print out cropped if ordered at a smaller size.
I've also been adding pictures from the 2008 season games, be sure to stop by the
Photo gallery
and check them out. No videos yet - I'm working on that.