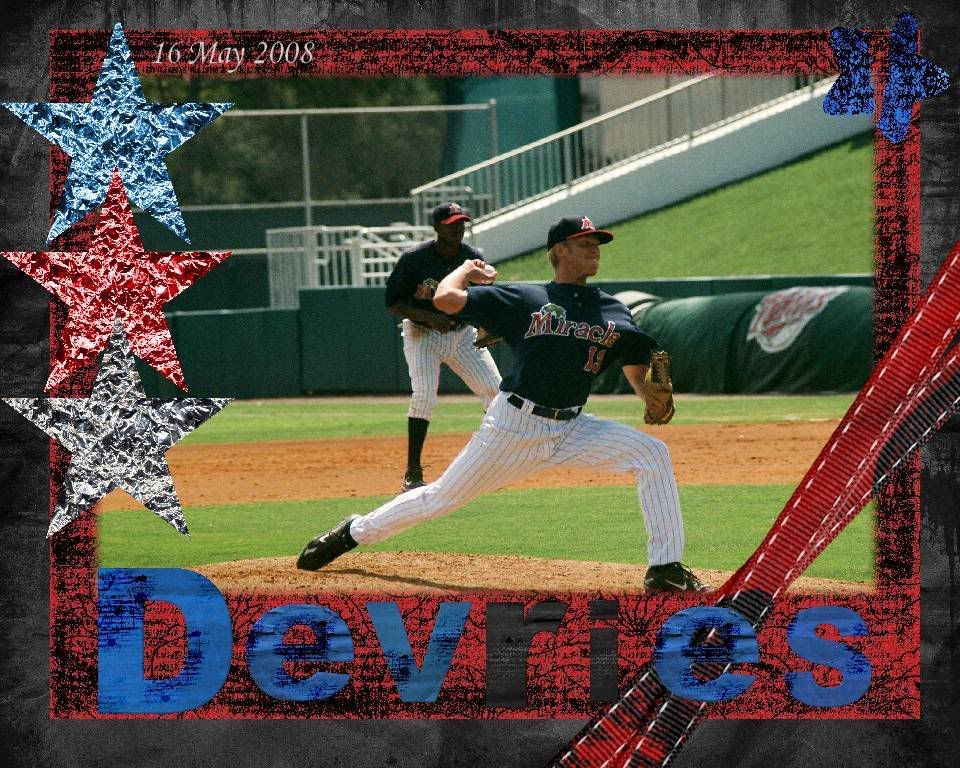 Sarasota 0 at Fort Myers 5
W: C. Devries (4-4, 3.70); L: S. Carroll (0-1, 7.94)
HR: None.
If it was hits you were looking for, Hammond Stadium was not the place to be on Tuesday night.
Cole Devries
pitched brilliantly at times, allowing only 4 hits and 1 walk over six innings as the Fort Myers Miracle blanked the Sarasota Reds 5-0.
Brian Dinkelman
would take a walk off Sarasota starter
Scott Carroll
to lead off for the Miracle, he would then steal 2nd.
Danny Valencia
and
Whit Robbins
hit back-to-back singles one out later which would bring him in for an early home team lead.
With one out on the board in the 3rd.
Edward Ovalle
and Valencia hit back-to-back doubles to give the Miracle another run.
Sarasota would get runners in the corners in the fourth when
Todd Frazier
and
Juan Francisco
singled with one out on the board.
Drew Stubbs
would fly out to
Danny Santiesteban
and
Chris Heisey
ground into a force out to finish off the inning.
Juan Portes
doubled to lead off the bottom of the 4th. Two outs later,
Yancarlos Ortiz
would hit a line drive to left to bring in Portes. Ortiz would steal 2nd, and Dinkelman would take another walk, but Ovalle would fly out to right to end the inning, stranding the runners.
In the top of the sixth, Frazier would reach when Devries, not expecting the ball, dropped it when Frazier hit it straight to him. Francisco - a dangerous player who has hurt the Miracle before - singled. But Devries got Stubbs to hit into a long fly out to center that Santieseban caught on the warning track to end the inning.
Juan Portes would single
, then steal 2nd in the bottom of the sixth. With 2 outs on the board, Ortiz would single to plate him.
Ruben Madina
would replace Carroll on the mound, being greeted with a Dinkelman double which brought in Ortiz. Dinkelman would try to go for three, but would be taken out on the throw.
Danny Vais
and
Frank Matta
worked the next two innings for the Miracle.
Sean Watson
replaced Medina for the bottom of the 8th inning. After Portes had reached on a throwing error,
Eli Tinter
for hit an shallow infield single that drilled Watson, then rolled to 3rd. Santiesteban would ground into a force out, in part because
Michael DeJesus
at second seemed unsure if he should throw to 3rd or first and as a result hung on to the ball too long to turn a double play. Ortiz would walk to load the bases before Dinkelman would fly out to left to end the inning.
Closer
Rob Delaney
would make things interesting in the top of the 9th, allowing singles to Stubbs and Heisey with two outs on the board before getting
Jason Lousma
to strike out swinging to end the game.
The two teams rematch tomorrow with
Jeff Manship
(5-2, 3.49) trying to live up the to performance of his three predecessors, while former Miracle
Alex Smit
(4-3, 3.75) will pitch for the Reds.
Boxscore
Log
Miracle
News Press
NDN
Breeze
The good, the bad, the ugly:
To reiterate the roster changes,
Danny Hernandez
was sent to the Beloit Snappers while
Blair Erickson
was promoted to the Miracle. Erickson was the player I liked best during 2007 Fall Instructional League and has put up some good numbers with the Snappers.
Eli Tintor
finished off his suspension and returned to the Miracle line up, taking
Johnny Woodard
's place on the roster. Woodard has been moved to the Disabled List with a broken Hamate bone.
With the win, the Miracle move to 15 games above the .500 mark. At this time last season, the were 9 games under, dead last in the standings and 12 games behind the division leading Sarasota Reds.
The scoreboard went from bad to worse last night as the Miracle had either no outs or two outs, but never one out, during the course of the evening.
Missy
got a new set of dark blue duds so she could match the players on the field. She came out later with a white jersey over a navy short sleeved shirt with navy pants and looked quite stylish while she was doing the chicken dance.
Connecticut 6 at New Britain 4
W: A. Cowart (4-2, 2.98); L: O. Sosa (2-4, 6.46); SV: O. Matos (5)
HR: None.
When we checked in with the Rock Cats last night, they were trailing the Defenders by one in the top of the 7th. They never recovered, with
Ozzie Sosa
taking his 4th loss of the season after giving up 4 runs on six hits and 3 walks while fanning 5 over five innings.
Matt Moses
and
Dustin Martin
were both 2-for-4 for New Britain, Moses with a run and Martin with 2 runs scored.
Trevor Plouffe
and
Luke Hughes
both a hit and a run for the Cats.
David Winfree
was 1-for-4 with 1 RBI.
Erik Lis
was 0-for-4 with a run scored.
Boxscore
Log
Rock Cats
Defenders
Courant
Bulletin
Charlotte 0 at Rochester 12
W: P. Humber (2-5, 5.19); L: J. Egbert (0-4, 7.55)
HR: None.
The Rochester Red Wings suddenly looked like the team to beat as
Phil Humber
and two relievers blanked the visiting Charlotte Knights. Humber would allow 3 hits and 4 walks while striking out 5 over six innings.
The Wings broke out their bats as well, with
Brian Buscher
going 3-for-5 at the plate with 3 runs,
Randy Ruiz
was 4-for-5 also with 3 runs and with 1 runs scored as well,
Sergio Santos
was 2-for-5 with 2 runs and 3 RBIs,
Darnell McDonald
was 2-for-6 with 1 RBI and former Miracle
Tommy Watkins
was 2-for-4 with a pair of walks and 2 RBIs.
Garrett Jones
and
Jose Morales
- two Miracle alumni - also had a hit a piece, Morales drew 2 walks and had 3 runs as well, while Jones recorded a walk, a run and a RBI.
Morales stroked an 0-2 pitch to right field in the eighth inning, extending his hitting streak to 11 games.
The Red Wings are now 16-8 record when the Wings score four runs or more in a game, but only a 5-24 record when scoring three or fewer runs.
Boxscore
Log
Red wings
R&D
R&D - Notebook
Extra Bases
R News