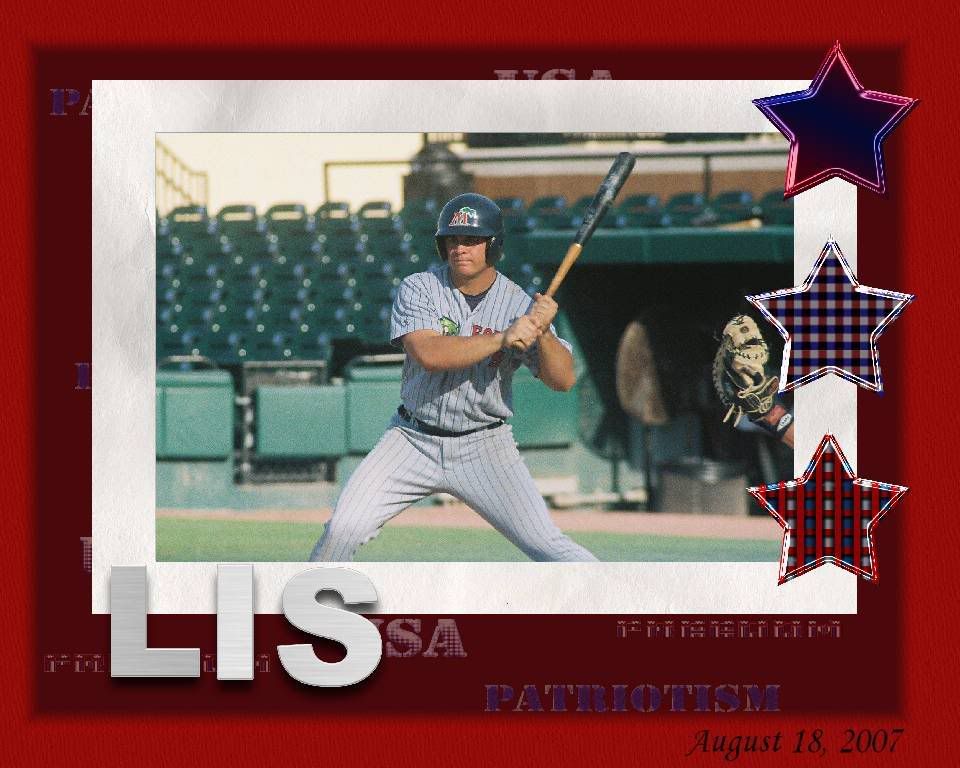 New Britain 11 at Portland 15
W: K. Jackson (3-0, 5.08); L: E. Simonitsch (0-2, 10.67)
HR: NBR: E. Lis (4), D. Butera (2). POR: B. Bell (7), S. Madera (4).
Monday's game at Hadlock Field proved to be less than memorable for the New Britain Rock Cats. Sure, they had offense - knocking out 11 runs on 12 hits. But their pitching failed them, including a 10-run fifth inning.
Steve Tolleson
led off the game with a double to left, and moved to 3rd on a
Luke Hughes
single.
Erik Lis
would send a ground ball to center scoring Tolleson to put the Cats on the board first.
The first tremor of things to come came in the bottom of the second.
Sandy Madera
and
Aaron Bates
hit back-to-back singles off starter
Errol Simonistch
.
Bubba Bell
then sent his 7th home run of the season over the center field wall to give the Dogs three.
Hughes would draw a walk with 2 outs on the board in the top of the 3rd.
David Winfree
sent a long single to center field that got Hughes to the plate, to cut the Dogs lead to just one.
In the top of the 4th,
Trevor Plouffe
would reach on fielding error by shortstop
Ryan Khoury
. Evidently it was a bad day for Khoury as
Toby Gardenhire
also made his way onto the bags when Khoury fumbled his play a second time. After a pop out to
Drew Butera
, Tolleson took a walk to load the bags. The Dogs would bring in pitcher
Kyle Jackson
to replace
Matthew Goodson
to get them out of the jam, but a single by
Matt Moses
put two more over the plate to give the Cats a one run lead.
Jeff Corsaletti
struck out to start out the bottom of the fifth. Then the wheels came off.
Tony Granadillo
singled and
Zach Daeges
took a walk. Medera went yard for the 4th time this season over the center field wall to give the Dogs another three. Bates and Bell hit back-to-back singles, and the pair would be plated by
Mark Wagner
's double.
Andrew Pinckney
hit a single to bring in Wagner for the for the sixth run of the inning. At this point, Simonitisch was pulled from the mound in favor of
Jay Sawatski
, which, given Jay's record on the season was a questionable move at best. However Sawatski would get Khoury out on strikes before allowing a single to Corsaletti. Granadillo then doubled to drive in 2 more, and Daeges followed that up with his own double to bring in Granadillo. A fielding error by Gardenhire at 2nd allowed Madera to reach and Daeges to score before Bates would strike out swinging to end the slaughter.
How do you bounce back from that? Well, you start by letting Plouffe take walk. Gardehire singled to follow him onto the bags and
Drew Butera
put one over the center field wall, his second yarder of the season, but bring in three. Tolleson would strike out swinging for the first out, but Moses followed that up with a walk. Hughes struck out swinging for the second out, but Lis would go yard to bring in 2 more runs. Winfree walked and after a pitching change which brought
Chad Rhoades
to the mound, so did
Dustin Martin
. Plouffe then singled to drive in Winfree, but Gardenhire's ground out ended the inning, leaving the Cats with some catching up to do.
Jason Miller
replaced Sawatski in the bottom of the 7th, and allowed a double to Corsaletti to start off. Granadillo would single to bring in the runner, and advance to 2nd on a fielding error by
Matt Moses
. Daeges singled but Madera ground into a double play, which still brought in Granadillo, giving the Dogs a total of 15 runs.
The Cats needed five, but would only find one when Plouffe doubled in Winfree.
Lis would lead the offense, going 2-for-3 with 3 walks, 1 run and 3 RBIs. Plouffe would go 2-for-4 with a walk, 2 runs and 2 RBIs. and Tolleson was 2-for-5 with a walk and a run, but also struck out 3 times. Moses batted in two while Butera plated three. Hughes was 1-for-5 with a walk, a run and a pair of strike outs.
Simonitsch saw his average balloon to 10.67 after allowing 10 earned runs on 11 hits and 3 walks. He fanned 4 over 4.1 innings. Sawatski was charged for the 3 runs, 2 earned, on 4 hits and 3 walks over 1.2 innings.
Anxious to put the Sea Dogs behind them, the Cats will now scamper back to New Britain Stadium to face the Connecticut Defenders for a 6:35 PM game on Tuesday. I have no doubt they will be screaming for help from Fort Myers despite the fact that the FSL All-Star break is still two weeks away.
Boxscore
Log
Sea Dogs