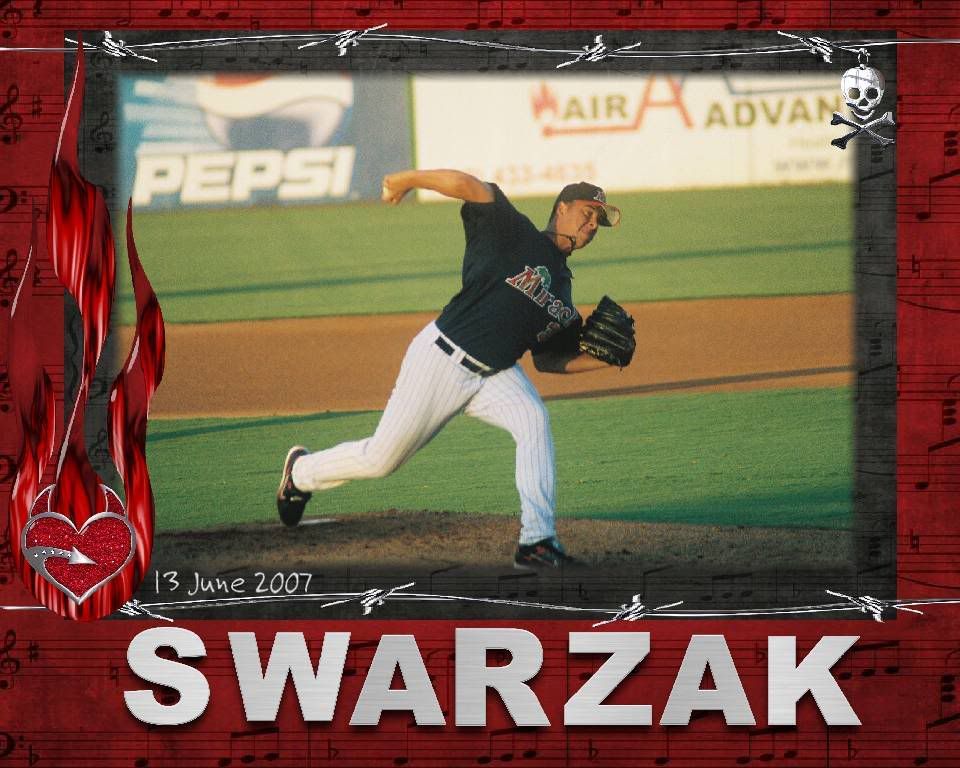 Connecticut 6 at New Britain 10
W: A. Swarzak (3-2, 4.18); L: G. Broshuis (4-5, 4.42); SV: A. Gabino (3)
HR: CT: A. Witter (8). NBR: L. Hughes (11).
Anthony Swarzak
allowed only 3 runs - 2 earned - on 7 hits and 2 walks while striking out 10 in 5.2 innings worth of work. Meanwhile
Luke Hughes
hit his 11th home run of the year, a blast worth 3 runs in the fourth inning to propel the New Britain Rock Cats over the Connecticut Defenders, 10-6.
New Britain clawed their way onto the scoreboard first when
Brock Peterson
doubled and
Matt Moses
and
David Winfree
followed up with back-to-back singles to plate him. The Defenders answered back in the top of the 3rd with
Olmo Rosario
singling, then crossing the plate on
Travis Ishikawa
's line drive to right. Ishikawa would move to second on the throw by Winfree.
Eddy Martinez
then reached on a
Luke Hughes
fielding error which also allowed Ishikawa across the plate for a 2nd Defender's run.
Peterson lead the way onto the basepaths with a single in the bottom of the 4th, but Moses hit into a force out. Winfree would follow that with a ground out for two outs before
Dustin Martin
doubled to bring in Moses.
Toby Gardenhire
singled to bring in Martin, and
Drew Butera
drew a walk, setting the stage for Hughes to go yard over the left field fence.
Winfree would double with 2 outs on the board in the bottom of the 5th, coming home on a
Dustin Martin
single to add one more to the Rock Cats total.
Adam Witter
homered off Swarzak in the top of the sixth. Swarzak would allow a walk to
Simon Klink
, but
David Marount
struck out and
Jake Wald
flew out before
Jay Sawatski
came in to get
Ben Copeland
to ground out to end the inning. The slightly premature removal from the mound suggests that Swarzak had reach his pitch count and threw a few too many balls - vs strikes - than would be suitable, but it was still a good start for the somewhat beleaguered top prospect.
Butera doubled and Hughes walked of
Josh Sharpless
in the bottom of the 8th. Butera would be plated by an Erik Lis double. Peterson would walk to load the bases.
Ronnie Ray
came into to replace Sharpless on the mound. Moses would hit a sacrifice fly off of him to bring in Hughes, and Winfree would follow that up with a ground ball single to bring in Lis, giving the Rock Cats 10.
The Defenders took 3 back in the top of the 9th with Wald and Copeland walking. Rosario hit a single to left to bring in Wald.
Carlos Silva
would reach on a failed force attempt and Iskiwawa would walk to force in Copeland before
Armando Gabino
stepped in to relieve Sawatski.
Eddy Martinez-Esteve
ground into a force out that plated Roasario, but Gabino would get Witter and Klink out on strikes to end the contest.
Peterson and Gardenhire were both 2-for-4 in game, Peterson with a walk and a run and Gardenhire with a run and a run scored. Winfree and Martin were both 3-for-5 with a run and 2 RBIs each.
Trevore Plouffe
was 2-for-5. Hughes would finish up 1-for-3 with a pair of walks, two runs and 3 RBIs on the home run.
The Rock Cats remain at New Britain stadium as Division leading Trenton comes into town for a weekend series.
Jay Rainville
(4-5, 6.61) will handle the pitching chores in game one, throwing out the first pitch at 6:35 PM.
Boxscore
Log
Rock Cats
Defenders
Bulletin
Herald
The New Britain Rock Cats announced today that their Friday, May 16th Rain Out with Portland will now be made up as part of a single-admission, Twilight doubleheader to be played at New Britain Stadium on Saturday evening, July 12th. First pitch of Game 1 will be tossed at 5:35 PM; both contests will be 7-innings in duration.