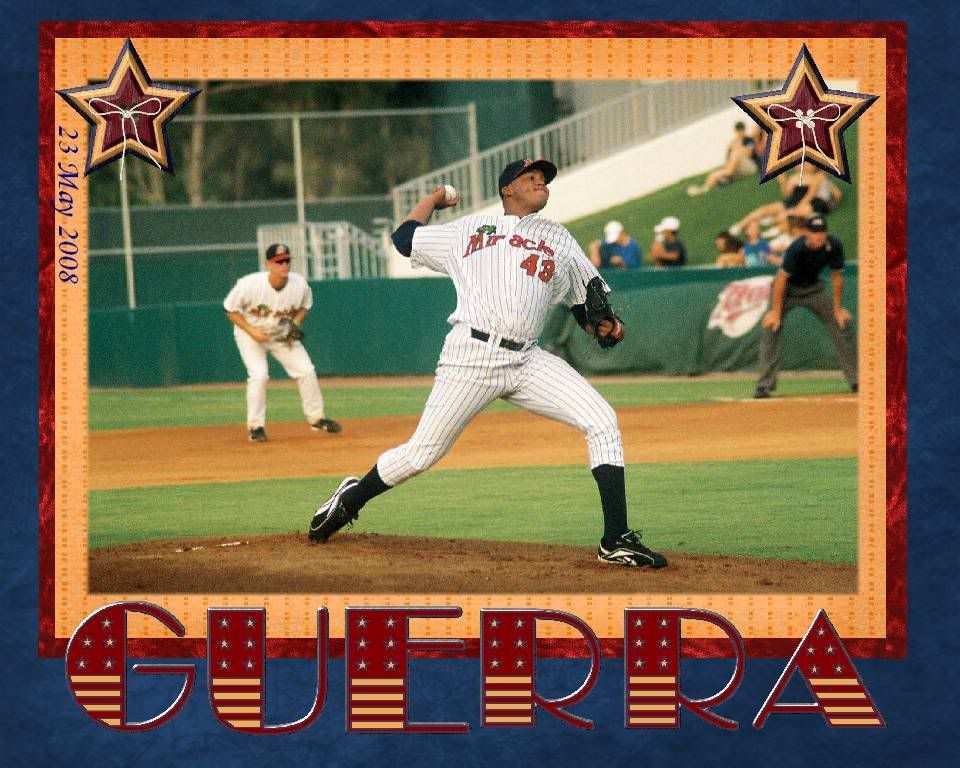 Fort Myers 5 at Sarasota 1
W: D. Guerra (6-1, 4.23); L: E. Del Rosario (0-1, 11.25)
HR: None.
Finally, heartening performance from
Deolis Guerra
! He still needs to watch the walks as five is way to many, but he did hold the Sarasota Reds to 1 run on four hits and five walks while striking out 3. The Fort Myers Miracle put five runs on the board on 13 hits for the win.
(Dear Mr. Guerra, three (3) walks per game is okay. Two (2) walks per game would be preferable. Work on that for me, would you please?)
With a pair of outs on the board in the top of the 2nd inning,
Juan Portes
doubled and
Danny Santiesteban
drew a walk.
Yangervis Solarte
doubled to bring in the pair.
Yancarlos Ortiz
hit line drive to left to score Solarte for an early three run lead.
Following a
Drew Stubbs
fly out,
Dan Perales
was the luck recipient of one of Guerra's free passes.
Jason Souwsma
and
Eddy Rodriguez
hit back-to-back singles with brought Perales in and pitching coach
Eric Rasmussen
scurrying from the Miracle dugout to calm down his Venezuelan stud pitcher. A wild pitch moved Louwsma to 3rd.
Jose Castro
would reach on a fielder's choice, with the play made the plate, which took Louwsma out at home.
Michael DeJesus
would fly out to end the inning.
All-Star
Danny Valencia
hit his 18th double of the year in the top of the 3rd. A wild pitch by Sarasota Starter
Enerio del Rosario
moved Valencia to 3rd.
Whit Robbins
doubled him in and catcher
Wilson Ramos
traded places with him by hitting a double of his own. Ramos would try to come home on a
Yangervis Solarte
single, but was taken out at the plate to end the inning.
Guerra would get through six innings with
Jose Lugo
working 2 scoreless sets and
Rob Delaney
putting the Reds to bed. Solarte was 3-for-4 with 1 run and 2 RBIs. Valencia was 3-for-5 with 1 run .
The Miracle now head over to Casa de Steinbrenner in Tampa to take on the Yankees for a 7:00 PM contest.
Alex Burnett
(3-2, 3.27) gets the start on the mound for the Miracle.
Ivan Nova
(3-5, 3.64) will toss out the first pitch for the Tampa Yankees at 7:00 PM.
The Miracle lead the 2nd placed Yankees by 4 games, are 17 games over .500 and have won 7 of their last 10 contests.
Boxscore
Log
Miracle
News Press
Breeze
NDN
All-Stellar:
Pitchers
Jeff Manship
,
Rob Delaney
,
Anthony Slama
and infielders
Danny Valencia
and
Brian Dinkelman
were all named to the 47th Florida State League All-Star Game which will be played on Saturday, June 14th at Space Coast Stadium in Melbourne, Florida. Outfielder
Rene Tosoni
was selected, but will miss the game due to a broken foot.
Six is a record number for the Miracle, who are generally overlooked for the annual showcase. The previous record number was 4 players.
Manship, Delaney, Valencia and Dinkelman were named to the Midwest League All-Star Game last season while playing for Beloit and current Miracle manager
Jeff Smith
.
News Press
NDN
Let's Go Miracle
Snapper Game postponed by rain
Rain and lightning postponed the game between the Beloit Snappers and Clinton LumberKings Thursday night in Clinton, Iowa. It will now be made up as part of a doubleheader on Friday night beginning at 6:00pm. The teams will play two seven-inning games with approximately a 30 minute break in between.
The Snappers return home to Pohlman Field on Sunday, June 1st for a four-game series against the Quad Cities River Bandits.