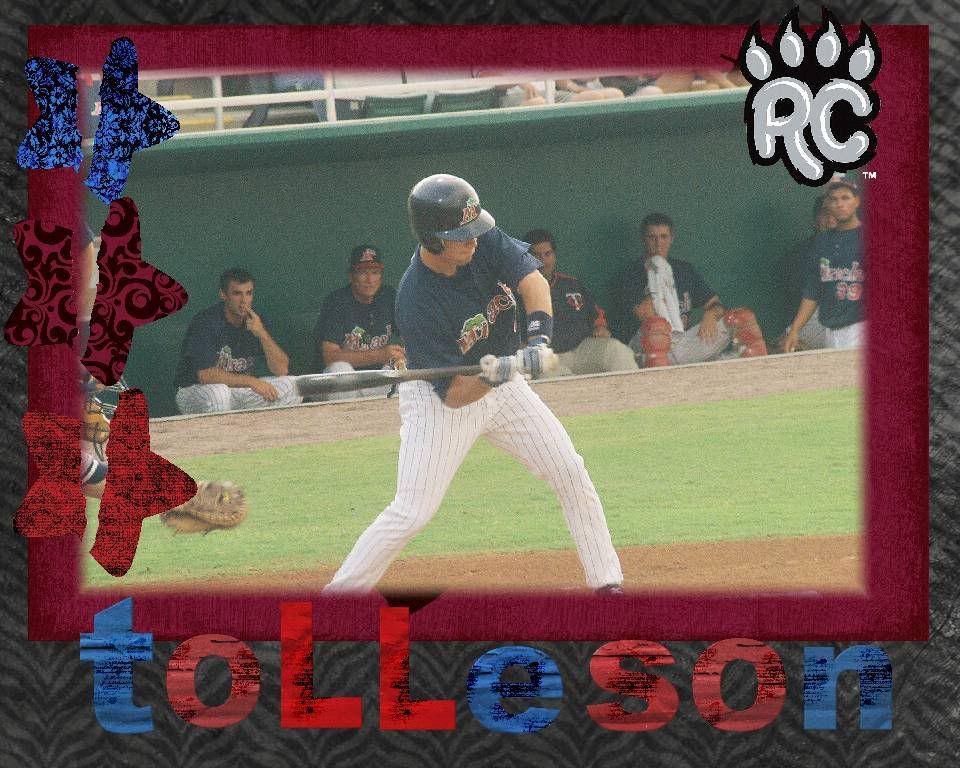 New Britain 7 at Bowie 2
W: Y. Pino (5-5, 4.75); L: C. Tillman (7-4, 3.67); SV: R. Delaney (1)
HR: NBR: D. Winfree (15), S. Tolleson (6). BOW: J. Tucker (6).
A big 9th inning gave the New Britain Rock Cats a lot of insurance, but solid pitching and a first inning home run by
Steve Tolleson
saw the Cats take a win over Bowie in Prince George's stadium.
Brian Dinkelman
drew a lead off walk, and Tolleson put a
Chris Tillman
pitch over the left field wall for his sixth home run of the year, to give the Cats an early 2 run lead.
Sebastien Boucher
would reach on a fielding error by Dinkelman and
Carlos Rojas
took a walk. After
Nolan Reimold
went down on strikes,
Matt Wieters
singled out to left to score Boucher, cutting the Cats lead to one.
Dinkelman's bunt single in the top of the sith got him to 2nd base when combined with a throwing error by Wieters. Tolleson and
Dustin Martin
followed up with back-to-back singles of their own that plated Dinkelman. A wild pitch moved Martin to 2nd. Winfree would ground out however, and after an intentional walk to
Matt Moses
,
Danny Valencia
and
Felix Molina
both struck out to give the Baysox a chance at the plate.
Jose Mijares
came into replace Yohan Pino for the bottom of the sixth. Pino left after allowing only one run, unearned, on six hits and a pair of walks, while striking out 4.
Mijares immediately allowed a solo shot home run to
Jonathan Tucker
to make it 3-2 Rock Cats. That's all they'd get off the Venezeluan speed baller through, despite a single to Boucher and a walk to Rojas.
Drew Butera
drew a single off
Chad Thall
in the top of the 8th.
Toby Gardenhire
moved him with a sac-bunt, and Dinkelman's ground out put him on 3rd. Tolleson doubled him in. Martin would single putting two men on before
David Winfree
went yard, his 15 of the year going over the left field fence to finish things off for the cats.
Pino win was his fifth of the season.
Rob Delaney
picked up his first AA save on two innings worth of work.
The two yard birds, Tolleson and Winfree, were 3-for-5 each, Tolley with a double of pair of runs and 3 RBIs, Winfree with a run and 3 RBIs as well. Martin finished up 2-for-5 with a run and a run scored, Dinkelman was 2-for-4 with a pair of runs. Butera was 1-for-4 with a run. Gardenhire finished up 1-for-3 to become the one hit wonder of the contest.
The Cats finish off Sunday at 6:05 at Prince George's Stadium.
Zach Clark
(1-1, 4.03 ERA) takes the start for the Baysox while the Cats will send RHP
Jeff Manship
(1-5, 4.50 ERA) to the hill. They nap on Monday and begin a 3 game series in Erie against the Sea Wolves on Tuesday.
Box
Log
Baysox/OSC
Courant
---
Indianapolis 5 at Rochester 6
W: M. Gomez (4-2, 2.35); L: J. Chavez (1-4, 3.84)
HR: IND: R. Mulhern (9), L. Ordaz (3). ROC: H. Clark (5).
The Rochester Red wings took an early lead over the Indianapolis Indians, then managed to hang on for a 6-5 win at Frontier Field.
Jason Pridie
led off with a walk and
Alejandro Machado
singling him to 3rd.
Howie Clark
's grounder to right plated Pridie and move Machado to 3rd.
Garrett Jones
would hit into a ground out that served to score Machado, giving the Wings two.
Anthony Swarzak
pitched six scoreless innings for the Rock Cats. He'd return for the seventh and allowed a home run to
Ryan Mulhern
.
Luis Cruz
then singled and after a coaching visit to the mound,
Nyjer Morgan
doubled to drive in Cruz, tying up the game.
Tim Lahey
replaced Swarzak in the top of the 8th, and allowed a single to
Neil Walker
who was then doubled in by
Ronny Paulino
.
Matt Kata
's ground out sent Paulino to 3rd. and a
Jason Dalaney
single plated him to put the Indians up on top.
Machado walked in the bottom of the 8th off
Juan Perez
, who then saw Clark put one of his pitches over the right field fence for a two run homer, Clark's fifth yard ball of the AAA season.
Luis Ordaz
homered off Mariano Gomez in the top of the 9th and it looked like the Indians may have had the game wrapped up.
Jesse Chavez
came in to close out the game however, and allowed back to back singles to
Trevor Plouffe
and
Sergio Santos
.
Jeff Christy
's ground bunt took Plouffe out at 3rd, but Pridie tripled, sending Santos and Christy over the plate to end the game.
Gomez would get the win, his 4th of the season. Machado and Clark were both 2-for-3 with a walk each, Machado with a pair of runs, Clark with just one, but with 3 RBIs. Pridie went 2-for-4 at the plate with a triple a run and a pair of RBIs. Santos was 1-for-3 with a walk and a run. Plouffe was the one hit wonder on the night, finishing up 1-for-4 at the plate, and
Jeff Christy
, despite being 0-for-4 at the plate, chipped in with a run.
The homestand continues as
Danny Graves
(3-4, 5.85 ERA) takes the start for the Wings Sunday, tossing out the first pitch at 1:35 PM. The Indians will counter with LHP
Tom Gorzelanny
(1-1, 2.01).
Box
Log
Red Wings/OSC
Indians/OSC
RD&C
RD&C 2
Indy Star
Alejandro Machado
now has a 18-game hitting streak, the second longest streak by a Red Wing this season (
Randy Ruiz
, 24-game hitting streak).
1B
Brock Peterson
was promoted to Rochester from Double-A New Britain Saturday. Peterson was batting .264 with 14 home runs and 67 RBI in 109 games for the Rock Cats. Peterson will wear uniform #17. OF
Brandon Roberts
was promoted to New Britain from Class-A Ft. Myers.
The six game winning streak is the longest of the season for the Wings.
This is the first time Rochester has won 10 straight home games since July 16-August 5, 1992, when they won 12 straight at Silver Stadium.
Saturday's post-game Diamond Dig was postponed when a steady rain started right after the game, and rescheduled for Aug. 23. The fireworks were also postponed, and rescheduled for Aug. 27.