GCL Red Sox 1 at GCL Twins 3
W: M. Munoz (4-2, 3.09); L: W. Lin (0-2, 4.41); SV: B. Pugh (1)
HR: None.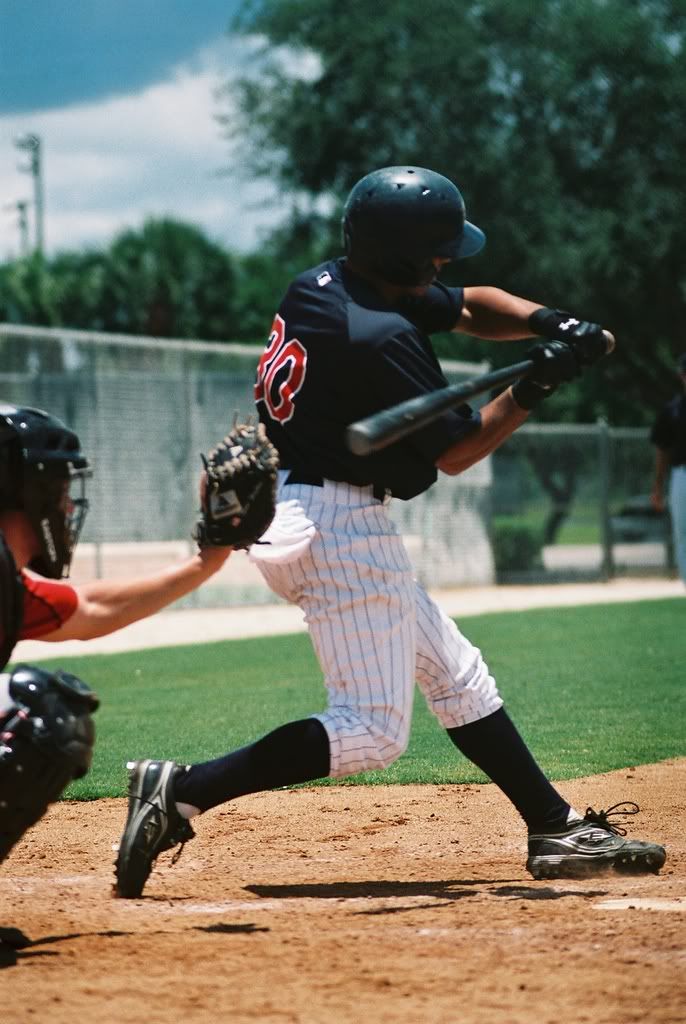 Juan Sanchez
went 3-for-4 at the plate driving in two runs to pace the GCL Twins to a win over the GCL Red Sox at the Lee County Sportsplex in Fort Myers, Florida, Monday.
Miguel Munoz
worked six scoreless innings for the GCL Twins.
The GCL Red Sox had two low minor league hurlers on rehab,
Caleb Clay
and
Eammon Portice
who worked the first two innings, plus
Kyle Snyder
from the AAA Pawsox, the second time the Twins have faced Snyder this season.
Snyder would work two innings before giving way to
Wang-Yi Lin
in the bottom of the 5th. Lin would get
Jakub Hajtmar
to ground out before giving up walks to
Josmir Pinto
and
Javier Brown
.
Jon Goncalves
singled out to left to load up the bags.
Herbert Lara
would ground out, bringing in Pinto before Sanchez ground ball single brought in Brown and Goncalves to give the Twins three.
Danny Ortiz
would single, but
Mike Gonzalez
hit into a ground out to end the inning.
After giving up only two hits and fanning 6 through the first six innings, Munoz returned to the Twins mound for the top of the 7th. He'd allow a single to
Casey Kelly
before giving up walks to
Roberto Felix
and
Bryan Peterson
, to fill up the bases. He'd then get
Chih-Hsiang Huang
to ground into a double play, allowing Kelly to score but taking Peterson out at 2nd.
Jake Mauer
took Munoz from the the mound at the point, getting
Bruce Pugh
out of the bullpen to replace him. Pugh would get
Joantoni Garcia
to fly out to retire the Red Sox, stranding Feliz on third.
Pugh would work the finally 2 innings, giving up a hit while fanning 3. Neither would the Twins get anything more as Lin went on to work 2 more innings before giving way to
Jennell Hudson
for the final inning.
Ortiz was 1-for-3 in the contest, becoming the one hit wonder of the game. Pinto was 1-for-1 with a pair of walks and a run, while Goncalves was 1-for-3 with a run. Brown, 0-for-2 picking up the final run on a walk.
The Twins rest on Tuesday and return to action Wednesday against the GCL Pirates in Bradenton for a noon game.
Box
Log
Herald Tribune
---
DSL White Sox1 3 at DSL Twins 11
W: L. Parra (5-1, 1.63); L: C. Zabala (6-2, 1.77)
HR: None.
The DSL Twins pounded out 11 runs on 14 hits to batter the division leading DSL White Sox1 11-3 at home on Monday.
Jerry Puentes
doubled to lead off for the White Sox1. Following a pop out to
Jeffer Patino
and a ground out to
Juan Vegas
, Puentes scored.
Angel Ferreiras
singled then advanced to 2nd on a throwing error by
Carlos Vasquez
.
Hector Acuna
would single him in, giving the White Sox1 a pair of runs to start off the game.
The Twins began their scoring barrage in the bottom of the 2nd inning, with
Jairo Perez
singling before
Felix Caro
popped out.
Eliel Sierra
and
Jhonatan Arias
both singled, allowing Perez to score.
Juan Blanco
's line drive to left brought in Sierra, and Arias would would steal home while Blanco stole 2nd.
Carlos Vasquez
and
Wifly Gil
both ground out, ending the fun for the second inning at least.
Juan Vega
took a walk in the top of the third off Twins starter
Orlando Villaroel
, who then unleashed a wild pitch, sending Vega to 2nd. A double by
Angel Ferreiras
brought Vega in before Villarel could get
Hector Acuna
to strike out.
The bottom of fourth saw Caro double and Sierra reach on a fielding error. Arias' single loaded the bags. Blanco ground into a force out to score Caro and, following a strike out to Vasquez, Sierra would score on a balk, with Blanco advancing to 3rd. A passed ball by Sox catcher
Danny Yepez
got Blanco to 3rd, at which point Gil doubled to drive him in.
Yovan Rodriguez
would replace
Carlos Zabala
in the bottom of the sixth and he'd return to the mound for the Sox in the seventh.
Danny Santana
took a triple off him to lead off, and
Oswaldo Arcia
drew a walk. Perez reached on a force attempt; a fielding error by Sox shortstop
Mijel Garcia
allowed Santana to score. Caro would strike out, before missed catch on a pick off attempt brought Arcia over the plate Sierra would double, but Arias flew out and Franco popped out to end the inning.
The Twins tacked on three more in the bottom of the eighth. Reliever
Emenejildo Arias
would get Vasquez out on strikes before allowing a double to Gil. Santana reached on a fielding error, and Arcia tripled the pair in. A missed catch by left fielder
Juan Vega
turned the triple into an in-the-park home run as Arcia scored as well.
Leonardo Parra
would pick up the win, allowing only 1 hit while fanning two over three innings of relief.
Edison Alvarez
worked the final 2 innings, allowing 2 hits and a walk.
Sierra finished up 3-for-4 at the plate with a double and a pair of runs. Arias and Arcia were each 2-for-4, Arias with a run and a run scored, Arcia with a walk, a triple, a pair of runs and 2 RBIs. Gil and Caro were both 2-for-5, Gil with a pair of doubles, a run and a RBI and Caro with 1 double and 1 run.
Blanco was 1-for-3 with a run and a pair of RBIs; Santana and Perez were both 1-for-5, Santana with a triple and a pair of runs and Perez with a run and a RBI.
The DSL Twins travel to face the DSL Indians Tuesday morning for a 10:30 AM Dominican time game.
Box
Log