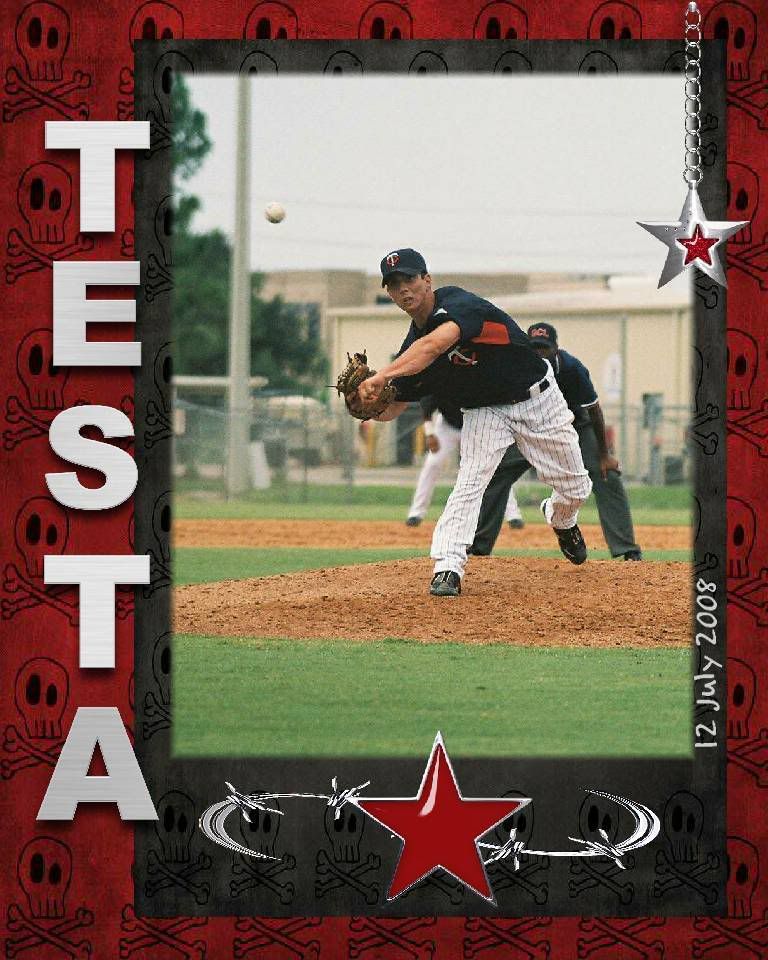 Dunedin 1 at Fort Myers 3
W: J. Testa (1-0, 1.80); L: R. Boone (3-4, 5.44); SV: J. Lugo (1)
HR: DUN: M. Liuzza (3).
Injuries have been affecting the Miracle now for quite some time, but Wednesday night saw the Fort Myers Miracle ace,
Cole Devries
, sidelined with a sore back. Never fear! Southpaw
Joe Testa
was called up from the Gulf Coast League Twins and the former Wagner College ace performed admirably as a fill in starter.
Jake Mauer
had called over prior to the game to say Testa'd never gone more than 2 innings and 30 pitches with the GCL Twins, but I felt that he might surprise
Jeff Smith
and I was not mistaken. The lefty worked five quick innings, allowing only 1 earned run on 3 hits and a pair of walks while fanning 3. The run came in the top of the fifth, went
Matt Liuzza
put his 3rd home run of the season over the center field fence.
The Miracle were already on the board though at that point.
Juan Portes
had hit a single in the bottom of the 4th.
Danny Berg
then took a double off
Randy Boone
that drove in Portes. The line drive out to left was deep enough that it was a near triple, with Berg racing for third base, only to be tagged out as he was sliding in. While it was the third out of the inning,
Wilson Ramos
and
Johnny Woodard
having both flown out, the run counted, which is what really mattered.
Eli Tintor
took a walk in the bottom of the 5th.
Garrett Olson
doubled to move Tint to 3rd, and he'd be sacrificed in by
Steve Singleton
.
Edward Ovalle
followed suite, with his sac-fly to center plating Olson for the insurance run.
Russian
Andrei Lobanov
, also called up from the Gulf Coast League worked the next two innings for the Miracle, allowing only one run and one walk while fanning 3.
Lobanov would walk
Chris Emanuele
in the top of the 8th before giving way to
Jose Lugo
.
Brad Emaus
would reach on a force attempt, with 2nd baseman
Steve Singleton
missing the catch. Lugo would then take
David Cooper
down on strikes before unleashing a wild pitch that advanced the two runners.
Cory Patton
flew out, but
Marcos Cabral
drew a walk to load the bags, but Lugo was able to get
Anthony Hatch
to ground out, ending the inning and stranding the runners.
With one out on the board in the ninth,
Adam Calderone
doubled. Lugo then hit
Jonathan Diaz
with a pitch, but he was able to get Emanuele to line out and Eamaus to pop out to end the contest.
Telsa picked up his first FSL win, Lugo recorded his first FSL save.
The Miracle had only five hits on the night, with Olson going 2-for-2 at the plate with a walk, a double and a run. Tintor was 1-for-2 with a walk and a run, while Portes and Berg were 1-for-3 each, Portes with a run, Berg with a double and a RBI.
The Lakeland Tigers fly into town now on their next mission. Barring injuries,
Alex Burnett
(7-5, 3.84) will be on the mound for Thirty Thursday. The game will also feature the "Redneck Olympics" for the amusement of the beer drinking crowd.
Box
Log
Miracle
News Press
Breeze
NDN
Nicky Lobanov
was also recalled from the Gulf Coast League. The two Russians are not related, despite sharing a last name.
Cole's has aggravated an old high school injury. He underwent an MRI on Wednesday, but it is considered to be "nothing major" and that he should be fine with a bit of rest.
Tyler Robertson
returned to Minnesota for a check up, but word is that the Twins want to shut him down for the remainder of the season, so that he doesn't re-injure his shoulder trying to return too soon.
Testa's start brought a lot of the GCL boys too the park, so I was able to catch up with a few for autographs. I asked
Khol Nanney
if I could trouble him for an autograph and he said "no". "No?" "It's no trouble at all ma'am." Oh! One of those nice southern boys!
Danny Santiesteban
will be converted to full-time pitching in Fall Instructional League. There isn't any info available for FIL at this time, perhaps next week, but I have been told it will start on September 22nd.
Team USA lot their opening game of the Olympics to the Koreans 8-7. (
Recap
) Former Miracle Terry Tiffee had a pair of hits in the contest. They rebounded against Team Netherland however, topping the Dutch 7-0. (
Recap
) Twins prospect
Loek Van Mil
was to pitch for Team Netherland, but the 7'1" Dutchman was sidelined with an injury before the games even began (
twinsbaseball.com
). "Loek Van Tall Guy" as he is affectionately known, will likely start next season with the Fort Myers Miracle. Don't forget to check out former Miracle
Brian Duensing's blog
as he corresponds from the Olympic games.
In order to qualify for the FSL playoffs, a player must be on their respective team's roster as of Friday, August 15. You cannot call players down, only up. If they are added to the FSL roster, they become inelligable to play for any other team in the playoffs. Unless Beloit is magically eliminated from the playoffs by tomorrow, don't expect any help from the corner. By the same token, we won't be able to add
Aaron Hicks
from the GCL roster as they are currently the wild card team for the GCL playoffs.