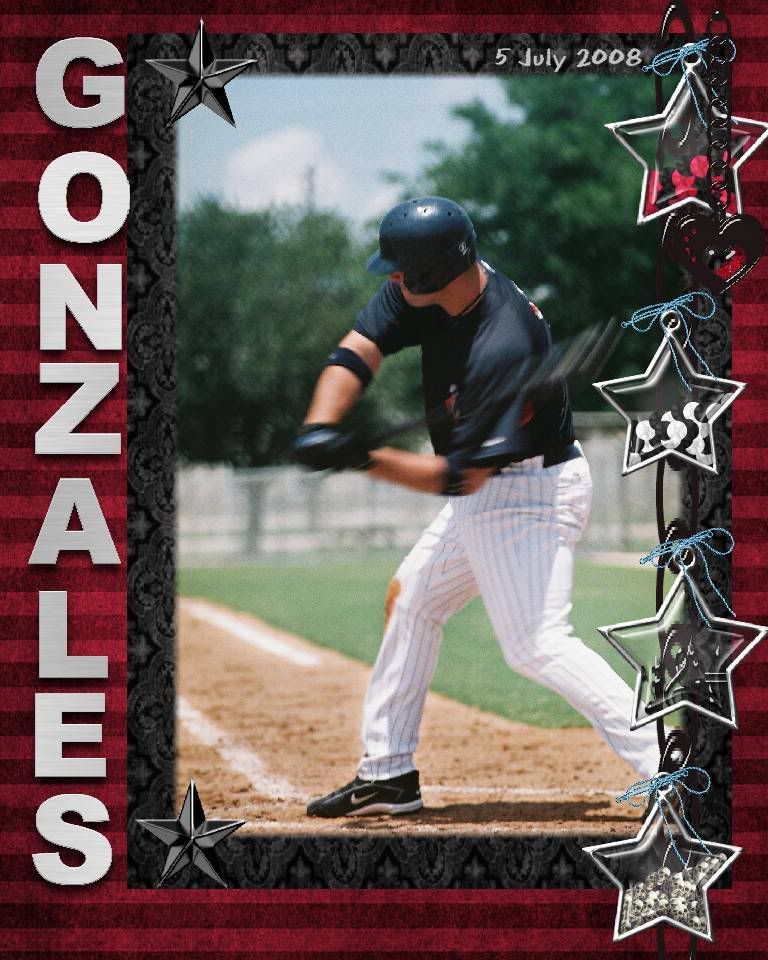 GCL Orioles 6 at GCL Twins 7
W: K. Mota (2-0, 1.21); L: J. Reyes (0-3, 3.32)
HR: None.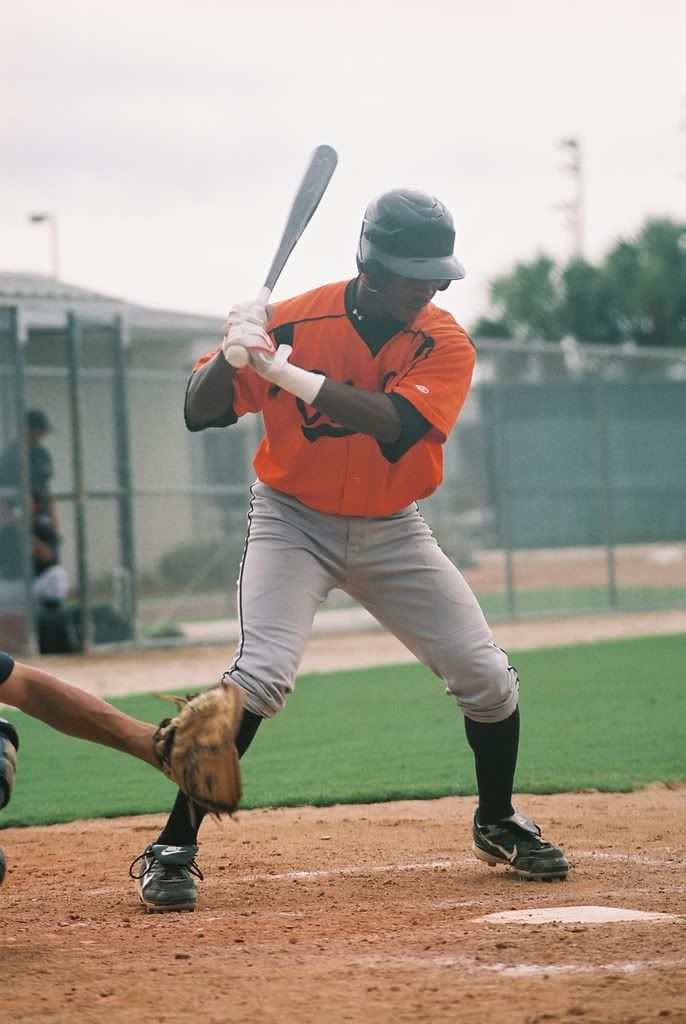 The GCL Twins scored in the bottom of the 10th inning to pick up a 7-6 win over the GCL Orioles on Thursday at the Lee County Sportsplex.
The Orioles jumped on
Jean Mijares
early when
Garabez Rosa
doubling with one out on the board.
Luis Ramirez
flew out, but
Jerome Hoes
and
Edinho Meyer
both took walks to load the bags.
Omar Casamayor
doubled to clean them off. Casamayor would try to stretch it for a triple however and was taken out at 3rd on the throw, letting the Twins have a turn at the plate.
Anderson Hidalgo
took a walk then stole 2nd base. A throwing error by catcher
Janensis Guerrero
advanced him to 3rd.
Danny Ortiz
would take a walk before
Mike Gonzalez
doubled to plate Hidalgo.
Jae-Hyung Jang
struck out and
Reggie Wiliams
popped out to end the inning.
Hyun-wook Choi
singled out to right, then stole second.
Wang-Wei Lin
, newly reactivated off the DL, took a walk.
Juan Sanchez
singled to fill the bases. Hicks would pop out before Hidalgo sacrificed in Wook to make it 3-2 O's.
The Twins would tie it up in the 3rd with
Mike Gonzales
singling. J.J. would reach on a force attempt and Williams single again saw three men on. Wook sacrificed Gonzales in this time for the equalizer.
Miguel Achil
replaced
Donis De La Cruz
for the bottom of the 4th, and got Hicks and Hidalgo to ground out before allowing a line drive single to center. Ortiz then stole 2nd, and would be doubled in by Gonzales to put the Twins on top.
Jakub Hajtmar
would replace Gonzales as a pitch runner, and J.J. singled Hajtmar in. A wild pitch ty Achil moved J.J. to 3rd, but Williams would ground out to end the inning.
Mijares would hit
Xavier Avery
with a pitch in the top of the 5th. After Rosa flew out and Ramirez popped out, Avery stole 2nd. Hoes then singled to drive Avery in, to put the Orioles down by only one.
Marcus Moore
replaced Achil in the bottom of the sixth, and Hicks singled. Hidalgo doubled to drive in Hicks restoring the two run lead.
The top of the eighth saw Ramirez and Hoes hit back-to-back singles. Meyers' sac-bunt moved the pair and a single to Casamayor scored Ramierz.
Grolman Gonzalez
sacrificed in Hoes to tie up the game.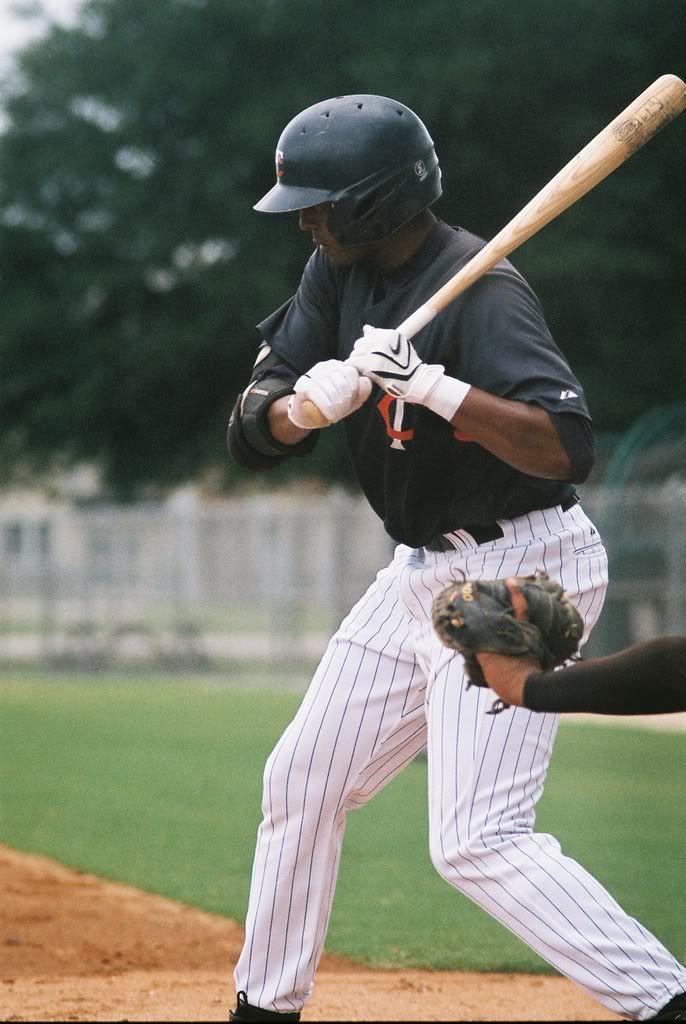 Kelvin Mota
would replace Tonkin for the top of the ninth. Despite allowing singles to Avery and Rosa, he'd manged to keep the O's off the board. Neither could the Twins capitalize on Hidalgo's walk in the bottom half of the stanza, so the game went into extra innings.
Edinho Meyer
singled in the top of the 10th, but Mota took Casamayor out on strikes and got Gonzalez and Guerro to ground out to send the Twins to the plate.
Jean Carlos Reyes
took over the pitching for the Orioles and allowed a lead off single to Williams. Wook's sac-bunt moved him to 2nd and a wild pitch by Reyes got him to 3rd. Reyes then unleashed a second wild pitch, putting Williams over the plate and handing the Twins the win.
Gonzales finished up 3-for-3 with a pair of doubles, a run and a pair of RBIs. Williams was 2-for-5 with a run. Wook and Sanchez were both 1-for-3, Wook with a run and a RBI and Sanchez with a walk.
Hidalgo was 1-for-2 with a pair of walks, a double, a run and two runs scored. Ortiz was 1-for-4 with a walk and a run and J.J. and Hicks were each 1-for-5, J.J. with a RBI, Hicks with a run.
The Twins face the Reds on Friday at the Lee County Sportsplex for a noon game; they travel to the City of Palms complex on Saturday for a 10:00 AM contest.
Box
Log
---
DSL Twins 6 at DSL Diamondbacks/Reds 1
W: A. Salcedo (4-4, 1.42); L: T. Gutierrez (1-8, 4.19)
HR: None.
The DSL Twins knocked out six run on 10 hits to down the DSL Diamondbacks/Reds on the road Thursday morning.
Henry Rodriguez
tripled in the bottom of the first for the Dia-Reds, and came home one out later on a
Angel Logrono
single for the only host run.
Randy Pina
doubled, then moved to 3rd on a
Carlos Vasquez
sac-bunt in the top of the 3rd.
Danny Santana
singled him in, then stole 2nd base.
Yorby Martinez
would reach on fielding error, plating Santana for the second Twins run.
Vasquez singled in the top of the fifth, then advanced on back-to-back ground outs by Santana and Martinez. Mercedes would single him in, for the insurance run.
Gustavo Delgado
would replace Dia-Reds starter
Teo Gutierrez
for the top of the six.
Felix Caro
flew out before
Yancarlo Franco
singled and advanced to 2nd on Delgado's throwing error.
Juan Blanco
took a walk and Pina would be hit by a pitch to load the bags. Franco would try to steal home but would be caught. He should have stayed where he was as Vasquez was then walked.
Mario Lujan
was brought in to replace Delgado, and
Danny Santana
doubled off him to clean off the plates, scoring three.
Blanco and Pina were both 2-for-3, Blanco with a triple and a run and Pina with a double and a pair of runs to lead the attack.
Danny Santana
was 2-for-5 with a double, a run and 4 RBIs. Vasquez was 1-for-2 with a walk and 2 runs.
Mercedes and Franco finished up 1-for-4 each at the plate, Mercedes with a walk and a RBI, while Franco shared the one his wonder title with
Jairo Rodriguez
, who ended the game 1-for-5.
Adrian Salcedo
picked up his 4th win of the season, allowing 1 earned run on 3 hits and a pair of walks while striking out 8 over 5.2 innings.
The Twins host the DSL Cubs1 on Friday for a 10:30 AM Dominican time game. The two teams are tied at 40-24 each for third place in the DSL B.C. North Division, 2 games behind the division leading DSL Yankees2.
Box
Log