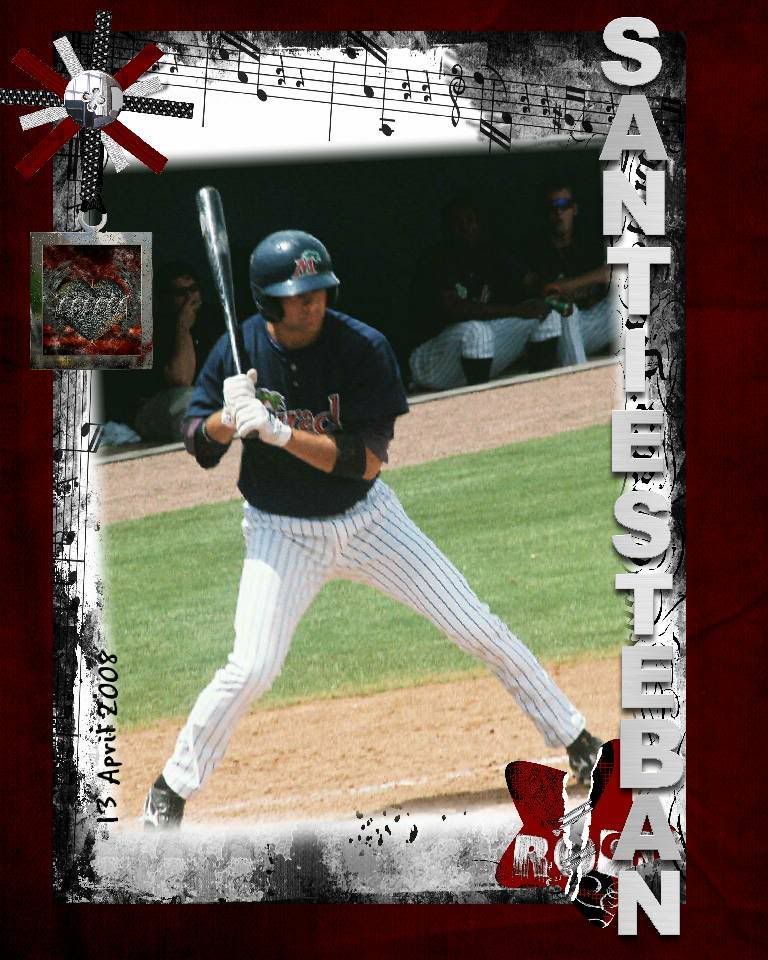 Dunedin 7 at Fort Myers 2
W: N. Starner (3-0, 2.25); L: S. Steedley (0-3, 10.59); SV: C. Polanco (5)
HR: DUN: C. Emanuele (8), M. Cabral (4).
Danny Santiesteban
pitched the last two innings, much to the delight of the home town crowd in what was an otherwise unmemorable game at Hammond Stadium Monday night.
Only a fraction of the announced 1.622 people that turned out for Bobblection were still in the crowd when Santiesteban took the mound.
Spencer Steedley
made his second start for the Miracle, giving up 5 runs, all earned on six hits a walk while fanning two. "They want him to work on some things that he can only work on as a starter,"
Matt Fox
explained of the change.
Oswaldo Sosa
has been moved back to the bullpen, not unexpected following Sunday's blow out.
Marcos Cabrel
put his 4th home run of the season over the left field wall to lead off the top of the second, the first run Steedley would surrender.
The trouble started in the 3rd when he walked
Chris Emanuele
.
Brad Emaus
doubled Emanuele in, then moved to 3rd on a
David Cooper
single.
Cory Patton
singled to drive in Emaus.
Marcos Cabral
took a walk to load the bags, and
Anthony Hatch
was walked to force in Cooper. Steedley would finally get
Al Quintena
to ground into a double play to retire the Jays.
Steve Singleton
doubled in the bottom of the 3rd then came home on a throwing error by Emaus at 3rd that also allowed Ovalle to reach. The Miracle batted light again, getting only 4 hits over the first six inning and making the opposing pitchers look like future hall of famers.
Emanuele launched is 8th home run of the year over the left field wall in the bottom of the 4th, to finish off the scoring.
Southpaw
Nathan Starner
worked five innings for Dunedin, allowing only 1 unearned run while scattering five hits and a walk. He'd fan six.
Edward Rodriguez
took over the for the 6th allowing a walk to
Johnny Woodard
and a single to
Wilson Ramos
.
Things would not heat up again until the bottom of the eighth when Quintana tripled off Santiesteban. A throwing error by shortstop
Yancarlos Ortiz
turned it into a in-the-park home run as Quintana was awarded an extra base on the play.
On the whole Santiesteban did not do too badly. He hit 94 several times and was regularly throwing 90 on the speed gun. His change up was reportedly around 79 miles per hour. (Yes, Eddie, I have video. Hold your horses, it's uploading as fast as it can.)
Woodard would take a walk in the bottom of the 8th and moved to 2nd on Ramos' single.
Eli Tintor
's ground ball to single drove in Woodard for the second Miracle run. Dunedin brought in
Celson Polanco
and the big 6'5", 245 lb hurler put the Miracle to bed, striking out
Danny Lehmann
and
Garrett Olson
to finish off the inning.
Emaus would single and Cooper walked in the top of the 9th. Patton flew out to center, but Cabral's gound ball single would be dropped by Ovalle, allowing Emaus to score. It was not called an error and was counted as an earned run. Santiesteban then got both Hatch and Quintana to fly out, send the Jays out to field.
The Miracle made small of any attempted rally in the bottom of the 9th, and the remaining crowd took their bobbleheads and left.
Of the seven hits on the board, Ramos accounted for 3 of them, going 3-for-4 at the plate with a double. Ovalle and Tintor were both 1-for-4, Ovalle with a double, Tint with a run batted in. Portes and Singleton finished up 1-for-5, Sing with a double and a run. Woodard, who was 0-for-2 with a pair of walks added a run.
The two teams rematch tomorrow with
Matt Fox
(6-6, 3.84) going to the hill for the Miracle against Dunedin's
A.J. Wideman
(4-5, 5.80). Fox says he's on his regular schedule as he last pitched Thursday and they had the double header on Saturday.
Box
Log
Miracle
NDN
Breeze
Bobblection Photo Gallery
Barack Obama
reportedly won the Bobblection, with 5oo bobbles going against
John McCain
's 419. (
Miracle
) Not everyone at Hammond Stadium was convinced of Obama's victory however. "We'd like a recount," said a member of
Miss A-Miracle
's Fun-is-Good Paw-ty. "We noticed a lot of Chads hanging around the stadium, and believe a recount is in order. Oh, sure, Obama brought along Donkey from Shrek as a mascot, but don't be fooled. It's clear that the people's choice for a good time is none other than our one and only Missy."
Other members of the Fun-is-good Paw-ty felt it unfair that their candidate was not represented with a bobblehead. "We believe some votes were bought off by the promise of this toy," said Missy's head of public relations. "Our candidate would have been the landslide winner if the contest had been run fairly."
There was a
Pat Neshek
watch in effect at the stadium but despite the fact that the "non-existent" fans and autographers were all in attendance and loaded for bear, the former Miracle pitcher never showed. "I can't believe he forgot about the game," said one grapher. "After all, what else is there do to in Fort Myers?"