GCL Twins 6 at GCL Reds 4
W: E. Ibarra (3-0, 3.15); L: J. Gil (0-1, 10.50); SV: J. Testa (1)
HR: TWI: A. Hidalgo (1).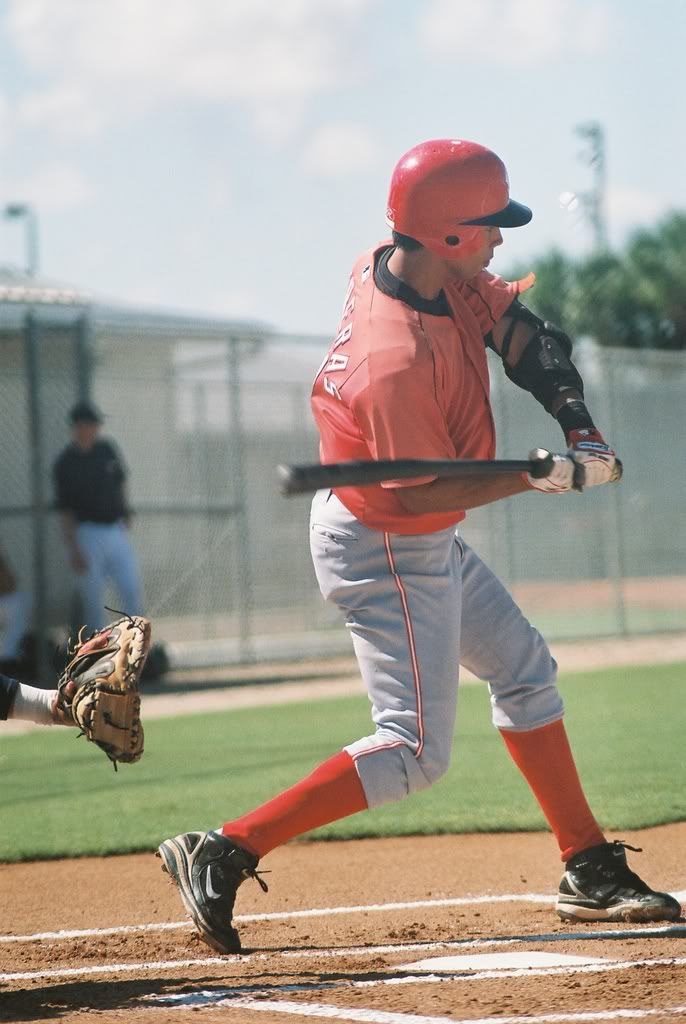 While their High A affiliate, the Fort Myers Miracle, was blowing a 9 run lead to end up with a walk off loss in extra innings to the Sarasota Reds, the GCL Twins were busy overcoming a early 2 run deficit to go on to win, 6-4. The game was moved to the Lee County Sportsplex due to wet grounds at the City of Sarasota Complex.
Canadian hurler
Evan Hildebrandt
walked
Aaron Hicks
to open up the contest. They then gave up a home run to
Anderson Hidalgo
, which went over the left field wall. He settled down after that, getting
Andres Diaz
to strike out and
Reggie Williams
to ground out.
Tyler Ladendorf
popped out, bringing the Reds up to bat.
Alexis Oliveras
took a triple from
Edgar Ibarra
to start out for the home team. A throwing error by Hicks allowed Oliveras to score cutting the Miracle lead in half.
Kevin Coddington
singled. Follwing a
Derrik Hales
strike out,
Humberto Sosa
walked.
Sean Conner
, the Reds 10th round pick in the 2008 First Year Player draft, went down on strikes as well before
Efrain Contreras
reached on a fielding error. Coddington would score to tie up the game and Sosa moved to 3rd putting men on the corners.
Samuel Vasquez
then doubled the pair home before
Frank Pfister
struck out to end the inning.
Herbert Lara
and Hicks hit back-to-back doubles in the top of the 3rd to give the Miracle one more. Hidalgo would single and Hicks would steal 3rd, but a fielder's choice allowed Diaz to reach while Hicks was taken out at the plate. Williams would single before Hildebrant got Ladendorf to fly out to end the inning.
Gerry Gil
replaced Hildebrandt in the top of the 5th and allowed a single to Hidalgo to lead off. Diaz would then get plunked by a pitch and Williams walked to load the bags. Ladendorf's fly out to left plated Hidaldo and Diaz, helped in part by a Contreras' throwing error.
Jae-Hyung Jang
then sacrificed in Willams for the insurance run.
Ibarra would be charged with 4 runs, only 1 earned, on 3 hits and a pair of walks while fanning 6 over 5 innings.
Mauro Schiavoni
worked the next three innings, scattering 2 hits and a walk while K-ing 1.
Joe Testa
picked up his first save of the season, allowing a ground bunt single to Contreras and a walk to Pfister, but getting
Mauricio Pimentel
out on strikes and then Oliveras to hit into a ground out to end the contest.
Lara finished up 3-for-4 with a double and a run.
Hyun-wook Chio
went 2-for-4 at the plate but did not factor into the scoring. Yard bird Hidalgo would connect two out of 5 times with a pair of runs and pair of RBIs. Hicks and Williams were both 1-for-3 with a run; Hicks with a double, a pair of walks, and a RBI. Williams with a pair of walks. J.J. and
Danny Rohlfing
were each 1-for-4, J.J. with the RBI, leave the one hit wonder of the game monkier to Rohlfing.
The win coupled with a Pirates rain out Sunday put the Twins just .006 percent behind the Bradenton squad in the South Division standings. The Twins look to turn in a winning set by taking one from the Red Sox at the Lee County Sportsplex on Monday, with the game beginning at noon.
Box
Log
Herald Tribune
Reds Minor Leagues
Blog