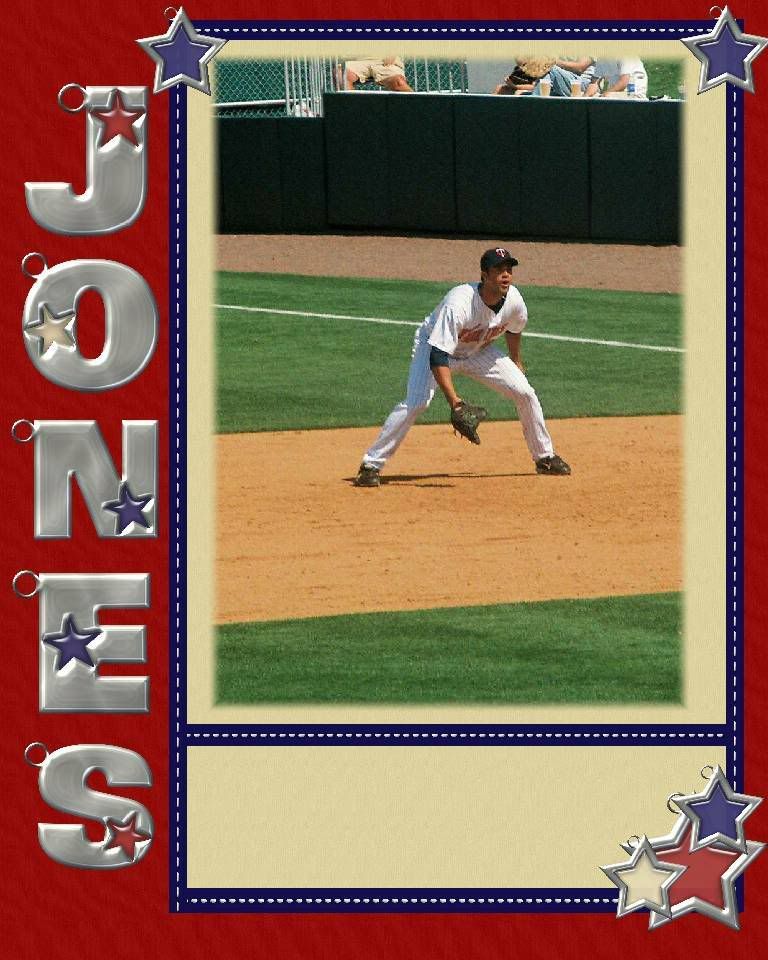 Indianapolis 4 at Rochester 5
W: B. Korecky (6-4, 3.18); L: M. Thompson (2-3, 5.40)
HR: ROC: G. Jones (17), H. Clark (6), S. Santos (5).
The Rochester Red Wings used long ball to take a 5-4 win over the Indianapolis Indians Monday at Frontier Field. The Wings claim the series, 3-game-to-one.
The Tribe got on the board first with
Luis Cruz
singling, then moving to 2nd on a
Nyjer Morgan
sac-bunt. After a fly out to
Luis Ordaz
,
Tom Shearn
let go of a wild pitch that sent Cruz to 3rd.
Andrew McCutchen
's single plated Indy's right fielder.
Neil Walker
did just that, walk, before
Ronny Paulino
's line drive scored McCutchen.
Matt Kata
lined out to bring the Wings up to bat.
But the Wings wouldn't put those bats to use until the bottom of the fourth when
Howie Clark
and
Garrett Jones
put back-to-back home runs over the right field wall to tie up the contest.
Kata and
Brian Bixler
hit back-to-back singles to lead off the top of the 6th, and
Jason Delaney
would move the pair on a sac bunt. Cruz doubled the runners in.
Ricky Barrett
would replace Shearn on the mound at the point. Cruz would be caught stealing and after Barrett gave up a walk to
Ryan Mulhern
, took
Luis Ordaz
down on strikes.
Sergio Santos
double in the bottom of the 7th.
Brock Peterson
would go down on strikes before
Evan Meek
came in to replace tribe starter
Daniel McCucthen
.
Jeff Christy
lined out, but
Jason Pridie
double to score Santos.
Alejandro Machado
's then drove in Pridie with a single to center to tie the contest up again.
Mike Thompson
would take over for Meek in the bottom of the ninth with the game still tied. It did not stay that way for long as Santos put a fly ball over the left center field wall to give the Red Wings the win.
Bobby Korckey
missed out on the save, picking up his sixth win of the season instead.
Machado moved his hitting streak to 20 games, going 2-for-4 at the plate with a RBI. It is the first time an IL team has had two players with 20+ game hitting streaks in the same season since 2005 when Scranton first baseman
Ryan Howard
and outfielder
Shane Victorino
each had 20+ game hitting streaks. Howard had a 24-game hitting streak and Victorino had a 22-game hitting streak.
Pridie, Clarke, and Santos were also 2-for-4 at the plate, Pridie and Clark with a run and a RBI each, Santos with a pair of runs and a RBI. All had extra base hits with Pridie and Santos doubling and Clark and Santos going yard.
Garrett Jones
was 3-for-4 with a run and a run scored. It was Jones 75th as a Red Wing, tying
Allie Clark
for 9th all-time.
Steve Bilko
is eighth with 77 homers.
The Wings now welcome Syracuse for two, with Tuesday's contest schedule for a 7:05 PM start. They will then head to Buffalo for a pair before going to Syracuse to play the back half of the home-and-home series.
Box
Log
Red wings
RD&C
From
MiLB.com
:
THE WEEK IN REVIEW:
The Red Wings lost their first game last week, then won the last six in a row to improve to 60-63 overall. The Wings are fourth in the IL's North Division.
THE PENNANT CHASE:
The Red Wings have been virtually eliminated from the Governors' Cup race.
WHO'S HOT AND WHO'S NOT:
OF
Jason Pridie
is hitting .462 in his last 10 games with six RBIs and 10 runs scored. ... 3B
Luke Hughes
has batted .302 with two homers, eight RBIs and seven runs in his first 11 games with the Red Wings. ... 3B
Matt Macri
has hit .147 in his last nine games and begins the week in a 2-for-18 funk.
STREAKING, PART II:
2B
Alejandro Machado
begins the week with a 19-game hit streak, the fourth-longest streak in the IL this season. But it's the second-longest streak for the Red Wings this season, as DH
Randy Ruiz
collected hits in 24 straight games from June 22 to July 18. During his streak Machado has hit .431 with two homers, 11 RBIs and 18 runs scored. On the season Machado is batting .375 with two homers, 20 RBIs and 21 runs in 34 games.
QUOTE OF THE WEEK:
"Mr. Triples came through." -- Red Wings manager
Stan Cliburn
told the Rochester Democrat & Chronicle on Aug. 9 after
Jason Pridie
's triple in the bottom of the ninth scored the tying and winning runs in a 6-5 victory over Indianapolis. Pridie leads the IL and the Minor Leagues with 16 triples this season.