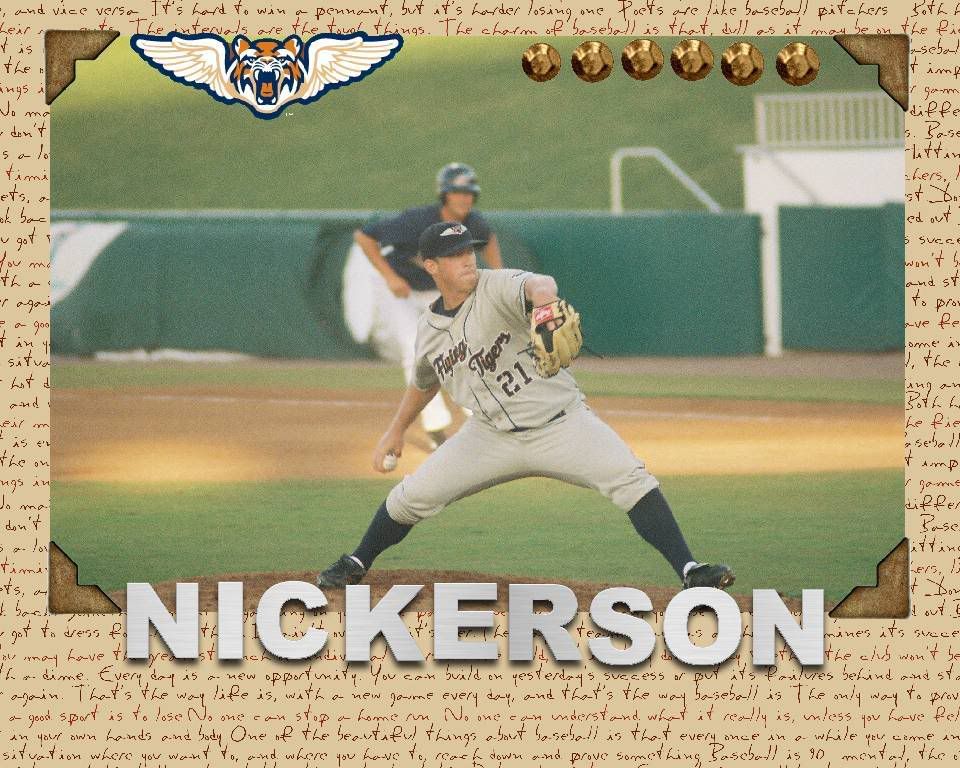 Lakeland 9 at Fort Myers 0
W: J. Nickerson (11-3, 3.66); L: D. Guerra (10-8, 5.44)
HR: LAK: M. Bertram (7).
"What's wrong with Deolis tonight?" Iris was wondering in the first inning.
"What's always wrong with Deolis?" We'd been talking about who would be getting promoted and who would be staying--
Spencer Steedley
says "I'm staying", and I said I thought Guerra would be staying with the Fort Myers Miracle as well.
"He's been in this league for FOUR years!"
Alex Burnett
exclaimed. Actually, it's more like 2 1/2 as he split 2006 between Hagerstown and Port St. Lucie.
"But he's not progressed Alex," I remind him. Although he does have a better win/loss record than he did last night. Still, after tonight he's probably leading the Florida State League in walks, so I'm not sure how you can consider him a candidate for promotion.
"Unless they promote him and put him in the bullpen." Which wouldn't be a bad idea. Too bad we don't have anyone to take his place right now.
In any case,
Michael Bertram
picked up right were he left off on Thursday night, cracking home runs over the fence as the Lakeland Flying Tigers issued a 9-0 drubbing to the Fort Myers Miracle.
Guerra issued walks to
Justin Justice
and
Louis Ott
before Bertram's 7th home run of the season went over the right field wall.
Jeremy Laster
and
Jordan Lennerton
followed it up by drawing walks, as did
Brandon Timm
, loading the bags.
Gustavo Nunez
ground into a force out that scored Laster, and took Timm out at 2nd.
Jeff Kunkel
ground out, but plated Lennerton while he was doing it.
Carmelo Jaime
would be called out on strikes.
"How long are they going to leave him out there?" I often wonder those things myself, but no one was warming up in the bullpen.
Guerra managed to get through the 2nd inning, with only a walk to Bertram.
He was back in action in the 3rd however, leading off with walk to Lennerton. Timm doubled and Nunez singled, which drove in Lennerton and put Tim on 3rd. That did it, as
Jeff Smith
fetched
Matt Williams
out of the bullpen. Kunkel would sacrifice in Timm, although I'm fairly certain it was an accident and he was really trying to hit it over the fence. Jaime singled to move Nunez to 3rd and Justice walked to fill the bases. Ott's fly ball to center turned into a sac-fly as Nunez scored.
Michael Bertram
lined out to send the Miracle up to bat.
Jonah Nickerson
held the Miracle to 4 hits and a walk over 7 innings, striking out 3. Indeed, the Miracle never put enough of an offense together to threaten.
Williams would go on to work four innings,
Oswaldo Sosa
took one, and
Blair Erikson
took one, allowing a single and walking 2, but managing to keep the Tigers off the board.
Lennerton would take a walk in the top of the ninth off
Danny Santiesteban
. Timm doubled him to 3rd, and Nunez's sac fly would score him. Kunkel and Jaime would both walk as well, before Santiesteban got Justice out on strikes.
Ryan Perry
would walk Woodard in the ninth, but there were no last minute rally attempts as the Miracle were quietly blanked during a golf give away night.
The rubber-game of set is Saturday night with a special 6:05 start time. Steedley (0-3, 10.59) should be on the mound for the Miracle. "Son of a Sailor" the
Jimmy Buffett
Tribute Band will perform a post-game concert.
Box
Log
Miracle
News Press
Breeze
NDN
The two Lobanov's left to play for Team Russia in some European Tournament or other. Nicky did this last year about the same time as well.
Team USA lost to Cuba in 11 innings in Olympic action. Former Miracle
Terry Tiffee
finished up 2-for-4 at the plate to lead the US attack (
USABaseball.com
/
Duensing's Blog
). The US stormed back however to take a 5-4 win over Team Canada.
Brian Duensing
, another former Miracle, hurled 3.1 scoreless innings of relief to pick up the win as the US improved to 2-2 in the Beijing games (
USABaseball.com
).
Twins prospect
Ben Revere
was honored by the MWL Managers in the most recent issue of Baseball America as Best Batting Prospect, Best Strike Zone Judgment, Fastest Baserunner, and Most Exciting Player. Revere currently leads the league in batting average (.380) and on-base percentage (.433), while also tied for second in stolen bases (41) and third in slugging percentage (.498). Ben also leads the Snappers in average, hits (122), doubles (17), triples (9), stolen bases, on-base percentage and slugging percentage. Revere will be finishing the 2008 season with Beloit. Look for him to be in a Miracle uniform when the 2009 season opens.
Four different Miracle were honored in the same article as the best in the Florida State League. They are
Anthony Slama
(Best Reliever),
Wilson Ramos
(Best Defensive Catcher),
Yancarlos Ortiz
(Best Infield Arm), and
Jeff Smith
(Best Manager Prospect). All ranking were compiled by field managers in their respective leagues.
Dunedin now leads the West Division by 10.5 games over the Tampa Yankees with 16 games left to play in the season. While anything is possible, it appears the Miracle will one again dance with Dunedin in the playoffs. Jupiter is currently leading the East Division, but has only a one game lead over Daytona.