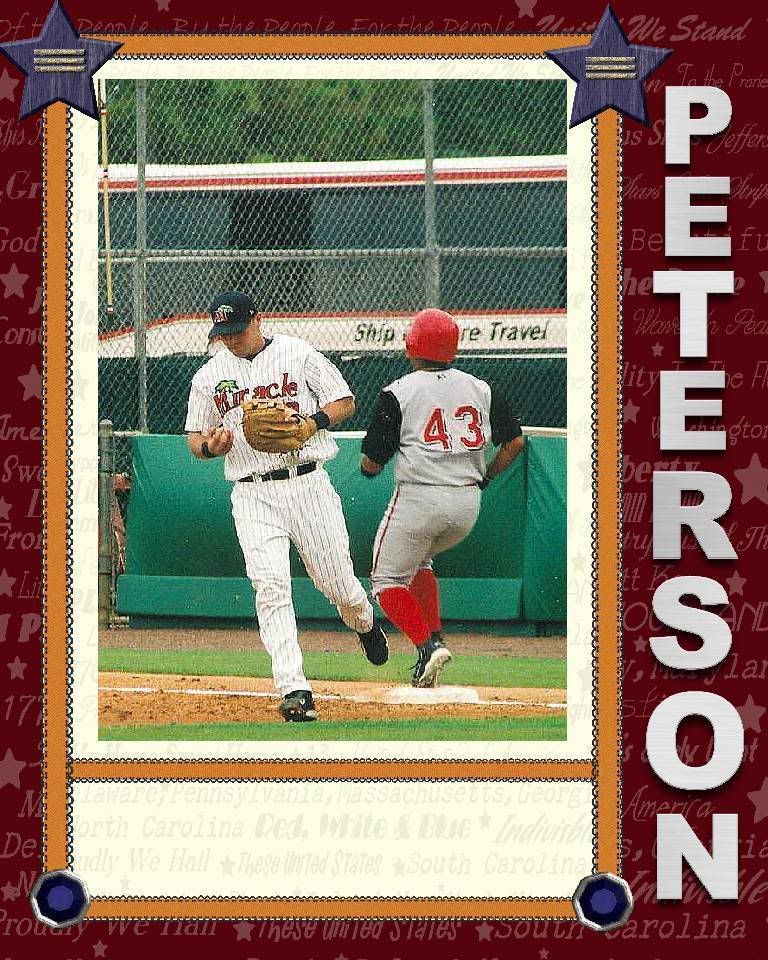 Connecticut 3 at New Britain 5
W: R. Mullins (7-6, 3.90); L: J. Waddell (0-2, 3.67); SV: B. Julianel (16)
HR: CT: E. Martinez-Esteve (4), P. Sandoval (1). NBR: L. Hughes (15), B. Peterson 2 (9).
New Britain's AA All-star game representatives came up big for the Rock Cats, but it was
Brock Peterson
who lead the home town team to 5-3 Independence Day victory over the Connecticut Defenders at New Britain Stadium.
David Winfree
's 17th double of the season lead off the bottom of the 3rd inning for the Cats.
Felix Molina
pushed Winfree to third with a fly-ball single and Butera's ground ball would plate him for the Rock Cats' run.
The Defenders answered back though when
Pablo Sandoval
went yard on
Jeff Manship
, his first home run of the year clearing the right field wall.
Eddy Martinez-Esteve
followed that up with a single before Manship took
Adam Witter
out on strikes.
Simon Klink
then doubled out to right to score Martinez-Esteve putting the Defenders up by one.
It would not stay that way for long as Peterson clocked his 8th yard ball of the season over the left field fence in the bottom of the stanza, tying up the score.
With one out on the board in the bottom of the sixth,
Brian Dinkelman
took a walk. Peterson smacked his 24th double of 2008 out to left and
Dustin Martin
followed that up with 18th double for the Rock Cats, driving in Peterson to put the Cats on top.
The Defenders did not like that however, so Martinez-Esteve bashed a ball over the left field fence off
Ryan Mullins
in the top of the 8th to tie the contest up again.
Luke Hughes
responded in the bottom of the inning with his 15th home run of the year to give New Britain the lead again. Following a line out to Dinkelman, Peterson sent number 9 over the center field wall for the insurance run.
Manship finish up allowing 2 earned run on 7 hits and 2 walks while striking out 4 in seven innings. Mullins picked up the win, allowing 1 run on 1 hit while fanning 2 in one inning.
Ben Julienel
picked up his 16 save of the season to finish off the game.
Peterson finished up 3-for-4 with 3 runs including the pair of homers, and 2 RBIs. Martin (1-for-4) and Winfree (1-for-3) both had doubles, Winfree picked up a run as well while Martin had a run scored.
Drew Butera
was 1-for-3 with a run score, while
Matt Moses
and
Felix Molina
shared the one hit wonder of the game title.
The two teams play the second of the four game series Saturday at 7:05 PM.
Box
Log
Rock Cats
Defenders
Bulletin
Courant
The Rock Cats made three roster moves, place two players on the disabled list and recalling pitcher
Jay Rainville
from Fort Myers of the Florida State League.
Infielder
Steve Tolleson
has been placed on the Cat's disabled list, retroactive to June 30. The 24-year-old University of South Carolina product broke a bone in his right index finger last month and has been unable to play at full capacity since. The Knoxville, TN, resident has been among the league leaders in batting this year and, with a .335 BA, is currently tied with teammate
Luke Hughes
for third best in the circuit. His strong play earned Tolleson a spot on the 2008 Eastern League All-Star team, but the injury will prevent him from participating.
Pitcher
Frank Mata
joins Tolleson on the Rock Cats' disabled list with a pulled right hamstring. The 24-year-old Mata, a native of Barcelona, VZ, appeared in 6 games out of the New Britain bullpen this season, compiling a 1-0 record and 6.75 ERA;
Pitcher
Jay Rainville
, a 22-year-old native of Providence, RI, will rejoin the New Britain roster today from the Ft. Myers Miracle of Florida State League. The Naples, Fl, resident began the season with the Rock Cats, compiling a 5-6 W-L record and 7.00 ERA before his June 16th assignment to Ft. Myers. In three Florida State League appearances, the big righty was 1-1 with a 2.87 ERA. He is expected to start Saturday for the Rock Cats against the Connecticut Defenders. (
Press Release
)
Buffalo 1 at Rochester 8
W: B. Duensing (5-8, 4.02); L: J. Halama (4-2, 5.66); SV: C. Cali (2)
HR: ROC: G. Jones (8), T. Plouffe (3).
The Rochester Red Wings swung a hot bat Friday Night, thrilling the Independence Day crowd at Frontier Field with a 8-1 win over the Buffalo Bisons.
Brian Duensing
picked up his fifth win of the season, allowing only 4 hits and 2 walks while striking out 4 over six innings.
Garrett Jones
homered to lead off the bottom of the second inning for the Wings. Following a fly out to
Randy Ruiz
,
Howie Clark
singled.
Matt Macri
doubled to put runners on second and third before Bisons' starter
John Halama
unleashed a wild pitch. Clark would scamper home, but Macri would be taken out at 3rd on the play.
Sergio Santos
ground out ended the inning, with the Wings up by two.
With one out on the board in the 4th, Jones, Ruiz, Clark and Macri all singled, plating two. Santos sacrificed in Clark to make it 5-0 Wings.
Ryan Jorgensen
would single, but
Tommy Watkins
lined out to end the inning.
Trevor Plouffe
added to the total with his 3rd AAA home run, going over the left field wall.
In the 7th,
Tommy Watkins
reached on a throwing error and Plouffe doubled a line drive out to right.
Darnell McDonald
would ground out and former Twin
Juan Rincon
would walk
Garrett Jones
. Rincon then got Ruiz out on strikes, but Clark singled to plate Watkins and Plouffe, making it 8-0 Twins.
Randy Newsom
would replace Rincon, who would be charged with two runs, neither earned, on 3 hits and 2 walks over 1.2 innings.
Todd Linden
would draw a walk off
Carmen Cali
in the top of the 9th.
Morgen Ensberg
then doubled.
Jason Cooper
's ground out scored Linden, but
Brad Snyder
's soft ground out kept Ensberg pinned at 3rd, and
Yamid Haad
ground out to end the game.
Clark was 4-for-4 for the Wings with 2 runs and 3 RBIs, Jones was 2-for-3 with a walk, 2 runs and a run scored. Plouffe was 3-for-5 with a pair of runs and a run scored. Macri finished up 2-for-2 with a pair of walks, a double and a RBI. Jorgenson was the one hit wonder of the game.
The final game of the set is Saturday at 7:05 PM with lefty
Francisco Liriano
(5-2, 4.07 ERA) taking on Bisons right hander
Jeff Harris
(3-5, 5.09).
Box
Log
Red wings
Bisons
RD&C
RD&C 2
Extra Bases
Blog
B-News
B-News - Mystery Ball
With his single in the fourth inning,
Randy Ruiz
extended his hitting streak to 13 games and is hitting .392 over that stretch. He has hit safely in 16 of his last 17 games.
Garrett Jones
' home run in the 2nd inning was his eighth of the season and the 66th of his Red Wing career, tying him with
Luke Easter
and
John Valle
for 10th all-time on the Red Wing home run list.
Friday's crowd of 11,416 was the largest Fourth of July crowd since 1980, when the Wings daily records began.
Former Twins prospect
Terry Tiffee
was named to the Pacific Coast League All-star sqad, representing the Triple-A Las Vegas 51s. Tiffee leads the PCL in hitting (.383) and was promoted to the Los Angeles Dodgers earlier this season.