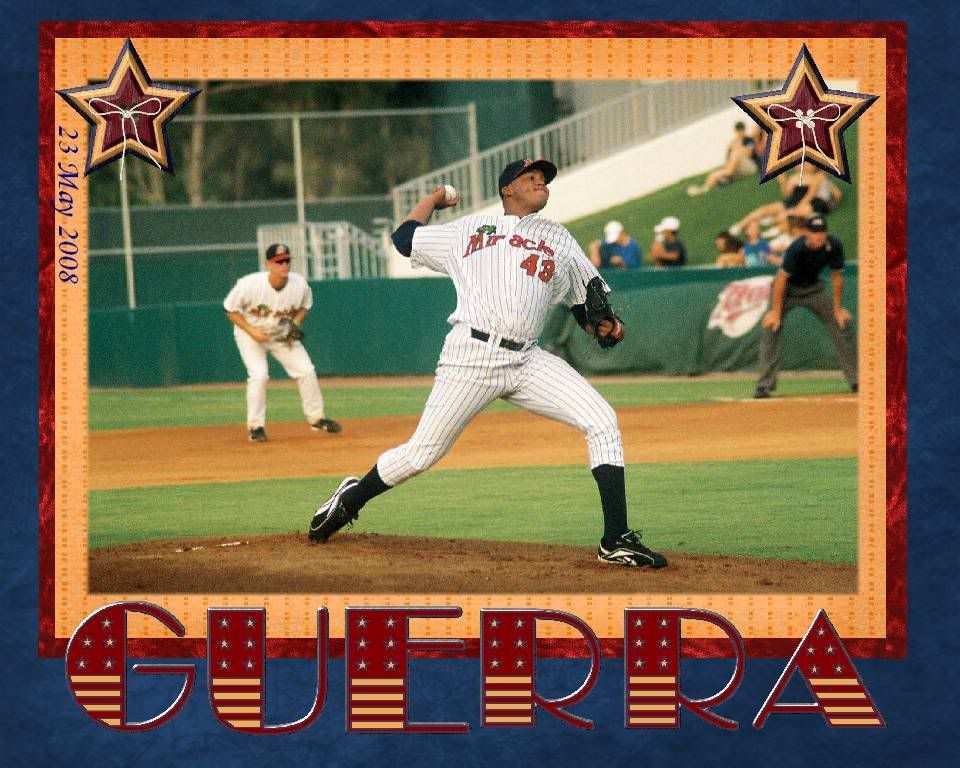 Tampa 0 at Fort Myers 4
W: D. Guerra (8-4, 4.32); L: G. Duff (1-5, 3.27)
HR: None.
Deolis Guerra
threw a complete nine-inning shut out, limiting the Tampa Yankees to only 3 hits and 3 walks while fanning 4 to lead the Fort Myers Miracle to a 4-0 blanking of the New York affiliate Tuesday night at Hammond Stadium.
If this performance does not win Senor Guerra Florida State League pitcher of the week, than I can't image what would.
Tampa is battling a number of injuries and is without All-star catcher
Kyle Anson
, but the squad still has some bite. Fortunately for the Miracle, they didn't get much more than a nibble out of Guerra.
Yancarlos Ortiz
and
Steve Singleton
walked to start off the bottom of the 1st.
Wilson Ramos
then singled to load the bags. Juan Portes would hit into a sac-fly to plate Ortiz and
Edward Ovalle
would take a walk, but Berg out be taken out on strikes by Tampa starter
Grant Duff
to strand the men.
The bottom of the 3rd would see Ramos single and Portes double him in. Ovalle's sac bunt would move Portes to 3rd. Following a walk to Berg,
Eli Tintor
would single out to left to drive in Portes making it 3-0 Miracle.
It would stay that way for a while. Duff would give up 3 runs on six hits and 4 walks while striking out 3 in four innings before giving way to
Phillip Bartleski
. He'd keep the Miracle off the board for the next three.
Wilkins Arias
would take over for the 8th, allowing a single to Berg and a double to Tintor.
Yangervis Solarte
would like out, but
Garrett Olson
took a walk to load the bags. Arias would then hit
Yancarlos Ortiz
with a pitch to force in Berg. He'd get Singleton and Ramos out on strikes however.
James Cooper
would hit a laser in the top of the 8th that looked like it was headed for the outfield, but Ortiz, the Human Hoover, sucked it in somehow to pick up an unassisted double play. That kid is just stellar.
Tintor was 2-for-4 with a run batted in and Ramos was 2-for-5 with a run. Everyone else in the line up had at least a single, except for Olson and Ortiz, although both drew walks.
Tyler Robertson
(4-2, 2.93) takes the start tomorrow against Tampa right hander
Jason Stephens
(2-0, 0.82).
Ian Kennedy
would then be in line to start for Tampa on Thursday, IF they decide to bring him over from Casa de Steinbrenner. He did not travel with the team for this road trip.
Box
Log
Miracle
News Press
NP Game Photos
Breeze
NDN
Let's Go Miracle
Blog
Pending Pinstripes
Blog
I realize that click Sharpies are a relatively new invention, but the technology behind them has been around for a long, long time. I've had to show three different players how to use them this week, two at this game alone.
Needless to say, I did not get Kennedy's autograph. Nor did I get Anson's, Sublett's or Garcia's. But I did pretty well with the rest of the team.
If you ordered Beloit Cards (Ed, T.J.) they are in. Please see Iris to pick up your set.
A
Rock Cats press release
last week had indicated that reliever
Jay Sawatski
was on his way down to the Miracle. This is not the case. Sawatski has been placed on the DL.