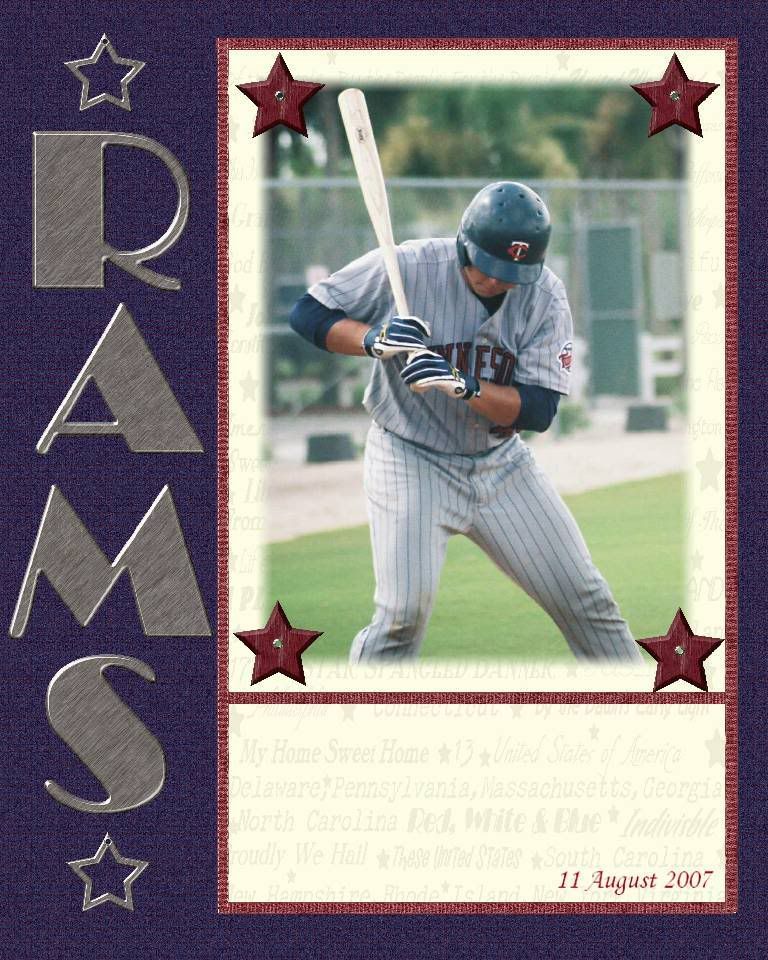 Elizabethton 0 at Greeneville 3
W: C. Pitkin (1-0, 0.60); L: B. Tippett (3-1, 2.25)
HR: None.
Greeneville's
Henry Villar
and
Colton Pitkin
combined to hold the Elizabethton Twins to only 4 hits, no walks - and most importantly no runs - Thursday night at Pioneer Park.
Nick Romero
,
Jon Waltenbury
, and
Danny Rams
were all one hit wonders for the E-Twins, who aren't used to such struggles.
Michael Harrinton
was 1-for-3 at the plate with a double.
Brad Tippett
would take the start for the E-Twins and was equally as daunting on the mound. In the 7th however, he'd allowed a single to
Kory Hinze
and a double to
Renzo Tello
.
Richardo Bonfante
knocked them both in with a line drive to left.
Nathon Fritz
would replace Tippy on the mound for the 8th, and allowed a single to
Wilton Infante
. Infante would be caught trying to steal, but
Jay Austin
took a free pass off Fritz.
Jose Alluve
singled, moving Austin to 3rd, and the freeloader was sacrificed in by
Ebert Rosario
.
The E-Twins, after an unusual 1-2 series against the Astros, head over to Bristol to face face the Chicago White Sox affiliate there. Game time for the Independence day contest is 7:00 PM.
Box
Log
Thursday:
G-Sun
E-Star
E-Star Notebook
---
DSL Twins 8 at DSL DiamondbackReds 0
W: E. Cardenas (3-1, 1.29); L: T. Gutierrez (0-2, 5.40)
HR: None.
Danny Santana
was 3-for-5 at the plate with a run and 2 RBIs as the visiting DSL Twins banged out 8 runs on 14 hits blanking the DSL DiamondbackReds, 8-0.
Eliecer Cardenas
scattered 5 hits and a walk over six innings in his start for the Twins. He'd strike out 8 Dia-Reds players during his tenure on the mound.
Carlos Carrillo
and
Renzo Reverol
finished up the contest.
Eliel Sierra
doubled and
Manuel Soliman
and
Jhontan Arias
hit back-to-back singles which plate Sierra to open up the scoring for the D-Twins. A wild pitch by
Teo Gutierrez
put Soliman on 3rd. 2 outs later, Santana's single would score Soliman, while Arias high tailed it home on the throw in from right by
Jose Victor
.
Arias doubled in the top of the fourth
Yancarlo Franco
drew a walk.
Xavier Gonzalez
would be taken out on strikes before Santana walked to load up the bases.
Lesther Galvan
then walked to force in Arias, making it 4-0 D-Twins.
Felix Caro
would single in the top of the seventh, then be replaced by pinch runner
Yorby Martinez
.
Oswaldo Arcia
and Siera hit back-to-back singles that scored Martinez, for the D-Twins 5th run.
Franco triple to lead off the top of the eighth. After Gonzalez when down on strikes Santana doubled to score Franco. Galvan singled and following a pitcher change that saw
Victor Navarro
to the mound, a passed ball by
Alberto Restrepo
moved Galvin to 2nd. Martinez would ground out, but Santana came home on the play. Galvin would score on Arcia's follow up single. Sierra and Soliman would both be hit by pitches, but Arias lined into the final out to retire the side.
Siera and Arias were both 2-for-4, Sierra with a run and a RBI, Arias with a pair of runs and a walk. Arcia was 2-for-5 with a RBI. Galvan, Soliman and Franco were all 1-for-4 with a run, Galvan and Soliman with RBIs as well.
The D-Twins host the DSL Cubs1 for a 10:30 AM Dominican time game on Friday.
Box
Log