GCL Twins 12 at GCL Red Sox 1
W: A. Curry (2-0, 1.15); L: P. Ruiz (0-1, 12.79)
HR: TWI: M. Gonzales (1). RSX: B. Peterson (1).
The GCL Twins showed no mercy as the pummeled the GCL Red Sox pitching staff for 12 runs on 18 hits, taking a 12-1 victory a the City of Palms Complex.
Man muscles
Mike Gonzales
hit his first home run of the season, driving in 3 in the sixth inning, catcher
Josmir Pinto
also drove in 3, going 3-for-5 at the plate with a pair of runs.
Alex Curry
picked up his second win of the season, allowing only 1 hit and 1 walk while fanning 5 over six innings. Red Sox starter
Pete "Rough and Ready" Ruiz
did not fair quite so well, giving up 5 earned runs on six hits and walk in 1.1 innings.
The Twins let him get through the first inning with only a walk to
Danny Ortiz
before breaking out the lumber with the lightning in it. Gonzales,
Hyeong-rok Choi
, and
Anderson Hidalgo
lead off with singles. Pinto belted a fly ball single to center to drive in Gonzales and Rocky.
Juan Sanchez
then laced a double out center to bring Hidalgo, and move Pinto to third.
Jon Goncalves
sacrificed Pinto in, and
Herbert Lara
followed that up with a line drive to right to bring in Sanchez. That also brought a pitching change, with
Pedro Perez
relieving Ruiz on the mound. Pedro induced Ortiz to hit into a double play to end retire the side.
Curry's walk came in the bottom of the second, to
Roberto Feliz
, who then stole 2nd. A pair of fly outs and a strike out left him at second however. Curry would not see his no hitter end until the sixth inning, when
Roberto Ramos
would take a double off him.
But the six inning was still along way off for the beleaguered Red Sox.
Andres Diaz
lead off the top of the third with a double. Gonzales went down on strikes and Rocky flew out, but Hidalgo knocked a line drive to left to plate Diaz. Pinto doubled to bring in Hidalgo. Sanchez's line drive moved Pinto to 3rd, and he'd come home on a wild pitch by Perez. Goncalves singled out to left to plate Pinto before Lara lined out to give the Red Sox a chance at the plate.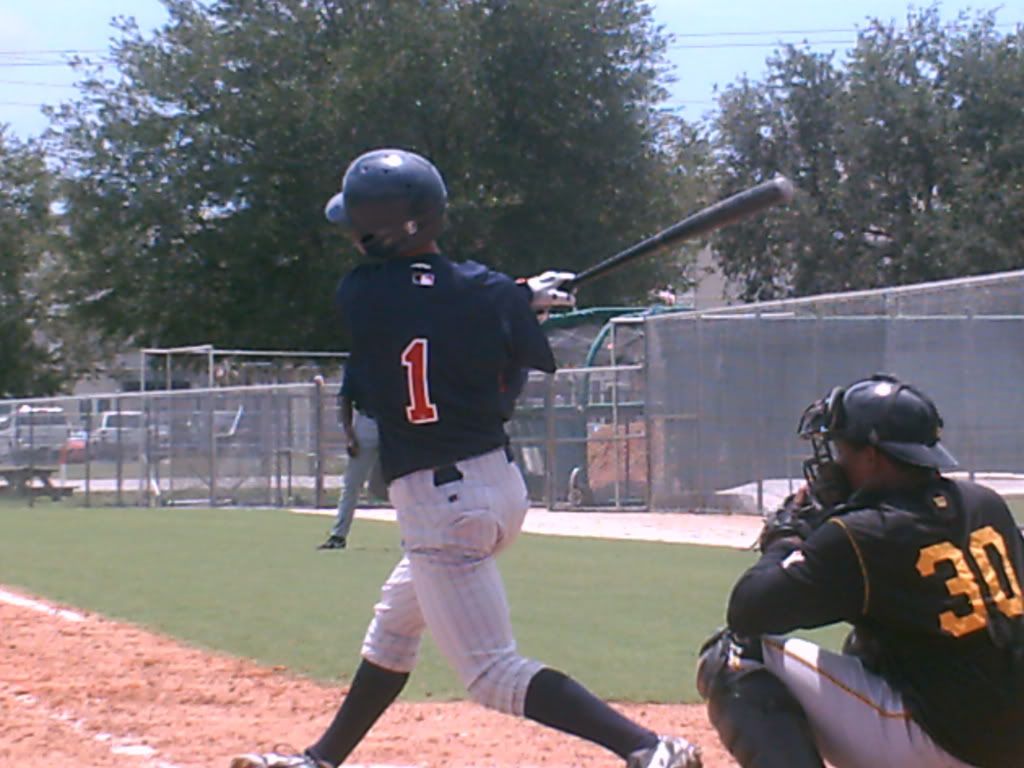 Ortiz tripled in the 3rd, but a pair of pop outs and a ground out left him stranded. Sanchez doubled in the fifth with a pair of outs on the board, but again, got left on base.
Jennell Hudson
took over for Perez in the sixth, and was greeted by a Lara single. A wild pitch advanced the runner to second. Ortiz flew out, but Diaz took a walk which put two men on, just in time for Gonzalez to hit his blast over the right field fence and into the stone quarry. Rocky took a follow up walk and Hidalgo singled. Hudson then got charged with balk that moved the two runners, but was able to get Pino out on strikes. Sanchez walked to fill the bases and Red Sox field manager
Dave Tomlin
took a walk out to the mound to replace Hudson. He would call on
Swen Hujer
, who was able to get Goncalves out on a fly to end the Twins scoring threat.
Lara would double in the top of the 7th, move to 3rd on Ortiz's ground out and score on a balk called on Hujer, making it 12-0 Twins.
Steve Blevins
worked a quick seventh, and
Kyle Carr
a quick 8th.
Bruce Pugh
would get on the mound in the 9th.
With two outs on the board,
Bryan Peterson
hit a home run off Pugh to save the Red Sox the disgrace of a shut out.
Michael Almanzar
and Feliz both singled, but Pugh got
Andrew Frezza
to fly out to end the contest.
Aaron Hicks
,
Tyler Ladendorf
and
Reggie Williams
were all given the day off. Sanchez finished up 3-for-5 with a pair of doubles, a run and a RBI; Pinto and Hidalgo were both 3-for-5 with a pair of runs, Pinto with a double and 3 runs scored and Hidaldo with one run scored. Gonzalez would go 2-for-5 a the plate with 2 runs and 3 RBIs. Lara finished up 3-for-6 with double, a pair of runs and a run scored.
Goncalves, Ortiz, Diaz, and Choi were all 1-for-4, Choi with a walk and a run and Diaz with a double and a pair of runs, as well as a pair of walks. Goncalves had a walk and two runs scored, while Ortiz had a triple and a walk.
After a 4-game set full of runs (44) and hits (63), the Twins will rest on Tuesday. The will return home on Wednesday as the GCL Pirates raiding party comes to the Lee County Sportsplex with the first volley being fired off at high noon.
Box
Log