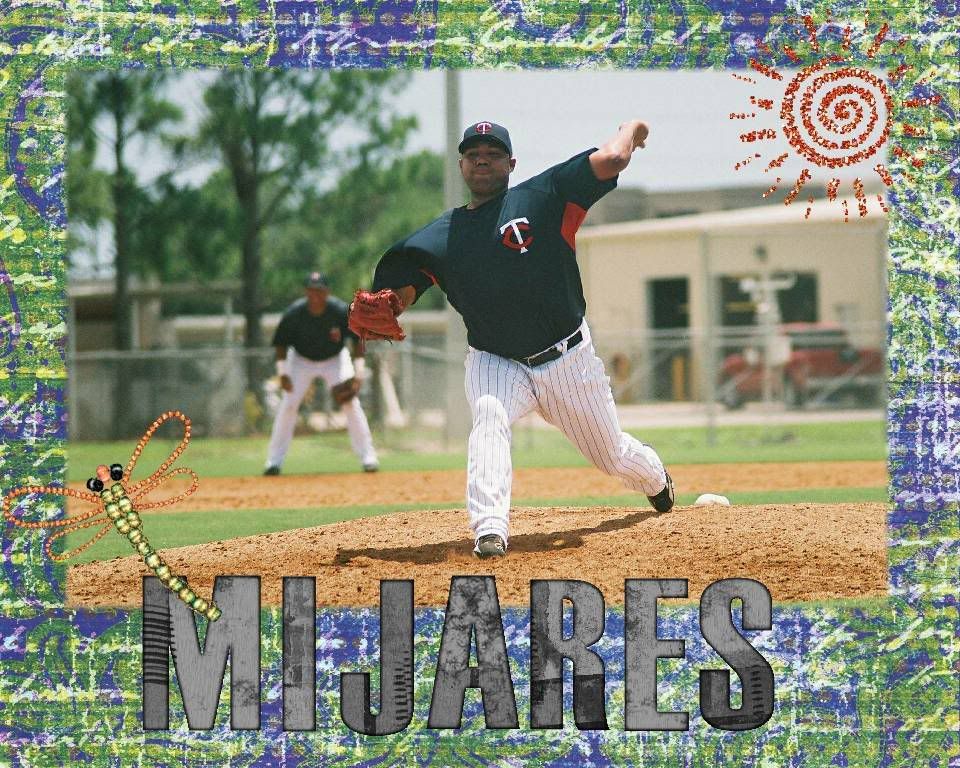 GCL Orioles 5 at GCL Twins 11
W: M. Munoz (2-1, 3.86); L: S. Taveras (0-2, 12.46)
HR: None.
For the true baseball enthusiast, nothing quite beats a day watching a GCL game. Unlike most minor (and major) league games, there are no distractions. No promotions, no vendors, no - or very few - unattended kids running around. You can focus on the game of baseball.
Which is the whole point of the Gulf Coast League. For the young players who participate in it to focus on baseball.
The GCL Twins picked up Saturday's contest against the Orioles in about the same place they left off Friday's contest with the Pirates. With a lot of hits.
The Orioles got on top first with
Gorabez Rosa
bunting. Twins catcher
Danny Rohlfing
picked up the bunt, but threw wide to first letting Rosa advance to 2nd.
Jerome Hoes
singled out to short and
Tyler Ladendorf
made a great save on the ball. Unfortunately his throw was from a bad angle and was a bit off, and
Anderson Hidalgo
could not handle it, ending up with Rosa on 3rd. He'd come home on
Dashenko Ricardo
's ground out to second.
The Twins answered right back however with
Jon Goncalves
taking a walk.
Aaron Hicks
and
Danny Ortiz
hit back-to-back singles that drove in Goncalves. After a pop out by Ladendorf,
Mike Gonzalez
singled to drive in Hicks. Andres ground into a force out that took Mike out at 2nd, but
Reggie Williams
followed that up with a triple that drove in both runners, making it 4-1 Twins. That would end it for
Sam Taveras
, as the O's got
Luiyi Batista
out of the pen.
Batista would keep the Twins semi-quiet in the second, although Hicks singled and Ortiz doubled. Ladendorf would reach on a fielder's choice that saw Hicks taken down at the plate.
Diaz led off in the bottom of the 3rd with a single and Williams doubled him over to 3rd. Rohlfing's single plated Diaz, while Hidalgo sacrificed in Williams. Goncalves would reach on a fielding error by the O's 3rd baseman, and a wild pitch would progress the Twins runners. After Hicks struck out, a second wild pitch scored Rohlfing. Ortiz then singled to drive in Goncalves, making it 8-1 Twins. That ended it for Batista, and
Jario De La Cruz
got to pitch for a while.
Ricardo walked in the top of the 4th off Twins starter
Miguel Munoz
.
Dennis Perez
then doubled to move him to 3rd.
Grolmann Gonzalez
's sac-fly saw the runner score for the O's second run.
Munoz would work five, allowing 2 runs, only 1 earned, on six hits and a walk while striking out 3.
Jose Mijares
would take over for the next two, making a rehab start. With some luck, the Venezuelan closer will be ready for New Britain or Rochester shortly after the All-star break.
Mijares would get two quick outs in each inning, but back-to-back hits in the sixth and a walk in the seventh made the third out a little more interesting for the small crowd of onlookers.
Luis Lebron
would come in for
Justin Moore
in the top of the 7th. Moore, a side arm pitcher had worked one inning allowing a single and a walk and tossing a wild pitch, but keeping the Twins from the plate.
Lebron saw Rohlfing reach when he failed to catch the ball. Following a fly out to Hidalgo, a passed ball by
Janensis Guerrero
put Rohlfing on second. Goncalves and Hicks then hit back-to-back singles to plate the Twins catcher. Ortiz would triple, to drive in the pair of runners, making it 11-2.
Everything went along peachy until the ninth inning. We got our first look at
Joe Testa
in the eighth, who allowed a lead off single to Perez, but got the O's Gonzalez to ground into a double play, then took
Javi Santana
out on stikes.
Ian Mopas
would come in for the ninth, and allowed
Justin Martin
to walk. He'd get
Francisco Mejia
to ground into a double play but then gave up singles to
Xavier Avery
and Rosa. Hoes took a walk to load the bags, and then Ricardo walked to force in a run. Perez singled to score two more before Mopas could get Gonzalez to ground out, ending the game. (Proving to me that Mr. Hendriks was correct and we did have someone on the squad who could potentially blow a 9-run lead.)
The Twins remain at home Sunday against the Reds with yet another noon start for our boys.
Box
Log
Someone had asked me, BTW, about AA infielder
Luke Hughes
playing for Team Australia in the Olympics. Liam reminded me that the Aussies failed to qualify for the Olympics, so, I suppose you can rule out any possiblity of Mr. Hughes involvement in the event.
---
The DSL Twins dropped a pair to the DSL Reds, playing the game that had been washed out earlier in the month.
DSL Twins 1 at DSL Reds 4
W: J. Marizan (2-2, 2.23); L: O. Villaroel (1-3, 1.96); SV: S. Gerson (1)
HR: None.
Yancarlo Franco
had the lone Twins run, which came in the sixth inning. Franco would double, then score on
Yorby Martinez
's ground out.
Orlando Villaroel
took the loss, allowing 3 runs, earned, on 3 hits and a walk while striking out 4 over 3.
Box
Log
DSL Twins 1 at DSL Reds 3
W: E. Infante (1-0, 0.44); L: L. Vargas (1-2, 4.40)
HR: None.
Danny Santana
singled in the top of the 4th, then stole second base.
Jairo Rodriguez
then doubled him in for the Twins only tally.
Lesmir Vargas
took the loss, putting a run on base via a walk, and seeing him advance on a sac bunt.
Jose Gonzalez
would then come in a allow a double to score the inherited runner to put the Reds ahead.
Box
Log