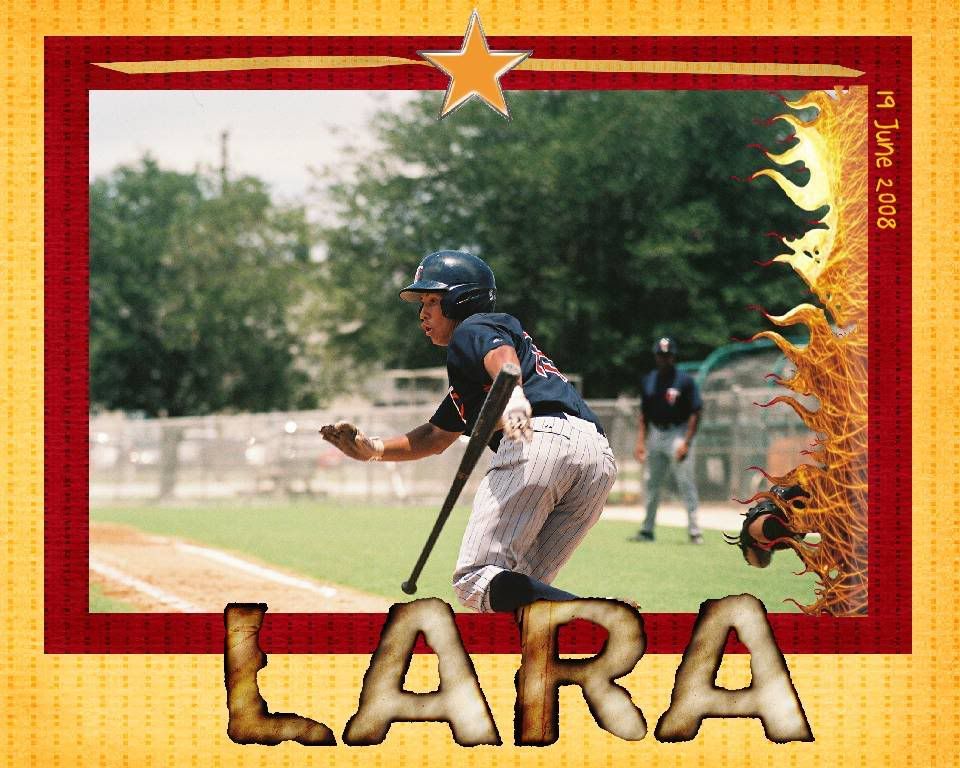 GCL Twins 7 at GCL Orioles 4
W: A. Sanchez (2-1, 1.83); L: S. Taveras (0-3, 8.59); SV: K. Nanney (1)
HR: None.
Herbert Lara
had 3 runs and
Jonathan Goncalves
picked up a pair as the GCL Twins downed the GCL Orioles, 7-4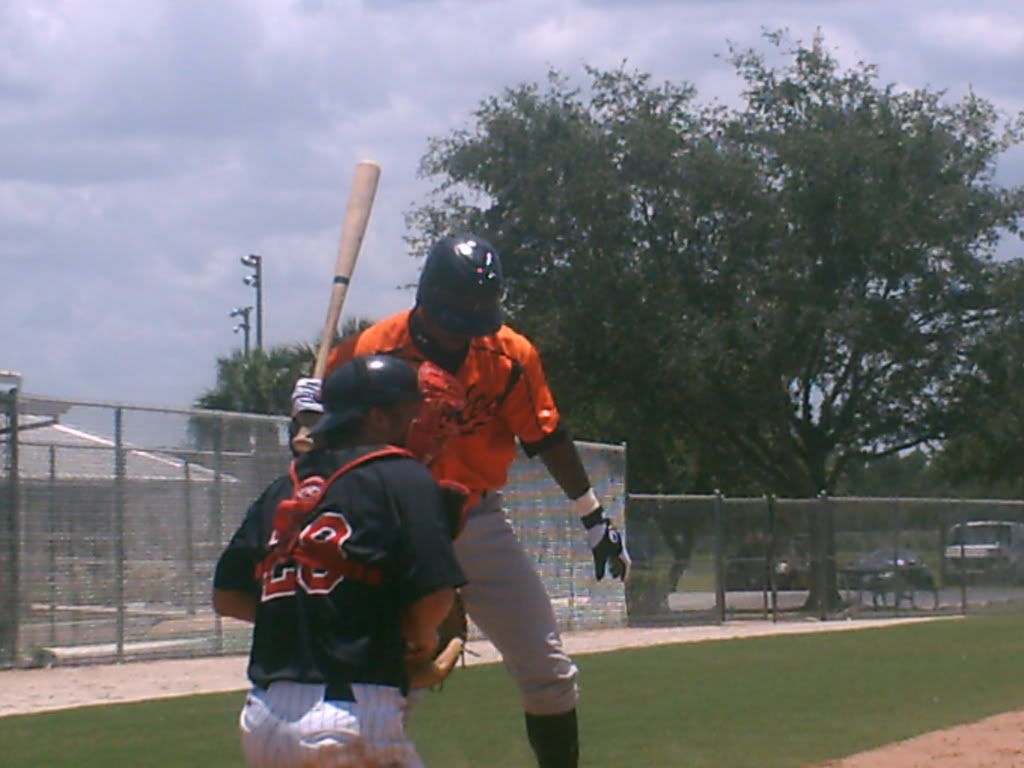 Angelo Sanchez
worked 5 innings, allowing 1 run, earned on six hits and a walk while striking out 2 to collect his second win of the season.
Lara would reach on a fielding error in the top of the 3rd, and moved to 2nd. A passed ball by
Janesis Guerrero
moved him to 3rd. Goncalves would take a walk and
Aaron Hicks
would follow that up with a single to score Lara.
Adam Everett
, on rehab assignment from the Major League Twins singled to load up the bags.
Danny Ortiz
would hit a sac fly out to right to plate Goncalves, and Ladendorf followed with a sac-fly to left to bring in Hicks.
Brian Anderson
would replace
Sam Taveras
in the top of the 4th, and got
Reggie Williams
to ground out before hitting Lara with a pitch. Goncalves would reach on a fielding error that put Lara on 2nd, and a walk to Hicks got him to 3rd. Everett then sacrificed him in to make it 4-0 Twins.
The O's answered back in the bottom of the inning with
Dennis Perez
doubling. Sanchez then plunked
Michael Gioioso
with a pitch. Guerrero hit into a force out to short that took Gioioso out at 2nd, but Perez came home on the play, giving 1 to the birds.
Luiyi Batista
replaced Anderson in the top of the sixth. Lara and Goncalves hit back-to-back singles and Hicks walked to load up the bags again. A wild pitch by Batista brought in Lara and
Juan Sanchez
, pinch hitting for Everett, knocked a line drive to center to score the remaining two runners.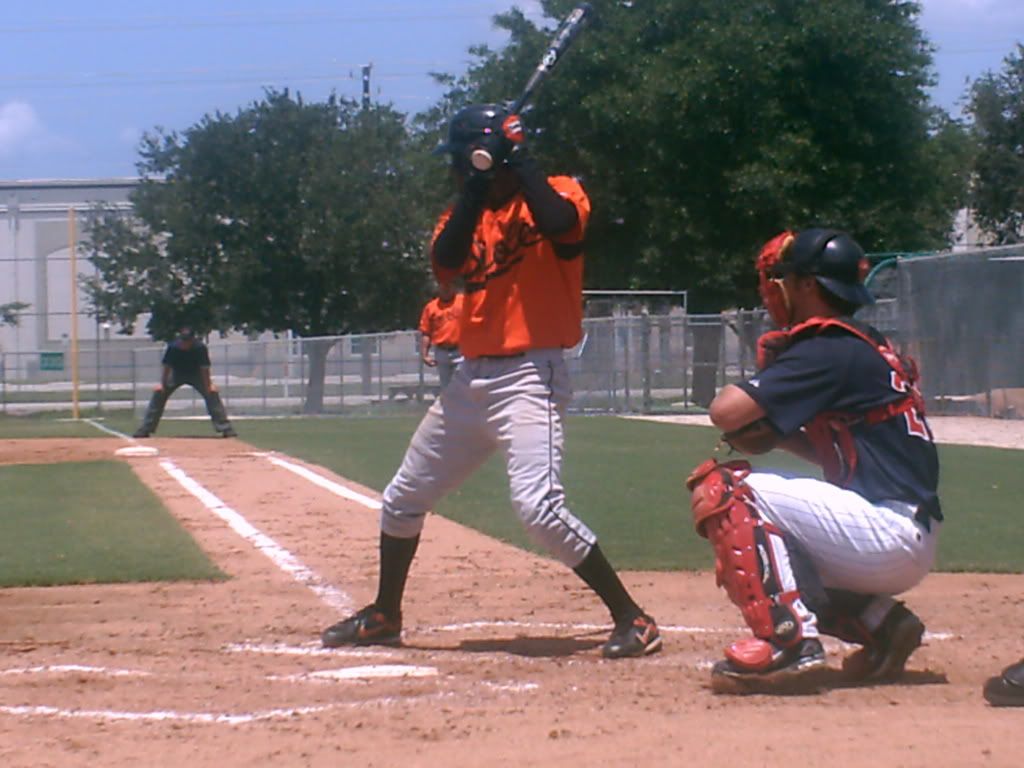 Jose Mijares
worked a scoreless sixth, and gave way to
Steve Blevins
in the seventh.
Xavier Avery
singled, then moved to second on
Garabez Rosa
's ground out.
Jerome Hoes
then tripled to score Avery, while a
Dashenko Ricardo
ground out would plate Hoes.
The O's final run came in the bottom of the 8th.
Kyle Carr
would hit
Michael Gioioso
with a pitch, then unleash a wild pitch to put him on second. Guerrero would ground out, moving Gioiso to 3rd and a fielding error by
Reggie Williams
saw
Grohmann Gonzalez
reach and Gioioso score.
Newcomer
Khol Nanney
replaced Carr for the Ninth and used a pair of ground outs and a fly out to finish off the O's.
Everett finished up 2-for-2 with a RBI, while Sanchez was 1-for-2 as a replacement, knocking in a pair.
Mike Gonzales
was also 2-for-2 with a walk as well, but did not factor into the scoring.
The Twins take on the GCL Reds at the City of Sarasota Complex on Friday. They return home on Saturday for a morning game with the Red Sox.
Box
Log
---
DSL Twins 2 at DSL White Sox 3
W: L. Teis (6-1, 1.58); L: A. Salcedo (1-3, 2.55); SV: J. Rojas (5)
HR: None.
After being shut out for seven innings, the DSL Twins attempted a late inning rally but fell short, losing 3-2 to the DSL White Sox.
Adrian Salcedo
took the start for the Twins, allowing 3 runs on 5 hits while striking out 2 over five innings. It was a quality start, unfortunately, the Twins could find little offense against the White Sox's
Luis Teis
, who scattered five hits over six innings to keep the Twins off the board.
Hector Eusebio
took over the pitching chores for the White Sox in the top of the 7th and despite a walk to
Oswaldo Arcia
and a double to
Jairo Rodriguez
, kept the goose eggs in tact. He'd not fair so well in the 8th.
Xavier Gonzalez
and
Danny Santana
both singled.
Lesther Galvin
would hit into a force out that took Gonzalez out at 3rd, but walk to
Manuel Soliman
loaded the bases.
Yancarlo Franco
's ground out scored Santana but
Eliel Sierra
ground out to end the inning.
The top of the ninth saw
Jhonatan Arias
single before a pitching change brought
Juan Rojas
to the mound. Rodriguez took a single off of him as would
Juan Blanco
to drive in Arias. But Gonzalez, Santana and Galvan all went down on strikes to end the contest.
Rodrigues, Blanco, Gonzalez and Arias were all 2-for-4, Arias with a run, Blanco with a run scored and Rodriguez with a double. Santana was 2-for-5 with a run. Arcia was 1-for-2 with a walk to round out the hitting, while Franco was 0-for-1 at the plate, but drove in one.
The DSL Twins host the DSL Indians on Friday. Start time is 10:30 AM Dominican Time, as always.
Box
Log